Cash App Borrow: How To Borrow Money on Cash App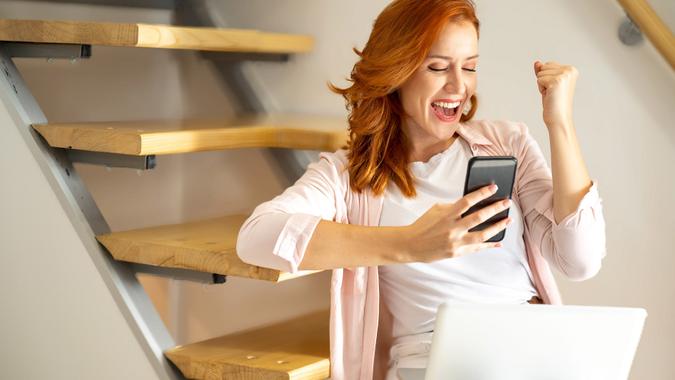 Bojan89 / iStock.com
Cash App has rolled out a Borrow feature to a limited number of users. It allows short-term loans at a 5% flat fee. Here are some of its other features:
Loan amounts range from as little as $20 up to $200.
You will have 4 weeks to pay off your loan.
A 1-week grace period will apply if you are unable to pay the money back in that 4-week timeframe.
If you miss the grace period, there will be a 1.25% finance charge.
Can You Borrow Money From Cash App Borrow? Here's How
As mentioned, Cash App Borrow isn't available to everyone yet. The only way to know if it's available to you is to check. Follow these steps to find out if you can borrow money from Cash App, and if so, how to do it:
Step-By-Step Guide

Open Cash App.
Tap on your Cash App balance located at the lower left corner.
Go to the "Banking" header.
Check for the word "Borrow."
If you see "Borrow," you can take out a Cash App loan.
Tap on "Borrow."
Tap "Unlock."
Cash App will tell you how much you'll be able to borrow. Select an amount.
Select your repayment plan.
Read the user agreement.
Does Cash App Let You Borrow Money?
Yes, Cash App makes loans of $20 to $200, according to a 2020 TechCrunch article. Cash App tested the Borrow feature with a limited roll-out to 1,000 users. While the company hasn't disclosed the status of that testing, the app does note that Borrow is still not available to all customers.
Whether or not a particular customer can use the feature depends on:
The state you live in
Whether you have an activated Cash Card
Your Cash App usage history
Your credit history
TechCrunch noted that loans funded quickly and required you to pay them back in four weeks or less. But carrying a balance so long can add up — at the time the TechCrunch article was published, Cash App reportedly charged a 5% flat fee to borrow, plus another 1.25% per week after the grace period.
As long as you go into it knowing that a Cash App Borrow loan is best for quick repayment, the new tool — if it's available to you — could be helpful when you're short on cash.
Is Cash App Safe?
It's too soon to analyze how safe a Cash App loan application is, but the Cash App platform itself is secure. Cash App safeguards your personal information and your money in a few ways:
The app integrates with your smartphone's screen lock, where PIN entry, Touch ID, passcode or facial recognition add an extra layer of protection if your phone is lost or stolen.
You can disable your Cash App card if you've misplaced it or for extra security.
You can set up email, text or push notifications to help you monitor your activity and warn you of unusual account usage.
What Other Ways Can You Borrow Money Online?
Having access to fast cash can make all the difference when you need money. Most people turn to the funds in an emergency savings account, borrow from loved ones or charge the expense to their credit card.
Fast-cash loans have their drawbacks, such as getting you into personal or credit card debt or charging high fees. While Block (formerly Square) continues rolling out Cash App loans, consider the following alternative lending options to get the money you need quickly.
Oportun
Oportun provides an "affordable alternative to payday loans" and may be best suited for borrowers with no credit history or bad credit. You can borrow between $300 and $10,000 for up to 48 months. Oportun caps its annual percentage rate at 35.99%.
LendingClub
You can borrow between $1,000 and $40,000 through LendingClub. Once you establish a track record with LendingClub, you can borrow as many loans as you want at one time as long as they don't total more than $50,000.
LendingClub charges a 3% to 6% origination fee for each loan. You'll have up to five years to repay the loan in full, but don't take too long — you'll pay an annual percentage rate of 7.04% to 35.89%.
OppLoans
OppLoans is another loan company specializing in bad credit loans, basing lending decisions on a variety factors beyond your credit score and credit history. Amounts of $500 to $4,000 are available. Repayment terms vary by state but generally range from nine to 18 months.
Although having the option to pay back the loan over a longer period of time takes some of the pressure off, it's important to use caution. The OppLoans APR is 160% on the amount you borrow in many states.
As with all bad-credit or no-credit-score loans, it's important to watch the APR. Otherwise, you could end up paying far more in interest than the original amount you borrowed.
Final Take
A Cash App Borrow loan seems like a good option for a short-term loan for a few bucks — if you're eligible. When considering other online lending options, evaluate the cost of borrowing money as well as the lender's terms for repayment.
Most online lenders claim they'll provide cheaper loans than a payday loan, but the loans are still pretty expensive if you don't pay the balance off quickly. Be sure to fully understand what you're signing up for and whether you can really afford to borrow.
Melanie Grafil Daria Uhlig contributed to the reporting for this article.
This article has been updated with additional reporting since its original publication.
Rates and fees are subject to change. Information is accurate as of Sept. 27, 2022.
Editorial Note: This content is not provided by Cash App. Any opinions, analyses, reviews, ratings or recommendations expressed in this article are those of the author alone and have not been reviewed, approved or otherwise endorsed by Cash App.
GOBankingRates maintains editorial independence. While we may receive compensation from actions taken after clicking on links within our content, no content has been supplied by any advertiser prior to publication. We always recommend reviewing the terms and conditions of any offer before signing up or applying.
Our in-house research team and on-site financial experts work together to create content that's accurate, impartial, and up to date. We fact-check every single statistic, quote and fact using trusted primary resources to make sure the information we provide is correct. You can learn more about GOBankingRates' processes and standards in our editorial policy.