Banks to Begin Issuing New $100 Bill Design in October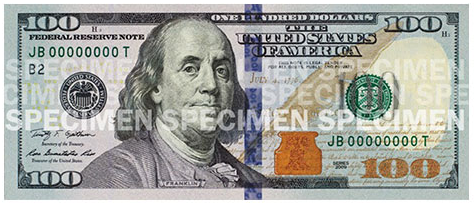 Personal bank accounts are about to get a lot more colorful, thanks to the advanced technology of the U.S. Bureau of Engraving and Printing. This organization is responsible for creating and printing U.S. currency, specifically Federal Reserve notes (i.e. paper money), as well as developing counterfeit prevention methods for U.S. dollars.
According to the U.S. Department of Treasury, a new 100 dollar bill design will shortly make its way into circulation to banks globally — and will brighten consumers' wallets as it simultaneously seeks to prevent counterfeit fraud.
Greater Anti-Counterfeit Protection in New 100 Dollar Bill
As more counterfeiting schemes are devised by perpetrators hoping to replicate U.S. currency, the U.S. Bureau of Engraving and Printing continues to revamp conventional paper money to deter such criminal efforts. The rainbow blueprint of the latest new 100 dollar bill includes a couple of new precautions to hinder counterfeiting, including:
Bell in Jar. When looking at the new 100 dollar bill, individuals will now see a copper-colored ink pot with a copper Liberty Bell inside. However, upon tilting the bill in different directions, the color of the bell changes to green and back, making it look as if it appears and disappears within the ink pot.
3-D Security Strip. A vertical blue ribbon has been woven into the new 100 dollar bill, which has images of the Liberty Bell and 100s within. Depending on how the note is turned the bell and 100s scroll up and down or side to side.
In addition to these new security measures, the new design also includes past anti-counterfeit tactics like the Benjamin Franklin watermark image, the UV-activated invisible security thread that runs vertically along the right side of Benjamin Franklin, and microprinting details throughout the bill.
New Bill Design to Hit Banks Soon
Now, the Federal Reserve expects to be begin circulating the new 100 dollar bill to banks on October 8, 2013. However, when the public can expect to physically come in contact with the new design highly depends on "distance, demand and the policy of individual financial institutions", according to Lambert.
Americans are reminded that older 100 dollar bill designs are still legal tender, and they will not need to exchange old notes for the new 100 dollar bill.
(Photo courtesy of NewMoney.gov)