4 Reasons To Switch to Online Banking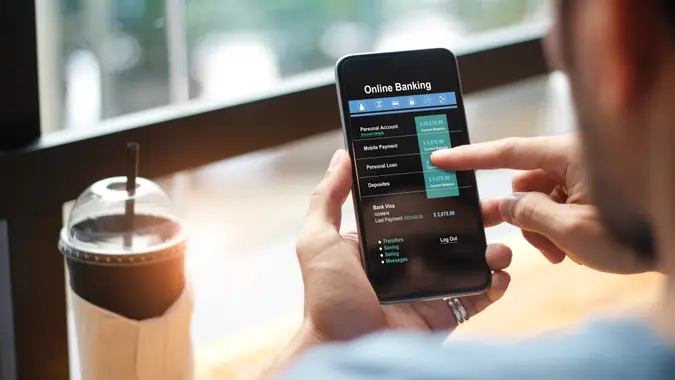 ipopba / Getty Images/iStockphoto
The concept of "going to the bank" is quickly becoming a relic of the pre-pandemic world.
A new GOBankingRates survey of 1,000 adults showed that four out of five people prefer to do their banking online, either through a web browser or a mobile app.
Check Out: GOBankingRates' Best Online and Neobank Savings Accounts 2023
Also See: GOBankingRates' Best Online Banks 2023
Discover: Here's Why 1 in 5 Americans Are Considering Switching Banks
Although roughly one in three still maintain accounts at big national banks, web-based alternatives are quickly gaining market share. In fact, more than one in five people already have made the switch to financial institutions that exist purely on a screen without branches or buildings in the real world. But should you?
"When it comes to personal finance, one of the most important decisions you can make is where to keep your money," said Trinity Owen, founder and chief financial officer of The Pay at Home Parent. "For many people, the default choice is a traditional brick-and-mortar bank. However, online-only banks are becoming an increasingly popular alternative, and for good reason."
Digital competitors have poached millions of customers from big banks with the promise of a more convenient and cost-effective banking experience — and for many, there's no going back.
Lower Overhead Costs Mean Better Rates and Higher Yields
It costs a whole lot of money to keep physical branches up and running — and the money that online banks don't spend on buildings, people and vaults, they can give back to their customers.
Take Our Poll: How Big of a Sign-Up Bonus Would It Take for You To Change Banks?
"One of the biggest benefits of online-only banks is that they typically offer better interest rates on savings accounts and other deposit products," Owen said. "Because they don't have the overhead costs associated with maintaining physical branches, they can afford to pass those savings on to their customers in the form of higher interest rates."
Ally Bank, for example, is currently paying its savings account holders a 3.3% APY — that's 10 times the national average. A yield like that is especially generous when compared to some of the biggest names in traditional banking — 0.15% at Wells Fargo and just 0.01% at Bank of America and Chase.
Ally is no outlier. Online institutions dominated the most recent Forbes and Time lists of banks with the best high-yield savings accounts for 2023.
Online Alternatives Ditched the Fees That Made Big Banks Infamous
Online banks built a loyal following by forgoing the laundry list of universally loathed charges that brick-and-mortar banks are notorious for imposing on their customers.
"In addition to better interest rates, online-only banks also often offer lower fees than traditional banks," Owen said. "For example, many online-only banks don't charge monthly maintenance fees or fees for using ATMs. This can add up to significant savings over time, especially for those who use their bank account frequently."
Using the same example as before, Ally charges zero monthly maintenance fees compared to $5 a month at Wells Fargo and Chase and $8 a month at BOA. But that's far from the only way that traditional banks nibble away at your cash. Online banks are much less likely to charge overdraft fees, minimum balance fees, insufficient funds fees, returned check fees and all the rest.
On top of that, online banks are less likely than brick-and-mortar banks to have minimum deposit requirements. Most of the top high-yield online banks don't have minimum deposit requirements for joining or minimum account balances needed to earn outsized yields upwards of 4%.
Online Banks Tend To Have Better Tech and Tools
Out of necessity, online banks had to find ways to pack everything from branch drop boxes to tellers into their apps and tech. The result is that web-based banks tend to have more robust, reliable and intuitive digital infrastructure than their brick-and-mortar counterparts.
"Another benefit of online-only banks is that they typically offer more advanced and user-friendly digital banking tools," Owen said. "Additionally, online-only banks often offer budgeting and savings tools that can help you stay on top of your finances."
The Most Common Concerns Are Rarely Justified
Physical branches with smiling tellers and giant vaults offer a sense of reassurance to traditional banking customers who might not trust their money to a bank that doesn't exist beyond a computer screen. One of the most common reasons for reluctance is security — after all, can people truly trust their money to online banks?
The answer is yes. The money you put in an online bank is FDIC insured just like the cash you would stand in line to deposit at your local branch.
Another major reservation is ATMs — if you bank with a mobile app, how will you get cash when you need it?
Same as you would if you banked with Chase, BOA or Wells Fargo — at an ATM. Online banks have vast networks of money machines just like their brick-and-mortar counterparts, and they're much more likely to refund at least a portion of the charges you incur from using out-of-network ATMs.
Finally, there's the threat of fraud — online banks can be hacked, right?
Sure, but so can the digital infrastructure of any traditional big bank. According to CNET, online banks utilize the same security technology that keeps you safe when shopping online, reading email and using your brick-and-mortar bank's app. That includes two-factor authentication, data encryption, account monitoring, signature verification and automatic logout.
More From GOBankingRates