Life and Money
Shark Tank's Robert Herjavec on How to Keep Your Money Safe Online
Master these online security secrets from this Shark Tank star.
If you're worried about whether your personal information and money are safe online after the recent Equifax data breach, you have good reason to be concerned. The credit reporting agency announced on Sept. 7 that criminals gained access to the company's files with sensitive information of about 143 million consumers -- information that could be used to steal people's identities.
The Equifax data breach was by no means an isolated incident. Hacks seem to be commonplace now -- with companies ranging from Anthem to Target to Yahoo! reporting major security breaches in recent years. You should certainly take steps to protect yourself after a data breach.
But is there more you could be doing to keep your money and personal information safe from hackers? Security expert Robert Herjavec says yes.
1/9
Ilya S. Savenok / Getty Images
Who Is Robert Herjavec?
Robert Herjavec is best known as one of the stars of ABC's hit reality show "Shark Tank." But he's also the founder of Herjavec Group, a leading information security firm.
In an interview with GOBankingRates, Herjavec said that consumers can never be fully secure from hackers -- but you can do more to reduce your risk of becoming a victim.
"We teach our children to look both ways before crossing the street and not to talk to strangers," Herjavec said. "But we rarely apply the same street smarts when navigating online."
Here are eight things he said you should be doing to be safer online and keep your personal information and money out of the hands of those who want to steal it.
2/9
Kaspars Grinvalds / Shutterstock.com
1. Stay Up to Date on the Latest News
When you hear about incidents like the Equifax data breach, don't tune out the news.
"It's important to read about the latest breaches and start conversations about cybersecurity with your family, friends and your colleagues," Herjavec said. "This isn't just an IT issue. It's everyone's responsibility to be more cyber aware."
3/9
Georgejmclittle / Shutterstock.com
2. Be Aware of Your Online Footprint
As an expert in cybersecurity, Herjavec said it's not something you learn. Cybersecurity is something you practice. "The threats we face are always changing, and we need to be able to adapt," he said.
To do that, you need to start by being aware. "You have to understand how your online footprint can put your security at risk," Herjavec said. Ask yourself these questions:
Are your passwords all the same?
What devices are connected to your personal network at home? At work?
Do you update the technologies you're using at home to protect yourself? For example, is your anti-virus software consistently telling you it's time for an update?
Have you written or texted a password to someone you trust?
Do you keep your bank card PIN on your phone?
If you answered yes to any of these questions, you could be putting your identity at risk.
4/9
Alex Brylov / Shutterstock.com
3. Only Process Payment Transactions on Secure Websites
Before you make any payments online, make sure the site you're using is secure.
"Look for a padlock symbol in your browser window -- but not on the main page of the website itself," Herjavec said. "You can click the padlock to see who the seller is and confirm that their certificate is registered to the right address and company name."
Look for website urls that begin with "https://," which indicates a secure and encrypted connection, he said. Stick to well-known, credible retailers. And check for security certificates, such as Verisign or Verified by Visa.
Most importantly, make sure you use a secure internet connection to make online transactions. "Never -- and I mean never -- process any payment over public WiFi," he said.
Take Action: 10-Step Guide to Recover After Your Social Security Number Is Stolen
5/9
Rawpixel / Shutterstock.com
4. Update Your Technology
Another good way to keep your online information safe from hackers is to be proactive. "Making sure your technology is up to date and you have anti-virus and malware detection is a good start," Herjavec said.
So, stop ignoring those security update messages that pop up on your devices and take action to install the latest software.
6/9
panuwat phimpha / Shutterstock.com
5. Be Careful When Using Public WiFi
It might seem like a smart move to take advantage of public WiFi rather than use your wireless data to surf the web on your mobile device. But be careful about what sort of transactions you make.
"Be smart about what you are doing on public WiFi," Herjavec said. "It's not the place to check your banking information and other confidential information."
Nor is it the place to shop online. That's because hackers can gain access to public WiFi connections and see what personal and financial information you're transmitting.
7/9
Dragon Images / Shutterstock.com
6. Watch What You Click
Be wary of the dangers that are lurking in your email inbox. That's right -- scammers send emails (and texts) hoping to get you to click on links that could download viruses onto your computer or prompt you to share account numbers and other personal information.
"If you are sent a link that's too good to be true, it probably is," Herjavec said. "No one in Russia wants to marry you, you didn't win the lottery and if your family members are mysteriously taking a vacation you didn't know about and are requesting money all of a sudden, don't click."
8/9
Ahmet Misirligul / Shutterstock.com
7. Always Check Your Statements
You need to keep tabs on your account to identify suspicious activity that might be a sign of fraud. "Check those monthly statements line by line for small, questionable charges, usually under $20," Herjavec said.
Such charges might mean you're a victim of micro-fraud, which is the practice of taking smaller amounts of money on a consistent basis. "We are likely to notice the $500 charge but not the $5 or $10 charge over time," Herjavec said. "So be diligent."
Also take the time to check your credit report for accounts that don't belong to you or other signs of fraud. You can get a free report from each of the three credit bureaus annually at AnnualCreditReport.com.
9/9
88studio / Shutterstock.com
8. Be Extra Vigilant During the Holiday Shopping Season
Online shopping has made the Christmas rush much more convenient, but fraud climbs during the holiday season, Herjavec said. That's why it's important to take precautions to avoid becoming a victim.
"If you plan on shopping online, be sure to shop from secure websites and monitor your credit card statements," Herjavec said. "Be wary of micro fraud and, again, never shop on public WiFi."
And watch out for emails, ads or websites offering bargains you just can't find elsewhere. "If the deal looks too good to be true, it probably is," Herjavec said.
Next Up: 5 Ways to Protect or Freeze Your Credit After Identity Theft
About the Author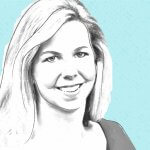 Cameron Huddleston is an award-winning journalist with more than 18 years of experience writing about personal finance.
Her work has appeared in Kiplinger's Personal Finance, Business Insider, Chicago Tribune, Fortune, MSN, USA Today and many more print and online publications. She also is the author of
Mom and Dad, We Need to Talk: How to Have Essential Conversations With Your Parents About Their Finances
.
U.S. News & World Report named her one of the top personal finance experts to follow on Twitter, and AOL Daily Finance named her one of the top 20 personal finance influencers to follow on Twitter. She has appeared on CNBC, CNN, MSNBC and "Fox & Friends" and has been a guest on ABC News Radio, Wall Street Journal Radio, NPR, WTOP in Washington, D.C., KGO in San Francisco and other personal finance radio shows nationwide. She also has been interviewed and quoted as an expert in The New York Times, Chicago Tribune, Forbes, MarketWatch and more.
She has an MA in economic journalism from American University and BA in journalism and Russian studies from Washington & Lee University.