How Technological Changes Over the Past 15 Years Have Affected Our Finances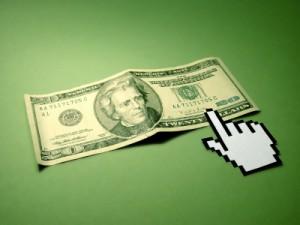 From roughly 1995 to 2010, we've seen technology evolve at an alarming rate. We were still excited about cordless phones and CDs when we suddenly saw the onset of the Internet, mobile devices, flat screen TVs, online banking and so much more.
Some of these changes have had an effect on our finances, for better or worse. Let's take a look at what changes have occurred over the past 15 years and how they have affected our bank accounts.
How Has Technology Changed Our Finances
Technology has evolved so much since 1995 that it would be overwhelming to try to look at each new gadget that has wowed us since that time. So instead, we will explore technologies according to some major activities we participate in and how our finances (and lives) have changed as a result:
(Click on the image for a larger version)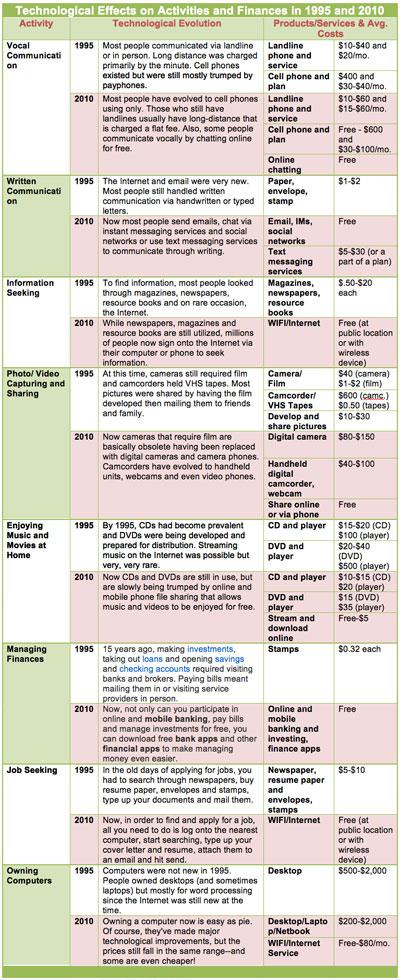 Newer Technologies Have Affected Our Wallets for the Better
What's interesting about the technological advancements we've witnessed in the past 15 years is that they really haven't had a huge effect on our finances. In fact, if technology has affected them in any way, they've reduced how much we spend.
Here are a couple of reasons that this seems to be true:
1. Many Old Necessities Are Becoming Obsolete
Some products and services that we once couldn't live without are no longer necessary (i.e. camera film, paper, stamps, envelopes, landline phones and services, magazines, newspapers, resource books, CD and DVD players, etc.). While some have been replaced with new necessities like computers, cell phones and wireless capabilities, you are now able to accomplish a multitude of activities with one product or service.
2. Competition Is Driving Prices Down
Companies are competing for customers to buy their latest gadgets, something that has resulted in a significant drop in prices since 1995. Take the following example:
In 1995, many retailers were selling 40-inch console tube TVs for prices of around $3,000.
In 1997, Phillips introduced one of the first plasma TVs to be sold in retail stores. It was 42 inches with 852 x 480 resolution and cost a whopping $14,999!
In 2010, one retailer offered a Sanyo 50-inch plasma TV with 1280 x 720 resolution for $499 on Black Friday, which is a monstrous drop from the prices of both types of TVs listed above.
It's for this reason that many experts recommend you don't buy the hottest tech toys when they are first released and avoid purchasing infomercial products until their prices come down. Instead, you could focus on saving money by thinking about what you could live without until the time is right.
The good news is the numbers in the chart show that despite us seeing some of the most amazing technological advancements in history, the impact they've had on our finances in the past 15 years actually appear to benefit us.
So while we may pay inflated prices in some areas of our lives–the Consumer Price Index (CPI) shows that we now pay roughly 65 percent more than we did in 1995–the level of convenience we enjoy these days makes the cost well worth it.