Walmart MoneyCenter Hours & Services Offered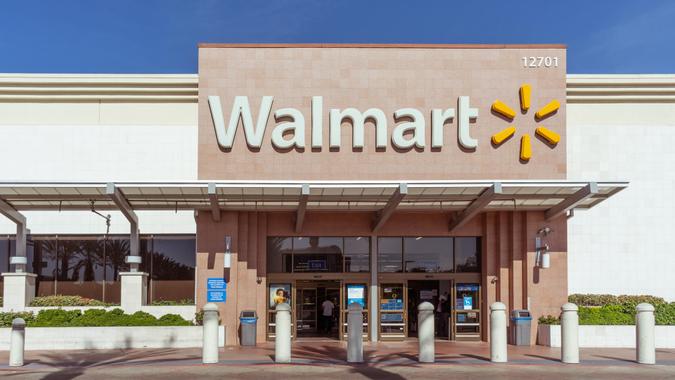 Sue Hwang / GOBankingRates
Walmart is the largest retailer in the United States and has nearly 5,000 stores across the country. In addition to groceries, electronics, personal care goods and housewares — and just about everything else — the store offers non-merchandise services to customers.
One such service is the Walmart MoneyCenter. This alternative to a bank provides check cashing and services such as money transfers and bill pay inside select store locations.
Walmart MoneyCenter Hours of Operation
Most Walmart stores are open from 7 a.m. until 11 p.m. seven days a week, but hours vary from store to store. The Walmart MoneyCenter typically does not follow the schedule of the main store.
To find a Walmart store that offers money services, select the menu on Walmart's homepage. Then follow these steps:
Select "Your Location" and enter your ZIP code.
Choose a store from the list that appears.
Click on "Details" to see the services available in your selected store. The phone number to the selected store also will be listed so that you can call to verify the Walmart MoneyCenter hours of operation.
If the store has MoneyCenter capabilities, you'll see "Money Services" listed on the website. Click "Store Details" to see all of the available departments.
What Money Services Does Walmart Offer?
Walmart MoneyCenter offers many financial services in a convenient location. Some services, such as check cashing, bill pay and money transfers, give customers an alternative to a traditional bank. Other offerings, such as tax-preparation services or a reloadable debit card, can help you go a step beyond a bank.
Check Cashing
If you don't have a checking or savings account but have a check made payable to you, Walmart can cash that check. In addition to MoneyGram money orders, you can cash any of the following types of checks:
401(k), retirement disbursement checks
Cashier's checks
Government checks
Insurance settlement checks
Payroll checks
Preprinted checks
Tax refund checks
Two-party personal checks
There is a charge for this service. Here's a look at the maximum fees for each category:
Preprinted checks up to $1,000: $4
Two-party checks up to $200: $6
Preprinted checks over $1,000 and up to $5,000: $8
To cash a check, visit a local Walmart MoneyCenter counter. Present the check and a valid ID. Check cashing limits vary according to state law.
Tax Services
Walmart also offers tax preparation services in partnership with Jackson Hewitt at about 3,000 stores. This is a convenient option if you need assistance come tax time.
Schedule an appointment to sit down with a tax professional or to drop off your documents. You'll need the following information:
W-2 or other earnings statements
Identification (driver's license)
Social Security number
Tax returns from the previous year
Information about dependents, including their Social Security numbers
You can receive your refund by check, which can be cashed at Walmart; on a prepaid card; or via direct deposit into your bank account. Fees for tax preparation vary by return.
Bill Pay
Walmart MoneyCenter offers in-person and online bill pay options, along with a list of more than 15,000 payees. You can pay the following types of bills, among others:
Cable
Credit card
Insurance
Mortgage
Rent
Utilities
The service also allows you to pay child support and send money to inmates in many states. Processing times and fees vary. Check with the local store or your biller for more details.
Bill pay services are available inside stores with a Walmart MoneyCenter. You'll need to bring the name of the company you want to pay, your account number, and cash or a debit card. To save time, you can start your transaction in the Walmart MoneyCenter app. Some billers also require additional information. The fee varies by biller and delivery speed of the transaction.
Money Transfers
Walmart MoneyCenter lets you send money to friends and family in the United States and in more than 200 countries or territories around the world. There are two options for sending money transfers to domestic destinations — Walmart2Walmart Powered by Ria and MoneyGram. You can also use Walmart2World Powered by MoneyGram to send your money abroad.
Fees start at $4 and rise as the amount sent increases, up to $16. International transfers also are assessed what Walmart calls a "competitive" exchange rate.
Money is usually available to the recipient within 10 minutes, but delays are possible for some transactions. If you encounter any difficulties with your transfers, customer service representatives are available by phone.
For Walmart2Walmart U.S. transactions, call Ria at 855-355-2144. For MoneyGram domestic or international transactions, including Walmart2World, call MoneyGram. You can reach a representative at 800-926-9400.
Cards
Debit and credit cards are a convenient way to pay for purchases — and safer than carrying cash. Walmart offers an assortment of options, from reloadable debit cards to the Walmart MoneyCard to the Capital One Walmart Rewards Card.
Good To Know

If you don't have a checking account at a bank, you can use the Walmart MoneyCard reloadable debit card just like a bank-issued debit card. You'll receive your paycheck up to two days early, and you also can use the card to pay for in-store and online purchases at Walmart and other retailers.
Here's a closer look at Walmart's card offerings and their features:
Reloadable debit cards: Choose from Mastercard, Visa and American Express branded prepaid debit cards. The full list of cards is available online at the Walmart MoneyCenter website.
Walmart MoneyCard: With the Walmart MoneyCard, you'll earn cash back by shopping at Walmart: 3% on Walmart.com purchases, 2% at Walmart fuel stations, and 1% on Walmart in-store purchases, up to $75 per year. Grocery delivery and pickup purchases made via the store's website or app earn 1%.
Walmart credit card: The Capital One Walmart Rewards Card pays you cash back for purchases you make at Walmart.com, in a Walmart store and from other merchants. Rewards range from 1% to 5% of the purchase.
The Capital One Walmart Rewards Card is subject to credit approval. There is no annual fee. Fees for reloadable debit cards vary. Check with the card issuer for details about usage fees.
Is Walmart MoneyCenter Worth a Second Look?
If you like the convenience of having access to financial services in the same place you shop, Walmart MoneyCenter might be right for you. You can access basic services offered by banks without needing to stop at multiple locations or rush to get to the bank before it closes.
For more information on its money services, you can speak to a Walmart MoneyCenter customer service representative at your local store. The representative will be able to answer questions about cashing personal checks, initiating a money transfer, purchasing a money order, and other service options that are available.
This article has been updated with additional reporting since its original publication.