How To Transfer Money Through Walmart2Walmart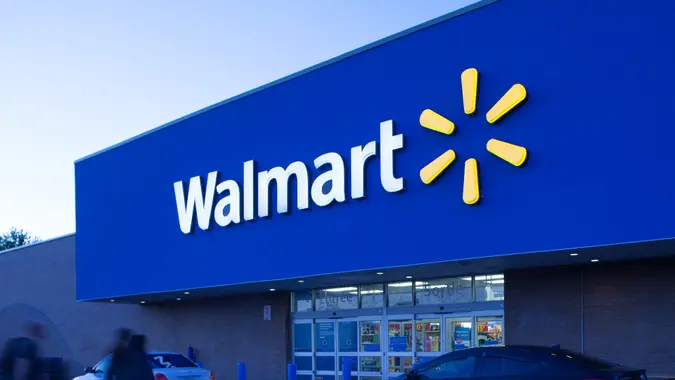 YvanDube / Getty Images
You may already know that Walmart offers low prices on food, clothing and household goods. But did you know that Walmart also has a money transfer service that lets you send money to anyone in the U.S., Puerto Rico or Mexico from a Walmart store?
Read on to learn how Walmart2Walmart Money Transfers works, what you'll need to send or receive money and how much it costs to do so.
What Is Walmart2Walmart Money Transfer?
Walmart2Walmart Powered by Ria is a person to person payment transfer service offered at Walmart. Send money to anyone in the U.S., Puerto Rico or Mexico, and they can pick it up at their local Walmart or Bodega Aurrera store.
How Does Walmart to Walmart Money Transfer Work?
A Walmart2Walmart money transfer can take the place of digital P2P payment services like PayPal, Venmo or Zelle to transfer money instantly across the U.S. and even internationally, with low fees.
Instead of receiving a digital payment, your friend or family member can visit one of any 4,500 Walmart stores in the U.S. and Puerto Rico or any of 2,500 Bodega Aurrera or Walmart locations in the U.S. and Mexico to pick up the cash you sent.
You can pay in cash or have funds deducted from your debit card. Either way, the money will be distributed to your friend at the Walmart or Bodega Aurrera location of their choice within about 10 minutes.
How To Transfer Money at a Walmart Store Using Walmart2Walmart
You can transfer money from the Money Services Center or the customer service desk at any Walmart. Let the store associate know you want to use Walmart2Walmart to send money.
You'll need a photo ID, such as a driver's license, non-driver state ID card, a passport, a military ID, a tribal ID or a U.S. permanent residence card. You'll also need the recipient's name, address and phone number.
Once you've provided this information, you'll enter the amount you want to pay. You can pay with cash or debit card.
How To Transfer Money Using the Walmart2Walmart App

Walmart2Walmart Powered by Ria also has an accompanying mobile app. To send money through the app, follow these steps:

Create your account and log in. If you already have a Ria account, you can use the same credentials for Walmart2Walmart without creating a new account.
Choose the recipient. You can save recipients to your account to save time on repeating transfers.
Enter the payout method. Options include cash pickup, mobile wallet, bank deposit and even home delivery, depending on location.
Enter the amount you're sending and confirm the transfer. The app will show you additional fees before you confirm.
Pay for the transfer. You can use a method stored in your account or enter new bank account or credit or debit card details.
Verifying Your Bank Account with Walmart2Walmart Powered by Ria
If you want to send money directly from a bank account, you'll need to make sure to verify your bank account in the app first.
To verify your bank account, tap "Instant Verification" when you first add your savings account or checking account as a payment method. Walmart2Walmart uses Plaid to securely and privately verify your account and interface with Walmart2Walmart for payments. You'll need to log into your bank account and answer any prompts or security questions required.
Alternatively, you can verify your account manually. To do so, you'll need to wait for two small deposits, or micro-deposits, of less than $1 to appear in your account. Once you see them, open the email you received from Walmart2Walmart and click "Verify Now." Open the Walmart2Walmart app and visit the "Payment Methods" screen and enter the amounts of the two micro-deposits.
What Fees Does Walmart2Walmart Charge?
Walmart2Walmart payment transfer has a simple and affordable fee schedule, though it depends on whether you're sending the money through the app or in a store.
| Transfer Amount | App | In-store |
| --- | --- | --- |
| $1 – $500 | $2.50 | $2.50 |
| $500.01 – $750 | $4.00 | $5 |
| $750.01 – $1,000 | $5.00 | $5 |
| $1,000.01 – $1,300 | $7.50 | $10 |
How Do I Pick Up Money from Walmart2Walmart?
To pick up money from Walmart2Walmart at any Walmart or Bodega Aurrera store, you'll need a valid photo ID, as listed above. If you received a barcode, you'll need to provide it, as well. You will receive cash from the Walmart Money Services Counter or customer service desk.
If the sender opted to deliver the cash to your bank account or mobile wallet, simply wait for the transfer to finish processing — you don't have to do anything.
How Else Can I Send Someone Money Through Walmart?
If you don't want to use Walmart2Walmart Powered by Ria, or if you want to send more than the $1,300 limit, your local Walmart store offers other options to send money to friends and family. You can send a wire transfer through Western Union, or you can send funds through MoneyGram.
MoneyGram and Western Union are wire transfer services that allow P2P payment transfers domestically and internationally, often within minutes, although some transfers with Western Union can take as long as five business days.
MoneyGram has a $15,000 transaction limit, while Western Union allows transfers of $10,000 or more. Depending on how much money you are sending, how you are sending it and what country your sending it to, fees can vary widely.
Are Walmart2Walmart and MoneyGram The Same Thing?
MoneyGram, formerly Travelers Express, is not the same as Walmart2Walmart Powered by Ria, although both services allow you to send or receive money at any Walmart store.
MoneyGram is a wire transfer service headquartered in Dallas, Texas, with more than 380,000 locations. Walmart2Walmart Powered by Ria operates only at Walmart and Bodega Aurrera stores or through the mobile app.
Final Note
Walmart2Walmart Powered by Ria is an easy and affordable way to send money to friends and family for pick up at their local store. While there are limitations in the amount of money you can send or receive and the countries Walmart2Walmart serves, it may be a less expensive alternative than wire transfer services like Western Union or MoneyGram.
Information is accurate as of May 1, 2023, and is subject to change.
Editorial Note: This content is not provided by any entity covered in this article. Any opinions, analyses, reviews, ratings or recommendations expressed in this article are those of the author alone and have not been reviewed, approved or otherwise endorsed by any entity named in this article.