What Should You Do If Your Bank Misses an Autopay?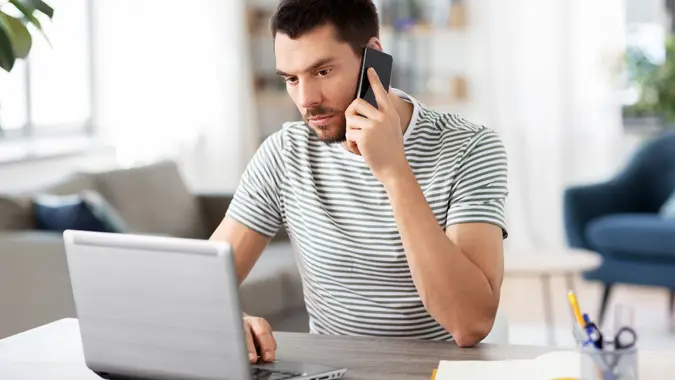 dolgachov / iStock.com
Signing up for autopay to pay your bills automatically can be incredibly convenient. Gone are the days of writing checks and dropping them in the mail, hoping they make it to your bank on time. These days, nearly 61% of Americans pay at least one of their bills with autopay, according to data from Fiserv Inc.
However, not all systems are perfect. Occasionally, autopay errors occur. Missed payments happen for a variety of reasons. If this happens to you, here are the steps you should take.
Confirm You Actually Missed a Payment
There are times when holidays and weekends might affect your autopay schedule. So, before you think you missed an autopay, check with your bank to ensure there is not a calendar delay. If there isn't, contact your bank to see if there has been a delay in processing or a technical glitch that might have affected your payment schedule.
Additionally, make sure the missed payment isn't due to insufficient funds in your account. If your account doesn't have the correct amount of money in it to completely fulfill your autopay requirement, it's likely your bank cannot process it.
Document the Issue
If you determine a missed autopay is the result of a bank error rather than insufficient funds in your account, take detailed notes when you call the bank to discuss the issue. Write down the name of the person who answers the call, as well as the time you call.
Hopefully, your bank's customer service is helpful and you won't need to use your documentation. However, in case you have to escalate the issue or dispute fees that come as a result of missing an autopayment, this information is helpful to keep on hand.
Andrew Daniels, founder of Family Money Plan, encourages consumers to ask the bank for refunds if they incur fees as a result of a bank error. He explained, "If you received a late fee due to your bank's error, not yours, you have the right to ask for a reimbursement."
Monitor Your Accounts Closely
While your bank is working on your request to find out why you missed an autopay, monitor your account closely. Look at your pending transactions and log into your account to ensure the missed payment eventually goes through.
Watch for unauthorized charges, other missed payments or anything else that might indicate fraud on your account. If anything looks unusual or out of place, call your bank right away and change your passwords. If your bank is repeatedly unreliable or has regular glitches when it comes to your accounts or autopay procedures, consider switching to a new one.
Set Up Alternative Payment Methods
If resolving your missed payment issue takes longer than expected, consider setting up alternative payment methods. It might be prudent to switch your other bills that are on autopay to a different bank account or card. That way, you can make sure that you don't miss any other important notices or bills.
Escalate the Issue If Necessary
In a best-case scenario, your bank works with you to resolve the issue as quickly and effectively as possible. If, however, you are unsatisfied with its response, you might have to escalate the issue.
You can follow up in writing, ask to speak to supervisors or file a formal complaint with regulators. In this situation, it's helpful to have as much documentation as possible and show your records when necessary.
Final Thoughts
Consumers sign up for autopay to make their lives easier, so it can be incredibly frustrating when you encounter issues or an autopay doesn't go out as expected. If this happens to you, follow the steps above. Remember, in order for payments to withdraw from your account, you have to have adequate funds. Additionally, sometimes autopay dates will change periodically due to holidays.
If everything seems right on your end and you've met all autopay qualifications, it's possible your bank made an error. The Consumer Financial Protection Bureau has regulations surrounding auto-debits, and banks must meet compliance obligations, including seeking customers' permission to auto-deduct from their accounts.
So, if you encounter problems or your bank is unhelpful, keep detailed notes so you have all the information at hand should you need to escalate your complaints. The CFPB even provides sample letters you can utilize if you need help reporting unauthorized debits or to revoke a bank's access to auto-debit from your account if they are unhelpful.
More From GOBankingRates