Top 9 Bank Promotions Happening This Spring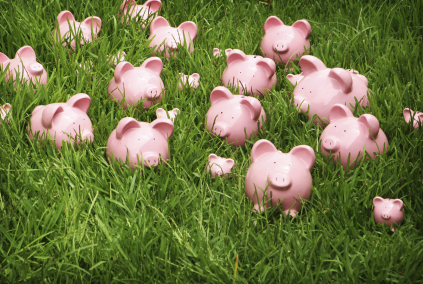 When banks offer giveaways and incentives for opening up a new account with them, it can be hard to resist. Sometimes the most exciting prospects are products like high-interest savings accounts or checking accounts with no fee and no minimum balance — the days of receiving a free toaster for joining are now gone, replaced by more relevant gifts.
The larger financial institutions usually have a leg up on their competition with a plethora of goodies available, but every once in a while, a smaller regional bank comes up with something to lure in potential account holders. Following the economic downturn, banks are now competing more and more for your business, and the deals being proffered this spring are sweeter than ever.
9 Impressive Bank Giveaways for Spring
Banks across America are offering plenty to tempt would-be account holders this year, ranging from free cash to a brand new Amazon Kindle. Don't forget to ask about promotions when you're shopping for a new place to park your money — you might be pleasantly surprised.
1. Cash Giveaways
Cash is the most common freebie banks offer, but that doesn't mean it's worthless, by any means. A lot of banks offer a cash bonus, often for opening up a checking or deposit account.
Here are a couple of the impressive cash offers out right now:
Capital One: Enjoy a $50 bonus for opening a Capital One 360 Checking account as long as you make at least three card purchases or Person2Person payments within the first 45 days. In addition, you can earn money by referring a friend to a Capital One 360 account.
Chase: Earn a $150 cash-back bonus from the Chase Total Checking account. Simply open an account, deposit at least $100 within 10 business days and have a direct deposit made into the account within 60 days to receive the reward.
KeyBank: Earn $200 when you switch to a Key Express checking account. Just open a qualifying checking account with a minimum deposit of $50, and make a direct deposit of at least $500 within the first 60 days.
Santander Bank: By opening an extra20 checking account, you can earn $20 a month — $10 with a direct deposit of at least $1,500 and another $10 with two or more bills paid each monthly service period. The offer is contingent on having an extra20 savings account as well.
2. Free Miles
If you travel frequently, you might be interested in in receiving free airline miles. Along with cash, mileage offers are becoming more popular with banks and credit unions.
BankDirect: BankDirect offers a number miles awards programs; one of its most impressive is the Mileage Checking with Interest Account. As long as you have a monthly direct deposit of at least $2,000 for six consecutive months, you can qualify for 10,000 AAdvantage miles.
3. Checking Account Bonus Interest
EverBank: Trying to find a decent interest rate on savings accounts or CDs these days can be difficult; that's why EverBank's offer of a 1.10% six-month bonus rate on its Yield Pledge Checking Account is so rare. This bonus rate applies on balances of up to $100,000 for first-time checking clients. The first-year rate for the same product is 0.78% APY on balances between $25,000 and $49,000.
4. Free College Savings
College isn't getting any cheaper; so, when Citizens Bank says it'll pay $1,000 toward higher education expenses, it's worth a closer look. Here's what you have to do to earn this bonus:
Open a Citizens Bank CollegeSaver savings account for your junior saver before his 12th birthday.
Save the monthly required amount each year ($25 for children under six at account's opening, $50 for children between six and 12).
Earn $1,000 (plus interest) on the account holder's 18th birthday.
5. Free Kindle Fire HD
BBVA Compass: Earn a 8GB Kindle Fire HD, among other perks, when you open a BBVA Compass ClearChoice checking account up until March 31, 2014. Simply make at least one direct deposit of $300 or greater and three qualifying bill payments of $50 or more to three different parties within 90 days.
6. Free iTunes
American National Bank: Receive $5 of iTunes credits monthly when you open a Smart Tunes account. All you have to do is make 12 VISA purchases a month, use online banking and sign up for e-statements.
7. Free Donations to Charity
Fifth Third Bank: When you open a checking account at Fifth Third Bank, you'll receive $150, and the same amount will be donated to Stand Up to Cancer. Simply sign up for direct deposit and make three online bill payments. (Offer ends March 31, 2014.)
8. Free Ski Lift Ticket
The Bank of Maine: If you switch your checking to The Bank of Maine, you'll earn a $250 account bonus, as well as one free lift ticket to Sugarloaf or Sunday River. Simply sign up for e-statements and bill pay, and have a recurring direct deposit. Note: The lift ticket promotion is only available through March 21, so you must act fast.
9. Free Useful Gifts
Citizens Bank & Trust: Share the banking love. Refer your friend to Citizens Bank & Trust, and each of you will receive a free gift. March's offer from the bank is an Emerson 20 LED Lantern, available the 14th of the month.
BNC National Bank: Sign up for Free Checking at BNC National Bank and receive one of a slew of gifts. This month, you can expect a Mrs. Fields 2-in-1 Cool Bake tray.