Will Gen Z Be the Reason the Personal Check Dies Out?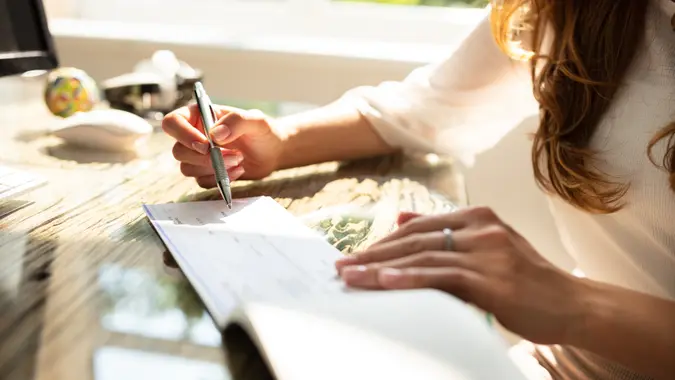 AndreyPopov / Getty Images/iStockphoto
Are we nearing the death of the personal check? It's a question that's been coming up more and more in the world of banking and personal finance as digital payment options become popular and as evidence pours in suggesting that consumers are moving away from paper trails. According to a new GOBankingRates survey, 44.5% of Americans have not written a physical check in the past year. 
See the List: GOBankingRates' Best Banks of 2023
Learn: Here's How Much Americans Have in Their Savings Accounts in 2023
More: GOBankingRates' Best Online Banks 2023
Could Gen Z, a cohort known for its love of convenience and technology, be the generation that kills off the personal check for good? Let's see what the experts think.
Many Merchants, Including Government Agencies, Still Use Checks  
"We talk about checks as if consumer demand is the only factor that matters," said Melissa Johnson, payment processing specialist at MerchantMaverick.com. "But merchant acceptance plays a role, too, especially as some companies lag behind in innovation.
"Schools and municipal governments in particular tend to be some of the most outdated institutions when it comes to payments and being able to accept credit or debit. In some cases, they may charge large fees to process debit cards. So checks will stick around for a while, at least until the merchant payment infrastructure gets fully up to date."
Take Our Poll: How Big of a Sign-Up Bonus Would It Take for You To Change Banks?
Digital Apps May Offer More Security, Which Gives Them an Edge Over Checks  
"Unlike personal checks, digital payment methods often offer greater security protections, such as encryption and fraud detection algorithms, which makes them a more attractive option for Gen Zers," said Gabriel Lalonde, CFP, CFEI, BA, president, MDL Financial Group.
"Mobile payment apps and online banking systems often use encryption to protect the confidentiality of financial information, and they also include fraud detection algorithms to help identify and prevent unauthorized transactions. In contrast, personal checks can be stolen or lost, and there is a risk that they could be used for fraudulent purposes. This is particularly relevant for Gen Z, who are more likely to be targeted by cybercriminals due to their relative lack of experience with financial transactions."
Personal Checks Could Evolve Into NFTs
"Personal checks will continue to live on, provided that they are adopted to a form acceptable to the digital economy," said Russell Stanley Q. Geronimo, chief legal officer at Oz Finance.
Geronimo goes on to explain that a major drawback of personal checks — their lack of security — could be solved if they were issued in the form of non-fungible tokens (NFTs). NFTs are backed by cryptography, distributed ledger technology and blockchain protocol. Essentially, all things that make them safer (although perhaps less straightforward) as an instrument for transferring money.
"The adoption of NFTs as a form for personal checks could prevent duplication, forgery and falsification, ensuring their continued viability among Gen Z and beyond," added Geronimo.
As Long as There Are Landlords, Physical Checks Will Likely Always Be Around  
Gates Little, president and CEO of altLINE, believes there will always be paper checks because there will always be rent due. 
"Gen Z [is] a generation of renters, and I'd say that the majority of bankers know that new checkbooks are ordered mainly for writing rent checks," Little said. "This makes sense when you think about it, since the majority of landlords and property owners are baby boomers. [Many] property management companies and REITs are using pretty standardized, antiquated processing systems and a classic personal check still seems to be the gold standard for paying rent."
While it's becoming more and more common for landlords to accept e-payments, there's no denying the large amount who require checks for everything from a security deposit to rent. So, while Gen Z may prefer banking with apps and foregoing personal checks when able, it looks like they may be stuck with checks whether they like it or not. 
More From GOBankingRates