Ally Review: Get the Most Bang for Your Buck with a 2-Year CD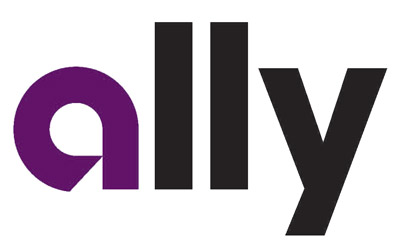 Most people understand the importance of building their personal savings. But if you deposit your money into a regular savings account, your monthly interest rate is probably around 0.01% APY. Even switch to a high-yield savings account from a commercial bank will likely earn an interest rate no higher than 0.15% APY.
If you're looking to get the most out of your savings, consider the benefits of an Ally Bank CD whose certificate of deposit rates are among the most competitive in the market.
What is a Certificate of Deposit?
One of the safest investment vehicles you can choose, a certificate of deposit (CD), is a type of bank account that pays interest on your deposit.
Essentially, upon opening a CD with Ally Bank, you're giving the financial institution permission to use your money for lending purposes or to re-invest your deposit. In return for keeping your funds in the CD for a specified time, Ally agrees to return your money plus interest once the CD account matures.
Naturally, the longer the maturity period, the higher the interest rate on your account. For this reason, it makes good financial sense to choose an Ally 2-year CD or a longer term CD.
Ally CD Review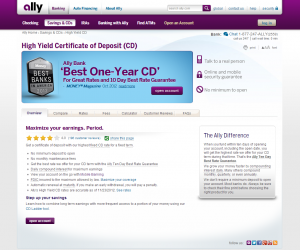 Ally Bank rates fluctuate according to market trends. Currently, Ally CD rates are at 1.13% APY on the bank's 2-year CD. Because Ally CD rates are higher than many of their competitors, an account with this bank benefits anyone who wants to maximize their savings efforts.
As a bonus incentive, Ally Bank features a "raise your rate" option. What does this mean exactly?
Open an Ally Bank CD and your interest rate can increase once during the two-year period. In the event that interest rates rise before your CD matures, this feature lets you raise your rate and maximize your profits. And if you fund your CD within 10 days of opening an Ally CD account, you're guaranteed the best CD rate available.
Other key benefits of an Ally Bank CD include:
No minimum deposit to open an account
Automatic alerts when CD rates increase
No monthly maintenance fees
FDIC-insured deposits up to $250,000
Online and mobile banking options
Automatic renewal at maturity
Ally Bank CD Considerations
Ally bank rates are high when compared to other online banks, such as ING, Bank of America and Chase. But like most certificates of deposit, there is a fee for early withdrawal.
If you pull out your money before the 2-year CD matures, for example, you'll pay a fee that's equivalent to 60 days of earned interest. Another factor to keep in mind is that you cannot deposit additional funds into the CD until after the account matures.
How to Open an CD with Ally Bank
Opening Ally Bank CD accounts is quick and convenient using their online application. Just fill in your personal information, including your name, address and Social Security number. Once you've created your account, you can select an option to fund your CD. You can also download and complete the certificate of deposit application, then mail the application to Ally Bank.