Why Giving Away a Free Mercedes is a Great Deal for C1 Bank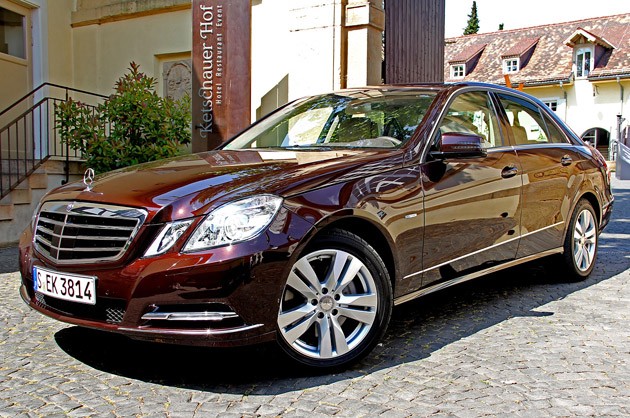 Photo: Autoblog.com
In a gimmick that gives new meaning to the term "instant gratification," a Florida bank is offering a shiny new $60,000 Mercedes to anyone who deposits $1 million into a 60-month jumbo-sized certificate of deposit.
Lakewood Ranch's C1 Bank launched this week its eyebrow-raising, 1-month campaign offering new customers their choice between four different models from the German automaker to anyone who opens one of its long-term CDs at the six-figure price point.
If it all sounds too good to be true, that's because it is — the new car will act as prepaid interest on the deposit account, meaning that new customers won't receive the standard 1.20% APY that comes with the 5-year CD. By opting for the new wheels up front, they won't need to wait five years for their interest payout — because there is none.
Sweet deal? It is for anyone looking to drive a luxury car home, now, without the hassle of what's called a "car payment." But it might not be the smartest move in the long run when there are better CD rates elsewhere, worth more than a new car.
New Car, or Higher APYs?
There are one of four Benz models up for grabs with C1 Bank's offer:  An SLK roadster, E350 sedan, ML350 SUV and E350 convertible. According to reports, the bank will cover the cost of the car, taxes and fees, which comes to just above $61,000 — $61,294, to be exact. So does the standard CD package: At five years, a $1 million deposit at 1.20% interest will yield an account holder about $60,000 at maturity. For the lucky person with a cool million to drop into the bank, opting for the car might seem like the best deal.
But what a lot of budding investors might not realize is that the new promotion benefits the bank more than the customer. For one, cars are a depreciating commodity; bank deposits are not. After five years, that shiny new Mercedes won't be worth as much as the total value of a $1 million share deposit, fully matured, with interest.
Plus, there are better CDs and interest rates out there to be had. Business Insider reported today that it found three credit unions, each offering 60-month CDs with a 2% interest rate. With $1 million, you can spring for one of these accounts and end up with $8,000 more than the C1 Bank offer after five years — more money than the original value of the Mercedes.
The Wall Street Journal's Smart Money also cited a search yielding 18 different banks and credit unions with 5-year jumbo CDs at 1.8% APY. Though it's not guaranteed if those rates will stay the same after five years — they could decrease, depending on market values — the Smart Money report quotes a research consultant who said that current deposit interest rates will most likely remain steady through the end of 2014.
A Lack of Financial Foresight
Business Insider's report relied on the advice of a Nerdwallet deposit products expert, Stephanie Wei, who warned that promotional offers like C1 Bank's can be sketchy, especially since share certificates, including the supersized ones, are only federally insured for up to $250,000.
Wei also said the offer raises "red flags everywhere" and is especially risky for investors; essentially, if the bank in question fails or shuts down, there's no recourse since a depositor's interest was prepaid, up front, in the form of a car.
More disturbing is a growing trend of consumers who seek instant gratification now, rather than smart financial growth later. C1 Bank's promotion, by all accounts, attempts to lure new customers with a product that dresses up its uncompetitive interest rates.
Today's "gotta have it" generation of new personal financiers (think Millenials or Gen-Yers), might not be able to afford a $1 million bank deposit right now, states Business Insider; but, if more financial institutions follow in C1 Bank's footsteps, they could attract impatient customers with cheaper draws like frequent flier miles, cash rewards or other disposable incentives with lower value than a matured CD.
Read the Fine Print
The Wall Street Journal quoted C1 Bank's CEO Trevor Burgess, who said that the Mercedes promotion hasn't had any takers yet since it was announced earlier this week. In the event it resonates with customers, there are a few other catches.
According to the bank, there's a limit of two vehicles per household. And since the CD earns no interest, customers will receive their original $1 million when closing out their account; that is, unless they withdraw prematurely, which triggers a $3,000 penalty fee, and the entire cost of the vehicle.