Overview of Best CD Rates: Sept. 23, 2013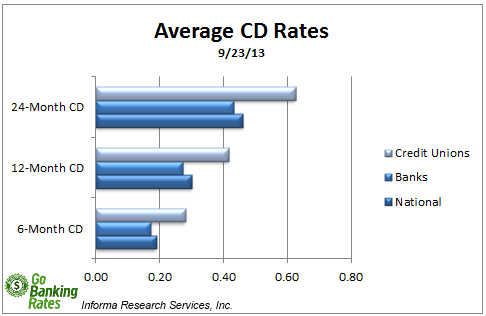 As we head into the last full week of September, CD rates across several terms remain relatively unchanged. Credit unions continue to stand out as the clear winner when it comes to average CD rates, as these financial not-for-profits offer significantly higher interest rates than traditional banks.
CD Rate Averages as of 9/23/13
| | | | |
| --- | --- | --- | --- |
| Product | National | Banks | Credit Unions |
| 6-Month CD | 0.19% APY | 0.17% APY | 0.28% APY |
| 12-Month CD | 0.30% APY | 0.27% APY | 0.42% APY |
| 24-Month CD | 0.46% APY | 0.43% APY | 0.62% APY |
10 Best CD Rates in the United States
There are a number of U.S. financial institutions that manage to offer CD rates greater than 1% APY, including one short-term, six-month CD account and a couple of year-long deposit terms in the top ten. In fact, Hanscom Federal Credit Union offers a moderate-term, 12-month CD account that's twice as high as some of the certificates of deposit that are twice as long, at 3.00% APY.
Sources: GoBankingRates.com and Informa Research Services, Inc. (www.informars.com). Although the information has been obtained from the various financial institutions, the accuracy cannot be guaranteed.
All interest rates are accurate as of the publish date. Rates are subject to change at any time at the discretion of individual financial institutions. Additional terms and restrictions could apply.