After Going Credit Card Crazy During Lockdowns, 76 Percent of Americans Want To Curb Their Swiping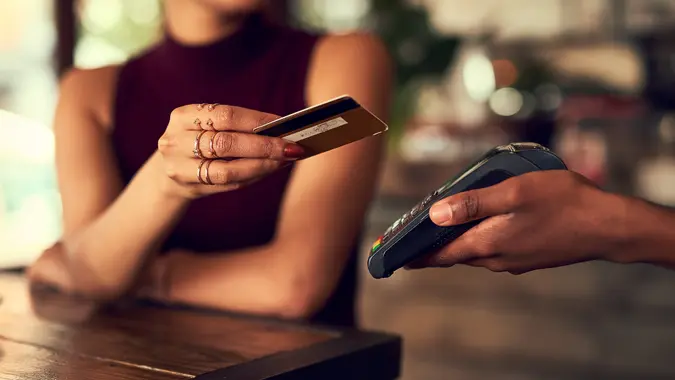 PeopleImages / Getty Images/iStockphoto
The pandemic shifted many Americans' attitudes about spending and saving, with a majority saying they are less likely to use credit cards for purchases now than before the pandemic, a recent GoCardless survey found. Seventy-six percent of Americans said they would like to decrease their use of credit cards, and this number is even higher among younger generations: 84% of 18- to 24-year olds said they want to decrease credit card spending and 84% of 25- to 40-year olds said the same.
Read: Most Americans Can't Pass This Tricky Finance Quiz — Can You?
Find Out: 6 Rude Money Questions You Should Never Ask (or Answer)
The main reason for this is the financial concerns that come along with using a credit card: 46% are wary of getting into debt, 27% fear they won't be able to pay off the balance each month and 26% have concerns about managing the minimum payment.
"The pandemic put people in tough positions financially, and that likely accelerated the move away from credit cards," Hiroki Takeuchi, co-founder and CEO of GoCardless, said in a press release.
Discover: Why Are Over Half of People Making $100K Living Paycheck to Paycheck?
Did You Know: 25 Secret Money Traps at Target, Walmart and Other Big-Box Stores
If you're a habitual credit card user, curbing your swiping can be a challenge. But becoming less reliant on credit cards can help you stay out of debt (or not add onto existing debt). If you're part of the three-quarters of Americans who want to decrease their use of credit cards, here are some expert tips for successfully doing so.
Take a Look at the True Cost of Your Credit Card Debt
"One quick way to motivate you to stop spending too much with your credit cards is to look at how much they're costing you," said Logan Allec, CPA and founder at Money Done Right. "Check your monthly credit card statements and look how much interest your credit card companies have charged you this year. The number, of course, will probably shock you. Keep that in mind the next time you're tempted to put too much on your credit cards."
The Financially Savvy Female: How Millennial Women Can Take Control of Their Debt
Stick To a Budget
"If you're not a natural saver and tend to overspend using your credit card, nothing beats a good old-fashioned budget to get your financial habits under control," Allec said.
Related: How Much You Need To Live Comfortably in 50 Major US Cities
If you keep your spending to what's allotted in your budget, you won't need to rely on a credit card — and credit card debt — to make purchases.
Try the 'Out of Sight, Out of Mind' Technique
"Keep your credit cards in an inconvenient place," said Lyle David Solomon, principal attorney at Oak View Law Group, who specializes in bankruptcy law. "It can be the back of your drawer, safe or file cabinet. If that doesn't help, you can keep your credit cards in the freezer. In addition to that, I always tell my clients to leave their credit cards at home when they go shopping. When credit cards are at home, they are forced to buy with cash. Since cash is limited, they can't buy everything. It gives them an opportunity for second-guessing."
See: 25 Ways To Save Yourself From Your Debt Disaster
Reward Yourself for Good Behavior
Positive reinforcement can help you stick to your goals, so consider using this technique to help curb your credit card use.
Read More: $1M Is No Longer the Standard Nest Egg – Here's How Much Most Americans Think You Actually Need To Retire
"Whenever my clients don't use credit cards for three months, I ask them to reward themselves with the money they saved on interest," Solomon said. "That reward acts as an incentive to reduce card usage."
More From GOBankingRates