Americans Paid $163.89B in Credit Card Fees — 6 Ways To Avoid Them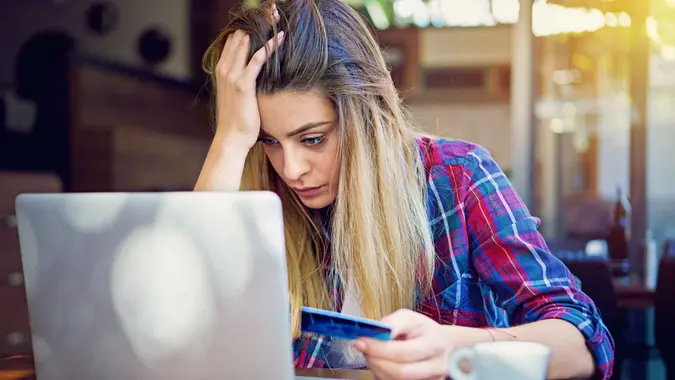 praetorianphoto / Getty Images
According to a recent WalletHub analysis, credit card fees and interest topped $163.89 billion, or $76.27 per account, last year alone. This was a significant jump from the $135.79 billion charged in 2021. Plus, high interest rates are expected to continue to make using a credit card expensive.
The good news is that you can find several ways to avoid interest and common charges like late fees and annual fees.
1. Choose Credit Cards Carefully
When seeking a credit card, look for one that minimizes as many fees as possible. Since annual fees can cost hundreds of dollars, picking a card without one will save you significantly. You can also find cards without late fees, cash advance fees or foreign transaction fees. And if you plan to do a balance transfer, consider looking for the less common cards that waive the fee.
Consider the new card's interest rate too. Some cards start with a 0% rate that saves you money for a specific time. However, make sure the standard rate will be competitive so you aren't financially strained later.
2. Automate Your Payments
A late payment can trigger a late fee of up to around $40 and a higher penalty interest rate — plus the associated credit score damage. Setting up auto payments from your bank account goes a long way toward preventing them. You'll just want to ensure your linked bank account has enough funds to avoid a returned payment fee. Plus, verify the scheduled payment date and amount.
If you don't automate payments, at least set up a reminder a few days before the due date so you remember to pay on time. Your creditor's mobile app likely has an alert feature for this.
3. Avoid Carrying a Balance When Possible
Unless your card currently has a promotion, Federal Reserve data shows you could be paying an interest rate of over 20% if you carry a balance. If you can afford it, pay off the card each month during your creditor's grace period to avoid interest charges. Otherwise, at least pay off as much of your balance as you can.
4. Regularly Monitor Your Account
Use your creditor's online portal or mobile app to regularly review your account information, including your balance, due date and credit limit. When you're getting close to your limit, stop using the card so you'll avoid potential over-limit fees. And if you don't have auto payments set up and your due date is near, make a manual payment to avoid a potential late fee.
Look for any upcoming account changes as well. For example, your monthly statement should show when any promotional rate ends, and this is a sign to pay off the balance to avoid interest. Your creditor should also include details on any upcoming fee increases.
5. Stay Away From Cash Advances
While convenient when you're in need, credit card cash advances are expensive transactions. Typically, you'll pay up to 5% of your advance amount along with a higher cash advance interest rate. Even if your card waives the advance fee, the higher interest rate usually still applies.
Instead, ask people you know for cash or consider cheap cheaper borrowing options, including personal loans. If it's an emergency, you might also carefully weigh the costs and benefits of withdrawing funds early from your retirement account.
6. Speak With Your Creditors
Although there's no guarantee, it's still worth contacting your creditors about reducing fees. If your annual fee is coming up, try asking for a promotional offer to keep the card. You can also call to ask about waiving your first late fee if you have always paid on time or you suspect an error.
The creditor might be willing to reduce your interest rate if you've been a reliable customer. You could have the best luck if your credit score has improved significantly and you've had the card for a long time.
More From GOBankingRates