Are Americans Getting Better at Credit Card Debt? New Survey Shows Positive Signs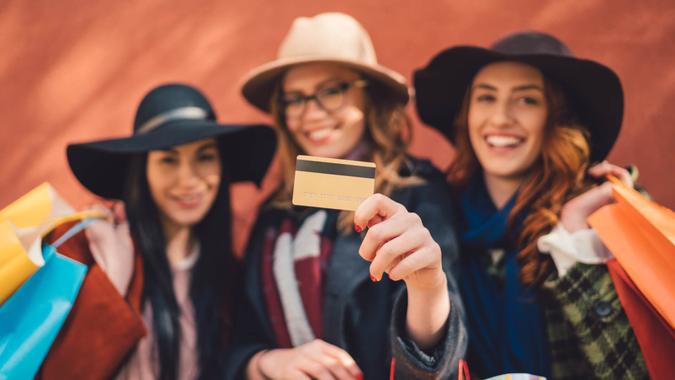 martin-dm / Getty Images
New data seems to suggest that Americans have been getting better at credit card debt as average balances declined significantly during 2020, according to the Consumer Finance Protection Bureau (CFPB), and Americans say they are very confident in their abilities to pay off their credit card debt, according to a new survey. But some experts attribute the rosy picture to the pandemic and note that this might be a temporary behavior, triggering changing attitudes going forward.
The new GOBankingRates survey finds a slew of positive signs regarding Americans' relationships to their credit cards.
Dive Deeper: 44% Pay Off Their Full Credit Card Balance Each Month: But Should They?
Surprising: 60% of Americans Trust This Credit Card Brand the Most
First, when asked how they handle their monthly credit card bills, the most popular response for Americans is that they pay it completely off, a response found across all age groups, with 44%. 
Most surprisingly, regarding hitting the credit limit on credit cards, 50% of Americans say they never did, with a whopping 72% of Americans 65 and over opting for that answer. 
Another key finding of the survey is that 30% of respondents say they have between $0 to $100 of credit card debt, while 30% of Americans have between $1,001 and $5,000 of debt. Only 5.5% say they have $10,000 or more in credit card debt.  
An additional positive sign in the survey is that Americans seem for the most part, very optimistic in their ability to pay off their debt quickly. Indeed, 59% of respondents say they  believe they will be able to pay off all their credit card debt at some point in the next six months.
Learn: Common Misconceptions About Credit Cards
Interesting: How Credit Card Use Changed During the Pandemic
In addition, another 13% of respondents believe it will take them a couple of years and more notably, a meager 2% only believe they will never overcome their credit card debt.
Breaking down the survey's findings further, in terms of how Americans handle their monthly credit card bills, the next most popular response is "I pay more than the minimum, but never the full balance," with 26% of respondents. Next, 13.38% say they only make the minimum payments; 9.12% say they pay as much as they can monthly; 6.54% say they set an amount each month; and only 0.79% say they use autopay or a third-party app.
Americans in the 18 to 24 age group who say they pay "more than the minimum, but never the full balance," responded the lowest, with 14%, but the figure rose to 36% among the 45- to 54-year-old age group, the survey finds.
Read: Jaw-Dropping Stats About the State of Credit Card Debt in America
See: Why It's Still Better To Use Your Credit Card Over Your Debit Card
"The 36% number is surprising to me," Bob Armour, chief marketing officer at money management platform M1 Finance tells GOBankingRates. "I'd expect it to be much lower, as presumably most of these people own property (real estate and investments) and should have access to very low rates via mortgages, home equity loans/lines, and portfolio lines of credit rather than carrying high interest credit cards," he adds.
Nirit Rubenstein, co-founder and CEO of credit repair platform Dovly, tells GOBankingRates that the numbers might reflect recent industry data, which suggests that during the COVID pandemic as more disposable income was available, people used that to pay off debt. 
"However, all indicators suggest that this was temporary behavior," she says.
Find Out: Why an Annual Fee Card Is Worth It
Indeed, a Consumer Finance Protection Bureau report found that the decline in credit card debt during the pandemic was unprecedented in speed and magnitude. Measures of consumer stress, such as late payment incidence and the share of accounts delinquent, hit record lows.
Ted Rossman, senior industry analyst at CreditCards.com, tells GOBankingRates that while it's true that overall credit card balances have fallen sharply, this improvement hasn't been shared equally.
Rossman attributes the overall improvement to the fact that many households used stimulus funds to pay down debt and spent less over the past 18 months, which "hides that many households are struggling, unfortunately," he says.
Find Out: Which Is Smarter: 'Buy Now, Pay Later' or Credit Cards?
The sentiment is echoed by several experts. Jason Vissers, credit card and financial analyst at MerchantMaverick.com, tells GOBankingRates that he is not surprised by these findings: the fact that credit card debt declined significantly in the first half of 2020 as the pandemic struck would seem to indicate that for most Americans, credit cards are less a tool of accumulation or extravagance than a means of keeping afloat amid the rising cost of living.
"And, while reduced spending opportunities during the pandemic undoubtedly had something to do with it, the fact that people seemed to use their coronavirus aid to pay off their debts rather than extend themselves further, supports the notion that debt is generally taken on out of necessity, not desire," he says.
The CFPB report also underscores the fact that the beginning of the pandemic saw declines in spending, which may have enabled some cardholders to use those funds to pay down debt.
Closing a Credit Card? Here's What You Should Do Instead
"Unprecedented levels of direct government assistance, such as Economic Impact Payments, enhanced unemployment benefits, and payment and interest suspensions on federally-held student loans may have provided some consumers with additional disposable income usable to reduce balances," according to the report.
The report also notes another contributing factor: rather than reduce debt, some consumers may have simply shifted purchasing behavior away from credit cards to debit cards or other forms of credit, such as buy now pay-later or personal loan products.
In terms of the number of credit cards Americans own, one or two is the most popular response. Owning more than four cards increases with age, with 17% of the 45 to 54; and 21% for both the 55 to 64 age group and the 65 and older group.
Learn: The Top Purchases You Should Always Make With a Credit Card
Read: The Top Things To Consider Before Applying for a New Credit Card
The GOBankingRates survey also finds that 15.46% of Americans have $5,001 or more in credit card debt. In addition, the survey finds that Americans who have the most debt– $10,000 or more– are those in the 45 to 54 age bracket, with 8%.
Regarding hitting the credit limit on credit cards, following the  50% of Americans who say they never did, "I have hit my credit limit before but not in the last year" is the second most popular response, with 19.5% of Americans, followed by 12.78% saying they hit the limit in the past year. 
Finally, another key finding of the survey is that younger people believe they rely too heavily on credit, compared to older respondents.
Tricks of the Trade: Paying Off a Credit Card with Another Credit Card
"I feel like there's a strong trend amongst younger cohorts to take control of their finances and spend within their means," M1 Finance's Armour says. "Perhaps it's what they witnessed in the housing crash with people who got overextended."
In any case, whatever age group you're in and no matter the amount of debt you have, Dovly's Rubenstein, says that the most important thing to do is to make your payments on time.
She recommends that to be sure you don't forget to make payments on time, you may want to set up automatic payments or put a reminder in your phone when bills are due. "Avoid borrowing more than 30% of your credit limit on credit cards. Keep an eye on your credit reports and make sure there isn't incorrect information being reported. Wrong balances or wrong payment statuses can bring down your credit score and make it harder for you to get approved for credit at the best rates in the future," she says.
More From GOBankingRates
GOBankingRates surveyed 1,009 Americans aged 18 and older from across the country on September 22 through September 23, 2021, asking twelve different questions: (1) Which of the following is the most important to you when it comes to picking a new Credit Card?; (2) How do you handle your Credit Card bill each month?; (3) Which Credit Card company do you trust the most?; (4) What age did you get your first Credit Card?; (5) What is your primary purpose for using your Credit Card(s)?; (6) Do any of the following statements apply to you? Select all that apply:; (7) Which Credit Card fees do you hate the most? Select one:; (8) How many Credit Cards do you own?; (9) What is your total current Credit Card debt?; (10) How Long do you think it will take you to pay off your Credit Card debt?; (11) Have you ever hit the credit limit on your Credit Card?; and (12) Have you ever charged any of the following to your Credit Card? Select all that apply: All respondents had to pass a screener question of: Do you own/use a Credit Card(s)?, with an answer of "Yes". GOBankingRates used PureSpectrum's survey platform to conduct the poll.