How To Request a Bank of America Credit Line Increase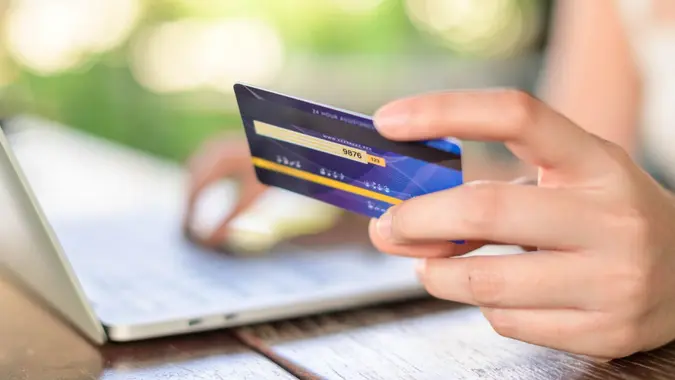 PATTRAWUT / Getty Images/iStockphoto
A credit card holder might need a credit line increase for many reasons. It may be to make a big purchase, transfer a balance from another card or improve a credit score. Requesting a Bank of America credit line increase is easy to do. Eligible cardholders can request an increase online, while others will need to request one by phone.
How To Request a Bank of America Credit Line Increase
To determine if a card is eligible for an online credit line increase and to request the increase:
Sign in to Bank of America Online Banking.
Select the credit card account for which the increase is being requested.
Go to the "Account Summary" section.
Under "Card Details," select "Request a Credit Line Increase."
Cardholders who cannot request an increase online can call the toll-free number on the back of their Bank of America card to speak with a representative regarding the increase request.
If the request is denied, Bank of America, Member FDIC will provide a note explaining why. Cardholders in good standing who keep income information up to date in their online profile will have a better chance of being approved for an increase.
How Often Can a Cardholder Get a Credit Line Increase with Bank of America?
A cardholder can request a credit line increase at any time but may be denied if the credit line has recently been adjusted or if the account is new. A relatively new cardholder may have to show a history of on-time payments on the card before Bank of America will consider increasing the credit limit.
Does Bank of America Automatically Increase a Cardholder's Credit Limit?
Bank of America may automatically increase a cardholder's credit limit if a periodic review shows the account is in good standing and the cardholder has a good credit score, sufficient income and meets other criteria determined by Bank of America.
What Is the Maximum Credit Line for a Bank of America Card?
There is no standard maximum credit line for a Bank of America card. The maximum credit limit is determined on a per-cardholder basis. Bank of America considers several factors to determine how much credit to extend to a cardholder.
Is a Bank of America Credit Line Increase a Hard Pull?
Hard pulls of credit history can impact your credit score. In order to avoid unduly impacting the credit histories of cardholders, Bank of America uses a soft pull to evaluate a credit line increase request.
Takeaway
Bank of America may deny a credit line increase request for many different reasons, including a low credit score, insufficient income, a history of late payments or a recent credit line increase or decrease.
Denied cardholders can take steps to address any reasons for the denial and make another request in 6 to 12 months. However, there is no guarantee a future Bank of America credit line increase will be approved.
Information is accurate as of July 25, 2022.
Editorial Note: This content is not provided by Bank of America. Any opinions, analyses, reviews, ratings or recommendations expressed in this article are those of the author alone and have not been reviewed, approved or otherwise endorsed by Bank of America.