5 of the Best Credit Cards With Sign-Up Incentive Programs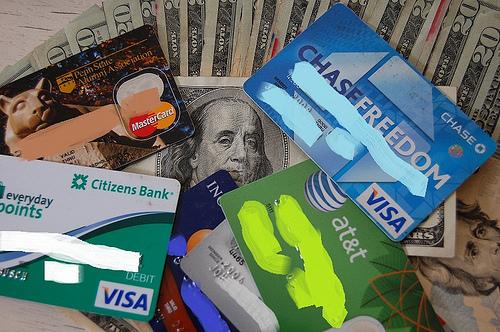 A few decades ago, when it was still common for credit card companies to aggressively target the younger, college-aged crowd, you could expect a free pair of sunglasses or maybe a t-shirt just for applying for a card — quite a deal when you're a starving student, but nothing to get excited about for the average person.
Thanks to the CARD Act, however, credit card companies aren't going after unsuspecting young adults with freebies like they used to, but they are still offering sign-up incentives. The good news is most of the best credit card offers target higher-quality customers (read: people who can probably afford to own a credit card) and the credit card incentives are more grown-up as well.
The Wall Street Journal reports that credit card issuers now have to be a lot more careful about who they extend credit to, focusing more on consumers who charge a lot each month but always pay their balances. That translates to sign-up credit card incentive programs that are more attractive to the affluent crowd. So if you're planning to open a credit card and want to get a little something extra out of the deal, check out the five rewards credit cards below with particularly generous sign-up incentive programs.
Earn More Perks From Your Credit Card
Top 5 Best Credit Card Offeres
1. Chase: Sapphire Preferred
A very popular rewards credit card, the Sapphire Preferred offers a sign-up bonus of 40,000 points if you spend $3,000 within the first three months. These points add up to $500 in travel when redeemed through Ultimate Rewards. Chase waives the $95 annual fee in the first year.
2. Chase: Hyatt Credit Card
3. American Express: Starwood Preferred Guest
American Express offers their own travel rewards card with a great sign-up incentive program. Your first purchase grants you bonus "Starpoints," and you can earn an additional Starpoints when you spend within the first six months. This equates to enough points for two free nights at any Category 5 hotel, like the Westin St. Francis in San Francisco or the W Boston.
Earn More Perks From Your Credit Card
Related: The Top 9 Most Exclusive Black Cards You Don't Know About
4. Citi: American Airlines Advantage Card
Citi provides new card members 40,000 "AAdvantage" bonus miles when they make at least $3,000 in purchases within the first three months of opening. As Citi points out, it's "more than enough" to redeem for a domestic flight. The annual fee of $95 is waived in the first year.
5. Chase: Southwest Airlines Rapid Rewards Premier Card
This rewards card from Southwest Airlines offers a sign-up bonus of 50,000 points, which translates to $830 in plane tickets. This is a great deal for those who make frequent, short trips around the U.S. Note, however, that there is an annual fee of $99, which isn't waived in the first year like some of the cards above.
Not So Fast…
Sign up incentives can be great for getting a little extra out of a new credit card deal, but don't think of it as free money.
Earn More Perks From Your Credit Card
Most of the best credit card offers require the card holder to meet certain spending thresholds in order to be eligible. Then there's the fact that in order to take advantage of the best credit card offers, you have to spend on credit. For those with debt problems, even the best credit card rewards program just isn't worth it.
So remember that the best credit card incentives are only a good deal if:
1. You really would spend the money anyway — You can't save money by spending money; don't be lured into enticing sign-up incentive programs that require you to spend more each month than you normally would, or rely more heavily on credit than your finances allow.
2. Fees don't wipe out the bonus — Most cards that offer high-value sign-up bonuses also charge an annual fee. Some, like a few above, will waive that fee in the first year, while others charge a modest yearly amount. Others, however, require the cardholder to pay an annual fee of several hundred dollars, which may cancel out any extra sign-up incentives.
3. You never carry a balance — Even the best credit card incentives mean nothing if they're eaten away by interest charges. Rewards credit cards are a beneficial financial tool only when paid off every month.
Photo: Anthrocopy
Editorial Note: This content is not provided or commissioned by the bank advertiser. Opinions expressed here are author's alone, not those of the bank advertiser, and have not been reviewed, approved or otherwise endorsed by the bank advertiser. This site may be compensated through the bank advertiser Affiliate Program.