The 6 Best Credit Cards for Drugstore Buys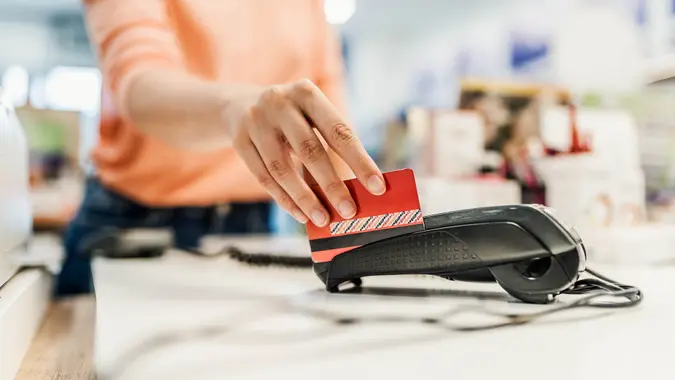 ljubaphoto / Getty Images
Update: Some offers mentioned below may have changed or are no longer available. View current credit card offerings from our partners at CardCritics here or on the issuer's website.
If you regularly have prescriptions filled at your local drugstore, you may not think of using a credit card for something so routine. However, credit cards allow you to earn points on your everyday purchases. Even if you redeem your points for cash back, you'll still come out ahead using a credit card — provided that you don't carry a balance every month.
See: Jaw-Dropping Stats About the State of Debt in America
Find: 7 Fastest Ways To Save $20K, According to Experts
Indeed, as long as you pay your balance off each month, using a credit card for drugstore purchases will allow you to earn points on something you would have bought anyway. Hence, it makes sense to make your money go a little bit further.
If you aren't familiar with credit card rewards, you earn points on every purchase you make. Each card has different point values depending on what you buy. In general, credit card points are worth one cent each. In reality, points can be worth more or less than one cent depending on how you redeem them.
For example, travel can have lucrative redemptions. However, if you redeem points for cash, they'll generally be worth one cent each.
Related: How Will Credit Card Interest Be Impacted by the Fed Raising Rates?
Credit Cards for Everyday Drugstore Purchases
Whether it's with loyalty programs or high point redemptions on your transactions, credit cards can help you earn points and cash back. Let's take a look at some of the best credit cards for earning points on those everyday purchases.
Chase Credit Cards: Freedom Flex and Freedom Unlimited
Chase is always one of the favorites among those who like earning points with credit cards, and drugstore purchases also fare well when using Chase cards. As Chaim Geller, financial advisor and founder of HelpMeBuildCredit.com notes, both the Chase Freedom Flex and the Chase Freedom Unlimited allow you to earn unlimited three points on every dollar spent at drugstores.
Learn: Use These 3 Foolproof Strategies To Avoid Credit Card Debt
Citi Custom Cash
The Citi Custom Cash credit card also works well for drugstore purchases, although it isn't quite as straightforward as the Chase cards. The Citi® card gives five points on the first $500 you spend in your top spending category every month. One eligible category is drugstores, so you can simply put some or all of your drugstore purchases on this card for the month and earn up to 2,500 points. That's $25 just for buying what you normally would.
That is the general strategy Geller recommends, too. "I would probably designate the card to be used at drugstores only and not at all for anything else, to help me be sure that drugstores remains the top category earning 5 points," Geller said.
Bank of America Customized Cash Rewards Credit Card
If you're looking for a simple way to earn cash back on drugstore purchases, the Bank of America Customized Cash Rewards card is a strong candidate. It has three tiers of cash-back categories, the highest of which lets you earn 3% cash back on your first $2,500 in purchases quarterly in the category of your choice. You'll need to pick your category ahead of time and can change it up to once a month. Drugstore purchases are in the 3% category, so this is a great option for those monthly prescriptions. 
Compare: How Filling Up on Specific Days Could Save You $100 on Gas Annually
AARP Essential Rewards Mastercard
The AARP Essential Rewards Mastercard from Barclays is also ideal for drugstores. Much like the Bank of America card, it has no annual fee and allows you to earn 3% cash back at drugstores. Unlike the Bank of America card, it doesn't have a quarterly limit on how much in purchases can earn cash back.
The AARP card does have a major caveat, though: Target and Walmart are excluded from 3% cash-back earnings. But if you frequent a different pharmacy, this card can still be perfect for filling your prescriptions.
Citi Double Cash Credit Card
The Citi Double Cash credit card is a great option if you are looking for a nice way to earn points but don't want to have to keep track of multiple credit cards. That's because, unlike other credit cards mentioned here, it doesn't have a higher rate for drugstore purchases.
However, it does let you earn 2% cash back on all your purchases. The "Double Cash" name comes from the fact that you earn 1% cash back when you use your card, and an additional 1% cash back when you pay it off. Hence, it's also good if you are prone to carrying a balance every month, as you have an incentive to pay the card off.
Learn: The Top Purchases You Should Always Make With a Credit Card
Capital One Venture Rewards Card
As its name suggests, the Capital One Venture Rewards credit card is more of a travel credit card. It probably shouldn't be your first option unless you are looking for a travel card; after all, unlike the cards mentioned earlier, it has an annual fee ($95).
That being said, the Venture Rewards card works well for drugstore purchases if you also want a travel card. In addition to having a valuable sign-up bonus, it allows you to earn an unlimited two points on every dollar spent. It also comes with other travel perks, such as a $100 TSA Pre-Check/Global Entry reimbursement. That's a nice benefit, especially since it is worth more than the annual fee on its own.
More From GOBankingRates