Best Prepaid Credit Cards To Build Credit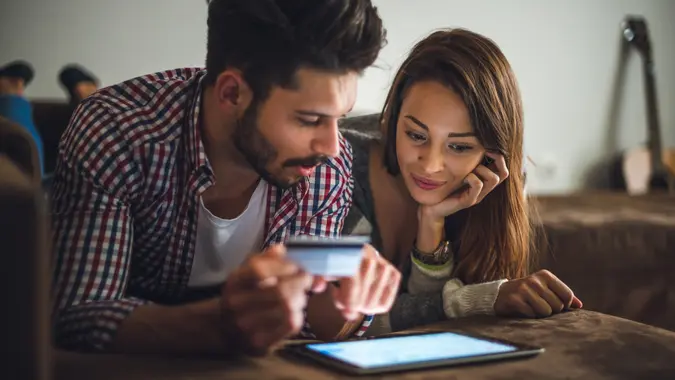 Georgijevic / iStock.com
If you're at the start of your credit journey or need to rebuild your FICO, getting approved for a credit card can be difficult. The trouble is, a credit card, and responsible usage, may be exactly what you need to improve your credit score. 
Fortunately, some card issuers provide secured credit cards for bad credit. These cards usually skip the credit check since you'll be providing a refundable deposit that will serve as your credit limit.
Top Prepaid Credit Building Cards
This round up of the 9 best prepaid credit cards to build credit presents the top options to get you on track.
1. Capital One Quicksilver Secured Cash Rewards Credit Card
Annual Fee: $0
APR:  
The Capital One Quicksilver card is a great option when you're in search of a card to build credit that has no hidden or annual fees. Plus, it comes with rewards which is something most secured cards don't offer. You can earn 1.5% cash back on every purchase with no limits.  
To get started, a refundable security deposit of $200 is required. That will start you with a credit line of $200. If you use the card responsibly and pay the card off in time, you could receive a higher, deposit-free credit line after six months and even get your initial deposit back. Plus, Capital One reports your history to the credit bureaus so you can start improving your credit score.  
2. Applied Bank Secured Visa® Gold Preferred® Credit Card
Annual Fee: $48
APR: 9.99%
Most credit cards — particularly those that cater to lower credit scores — have extremely high interest rates. Applied Bank's secured card has the lowest rate of all the best prepaid credit cards to build credit reviewed at 9.99% APR fixed. Meaning, your rate won't increase if you make a late payment. 
To activate the card, a $200 to $1,000 deposit is required. However, you can increase your credit limit to as much as $5,000 by continuing to make deposits.
3. BankAmericard® Secured Credit Card
Annual Fee: $0
APR:  
Bank of America's BankAmericard works just like a standard credit card. However, you won't have to wait on a credit pull for approval. As long as you pay a refundable security deposit of $200 to $5,000, your credit line will match the deposit. Over time, Bank of America will review your account. If your credit usage is responsible, you may qualify for a refund of your security deposit.
4. Citi® Secured Mastercard®
Annual Fee: $0
APR:
Citi's Secured Mastercard will help you get closer to a credit score you can be proud of as it reports to all three credit bureaus each month. You can watch your progress with free online access to your FICO score. A minimum security deposit of $200 will get you the same amount as your credit limit.
The Flexible Payment Due Dates feature allows you to pick your own due date. For the best chances of success, be sure to spend responsibly and make payments on time. Keep on track by setting up account alerts and scheduling Auto Pay each month to cover your statement balance.
5. OpenSky® Secured Visa® Credit Card
Annual Fee: $35
APR: 18.89% variable
According to OpenSky, one in five cardholders raise their credit score by 70 points or more in six months. It's the primary reason a secured credit card is a great way to rebuild credit. 
Since no credit check is made, you'll need to turn over between $200 and $3,000 to serve as collateral for the credit limit. OpenSky reviews your activity, potentially qualifying you for a credit increase or an OpenSky Gold Unsecured credit card in six months — without a deposit required. In the meantime, your activity is reported to the credit bureaus, helping you improve your score.
6. Discover It® Secured Credit Card
Annual Fee: $0
APR:
Discover has a lower threshold of credit worthiness for the bulk of its cards. If you still don't think you can get approved, the Discover it Secured card is a good alternative. The best part is, it includes many of the same features Discover's standard unsecured cards have to offer. All you need to do to get started is apply — without a credit check — and provide an amount as collateral for the credit limit, starting at $200. 
While you build your credit, Discover will monitor your activity to potentially offer a credit limit increase without asking for another deposit after seven months. In the meantime, you can get started earning rewards on your spending, such as 2% cash back at restaurants and gas stations — up to $1,000 in purchases each quarter. And earn an unlimited 1% cash back on everything else.
7. Secured Sable ONE Credit Card
Annual Fee: $0
APR: 12.49% variable
If you plan on carrying a balance, the Secured Sable One card has one of the lowest interest rates of the best prepaid credit cards to build credit at only 12.49% APR. No credit check or previous U.S. residency is required, making it ideal for foreigners who have recently moved to the country. Plus, you have the ultimate flexibility to choose your deposit amount. This means your credit line can be just a few hundred dollars or thousands, based on the deposit.
You can also earn 2% cash back on your spending at Amazon, Whole Foods, Uber, Uber Eats, Spotify, Netflix and more. All other spending earns 1% cashback. You'll start building credit history since Sable ONE reports your activity. And if you're goal oriented you'll appreciate the option of becoming unsecured as soon as four months plus a $25 bonus if you achieve a credit score of 700 or more in the first twelve months.  
8. The First Progress Platinum Elite Mastercard® Secured Credit Card
Annual Fee: $29
APR: 22.24% variable
For a secured card with more benefits and perks, the First Progress Platinum Elite Secured Mastercard could be the answer. You'll need to provide a deposit of $200 to $2,000 when you apply, but you'll be approved for a card that's accepted nearly everywhere. You can use this card for car rental deposits, travel and more. And when you pay off your balance, you'll receive your deposit back.
9. Surge Secured Mastercard®
Annual Fee: $69
APR: 19.99% variable
The Surge Secured Mastercard reports to all credit bureaus to ensure your responsible activity is rewarded. You can even access your Vantage 3.0 score from Experian for free using the mobile app.
To apply, you'll need to have a checking account. You'll start small with Surge — a refundable deposit of $300 is required and will serve as your credit limit. Your purchases will earn 1% cash back, putting a bit of the annual fee back into your pocket.
Takeaway
If you're having trouble getting approved for a credit card, any of the best prepaid credit cards to build credit in this review can help you improve your credit score. As long as you spend and make payments responsibly, you're on track for a brighter credit future.
Rates are subject to change; unless otherwise noted, rates are updated periodically. All other information on accounts is accurate as of Sept. 13, 2022.
Editorial Note: This content is not provided by any entity covered in this article. Any opinions, analyses, reviews, ratings or recommendations expressed in this article are those of the author alone and have not been reviewed, approved or otherwise endorsed by any entity named in this article.