How To Find the Best Second Credit Card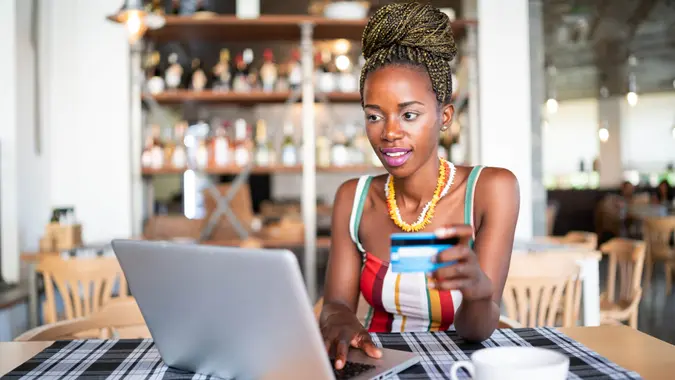 valentinrussanov / Getty Images
A credit card comes with many benefits beyond extending the time you have to pay for purchases. Many credit cards offer purchase protections, additional travel insurance coverages and more. There are times when having an open credit line could be a lifesaver, especially if you need to cover an unexpected expense.  
While many people find that having a single card should suffice, there are advantages to having a second one. This guide explores how to find the best second credit card for your needs and when it can be beneficial to get one.
When Should You Look For a Second Credit Card?
There are plenty of reasons why you should look for a second credit card. One of the most basic reasons is to have one available as a backup in case your main card is ever lost or close to its credit limit. Other reasons you may want to have a second credit card include the following:
1. To Build Credit
One of the top reasons for choosing the best second credit card to add to your wallet is to build your credit. There are several reasons why a second card could help you build credit:
Over time, the ages of your cards add to your score.
Your available credit increases. If you keep your balances low, the ratio of your debt to your overall credit limit could boost your credit score.
Making consistent payments on more than one card means you have better chances of improving your credit score over time.
2. Large Purchases May Be Coming Up
There are times in life when an expensive emergency pops up or you may need to make a larger purchase for furniture, appliances, computer equipment or other electronics. A credit card could help for such purchases in multiple ways:
You won't have to outlay the cash in full.
You can pay back the purchase over time in installments. And if you choose a credit card with an introductory 0% APR period, the promotional period won't cost you any extra money in finance charges.
The card comes with additional benefits that could give you peace of mind when you make a larger purchase, such as purchase protection and extended warranty protection.
You could earn points, miles or other rewards such as cash back on large purchases you'd make anyway.
3. To Consolidate Credit Card Debt
If you have cards with high balances, you're likely paying quite a bit in interest charges. Transferring the balances of cards with high interest rates to one with a low or 0% APR could save you money while you pay down the balance. Best of all, consolidating several balances into one card could make it easier to manage your payments.
4. To Travel More
Travel rewards credit cards often come with an enticing sign-up bonus offer, such as 60,000 bonus points. The points could be redeemed for free airfare or other travel, including hotels and car rentals, and entertainment.
Many travel rewards cards allow you to earn even more points on your spending, ensuring you're always accruing points to use for future trips. Plus, you may have other perks available, such as free checked bags, airline travel credits on in-flight purchases and more.
How To Find the Best Second Credit Card
If any of the reasons why and when you should look for a second card resonate, here are tips on how to find the best second credit card.
1. Look for Cards With No Annual Fee
There are plenty of quality credit cards available with no annual fee, making it less of an obstacle to pick up the best second credit card without a financial commitment. Even if you don't use the card often, knowing it has a place in your wallet for free can be good.
2. Consider a Rewards Card
Some cards stand out because they give back. For every dollar you spend, you may get at least 1 point — and often much more in specific categories. Rewards credit cards generally come in a few forms: cash back, travel or loyalty cards. If there is a particular brand or company you do business with often, a related rewards credit card can open up a world of special perks that are exclusive for cardholders.
As for cash-back rewards cards, you could earn enough cash back to pay down your card balance with the amount, redeem for gift cards or use for purchases. When choosing a rewards credit card, consider the rewards. Look at the categories you tend to spend on most and choose a card with the highest rewards potential for your categories of choice.
3. Compare Benefits
In some cases, the card benefits may be worth their weight in gold. For example, some premium cards offer car rental coverage via a collision damage waiver. In other cases, having trip interruption coverage for free or extended warranty protection for items purchased with the card could be a big selling point.
4. Research Sign-Up Offers
Card issuers often advertise enticing sign-up bonuses that could help you decide whether to apply for a specific card. The sign-up bonus may be enough points for a free round-trip ticket or $200 in cash back, for example. It's important to read the fine print about sign-up offers — cards offering sign-up bonuses typically require you to spend a certain amount within the first few months before the bonus is awarded.
Takeaway
Using your credit cards for purchases can be convenient. However, discipline is required to ensure you manage high-interest debt sensibly. There are plenty of credit cards out there — the best second credit card doesn't cost you much in fees and can sit in your wallet ready when you need it.
FAQ
Is it a good idea to have two credit cards?

It's always helpful to have two credit cards in case one is lost or close to the credit limit. A second credit card could serve as a backup, increase your overall credit limit and, if managed wisely, improve your credit score. 

A second credit card is also helpful in other ways,

such as expanding the number of card benefits you can access. There are plenty of options among the best credit cards with low to no annual fees and plenty of cardholder perks.

Will getting a second credit card improve my score?

A second credit card could improve your credit score by increasing the amount of credit you have available.

Over time, the age of the card also helps your score. Plus, responsible spending and making payments on time help your credit score substantially.

Is it better to have two credit cards or one with a higher limit?

While either option works, having two credit cards may have more advantages than just one with a higher credit limit. If one card is lost or not accepted at a certain merchant, the second card could come in handy. Plus, two cards (if chosen wisely) can offer you twice the benefits and perks that one would.