Credit Score Needed for the Chase Flex Card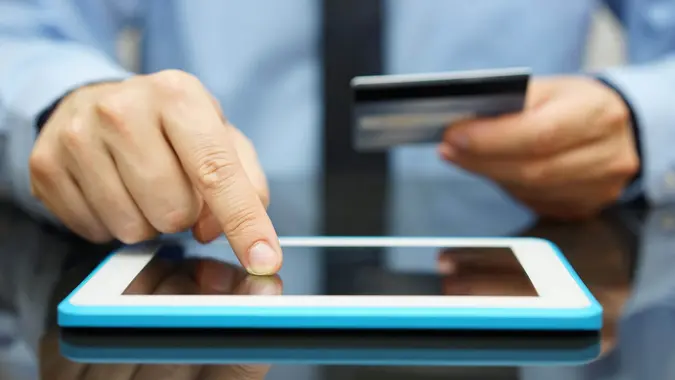 BernardaSv / Getty Images/iStockphoto
When scoping out your credit card options, your credit score will come into play. A good credit score will open up doors, while a bad credit score might eliminate some credit cards from your list of opportunities. One popular credit card is the Chase Freedom Flex. If you are considering this credit card, keep reading to find out whether or not your credit score puts you out of the running.
Chase itself doesn't disclose a particular credit score requirement for the credit card. But at the very least, you'll likely want to have a good credit score of 670 or higher before applying.
Chase Freedom Flex Card: What Credit Score Do You Need
While Chase doesn't explicitly state what credit score it requires for the Chase Freedom Flex credit card, you should expect to need at least a good credit score to get approved for this premium rewards credit card.
In general, a FICO score between 670 and 739 is considered good. But the FICO score scale goes all the way to 850. With that, you should aim to have a FICO score of at least 670. A lower credit score is considered fair or poor, which likely won't be enough to help you open this rewards credit card. Although a FICO score of 670 might be sufficient, some say to wait until your credit score hits 700 for a better chance of submitting a successful application.
Is It Hard To Get Approved for Chase Freedom Flex?
If you have the necessary credit score, then it's likely not a challenge to get approved for the Chase Freedom Flex. However, the credit card issuer will be the one to determine whether or not your financial qualifications are sufficient for this credit card.
What To Do If Your Credit Card Application Is Denied?
If your application for the Chase Freedom Flex credit card is denied, the credit card issuer will automatically send you a document that details their reasons for the denial. Although you can't change the verdict on your application, you can determine what issue is standing between you and the type of credit card you desire.
Check Your Credit Score Before Applying
When looking for a worthwhile rewards credit card, the Chase Freedom Flex card might make its way to the top of your list. But before you submit your application for this card, it's a smart move to check out your credit score. Otherwise, you could be applying for the card with a slim chance of getting approval.
Luckily, there are plenty of free ways to check your credit score. For example, you might talk to a financial counseler or sign up for a reputable online service like Experian or Credit Sesame. If your credit score is above 700, then you likely have a high enough score to pursue this credit card.
Improve Your Credit Score
If your credit score isn't as high as you'd like it to be, that's okay! It's possible to improve your credit score by making specific choices. Here are a few ways that you work on improving your credit score:
Check your credit report for errors: It's possible that mistakes have made their way onto your credit report. In most cases, mistakes will drag your credit score down. If you spot a mistake on your credit report, you can have it removed by contacting the credit buerau and providing details about the mistake.
Make on-time payments a priority: Payment history accounts for 35% of your FICO score. If possible, stick to making only on-time payments for all of your credit accounts. Over time, a history of on-time payments can help you improve your credit score.
Ask for a credit limit increase: If you currently have a credit card account, consider asking the issuer for a higher credit limit. When you have a higher credit limit, this lowers your credit utilization ratio, which can have a positive impact on your credit score.
Stay patient as you work on improving your credit score. Although a good credit score won't happen overnight, you can make progress towards this worthy goal over time.
Summary
Adding the right rewards credit card to your wallet can transform your finances. When it comes to the Chase Freedom Flex, you'll have the opportunity to enjoy substantial rewards without paying an annual fee. But you'll likely need to have a credit score of at least 670 to be approved for the credit card. If your credit score is borderline, consider taking action to improve it before submitting your application.
Information is accurate as of Oct. 20, 2022.
Editorial Note: This content is not provided by any entity covered in this article. Any opinions, analyses, reviews, ratings or recommendations expressed in this article are those of the author alone and have not been reviewed, approved or otherwise endorsed by any entity named in this article.
Our in-house research team and on-site financial experts work together to create content that's accurate, impartial, and up to date. We fact-check every single statistic, quote and fact using trusted primary resources to make sure the information we provide is correct. You can learn more about GOBankingRates' processes and standards in our editorial policy.