A Checklist for Your First Credit Card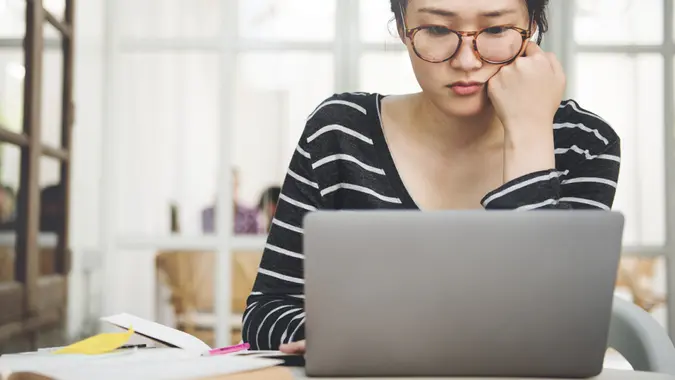 Rawpixel.com / Shutterstock.com
What should be on someone's checklist when signing up for their first credit card? New cardholders will want to keep an eye out for specific features that help them use their cards responsibly. Here are four features that should be used to make a decision about getting your first credit card. 
Interest Rate
What's an interest rate? An interest rate is the cost of the money the consumer is borrowing if they do not pay their balance in full each month, said John Pfisterer, CFO for SuperNet and a former VP of finance at Capital One.
Here's how interest breaks down on your credit card. There are two kinds of interest rates. Introductory rates are usually low (between 0% to 7%) but only apply for a limited time at the beginning of the credit card relationship. The more important rate is the go-to rate or the regular rate once the introductory rate has expired. These rates, Pfisterer said, typically range from 9.99% to 29% depending on credit history.
Credit card balances paid on time and in full typically charge no interest. However, those signing up for credit cards who are not sure they will be able to pay balances in full need to pay close attention to the regular rates and their percentages. Pfisterer recommends new cardholders focus on the regular rate when making decisions about which credit card to apply for. This rate will be in effect for a much longer period of time than the introductory rate.
Credit Limit
Credit limit is defined as the amount of money the bank is willing to give the cardholder access to when they use their credit card. 
Borrowers new to credit cards or with a limited credit history will typically have a low credit limit to start. Think anywhere between $500 to $1,000. Those with more established credit histories receive significantly larger limits. If all the other features are the same, Pfisterer said new cardholders will benefit from a card that offers a larger credit limit.
Balance Transfer
If this is your first card, you won't have any credit card debt, but if it's something you face in the future and you want to consolidate credit card debt or transfer a balance from one credit card to another one, make sure your first credit card has a balance transfer option.
"Often, balance transfer offers come with attractive interest rates on the transferred balance for some period of time. This can help consumers pay off their debt without incurring high interest rates," Pfisterer said. 
Borrowers should be mindful that most balance transfer offers do charge a balance transfer fee. This is typically 1% to 5% of the transferred balance which can often offset some or all of the interest rate savings. Before deciding to transfer any balances, Pfisterer recommends new cardholders understand all of the costs and benefits of these programs.
Rewards
Generally, rewards are offered through credit cards via points or cash back. Points may be redeemed for the purposes of travel, merchandise or other items. Cash back is typically 1% to 2% of the consumer's spending. 
Rewards vary depending on the credit card, so a new cardholder will want to determine the type of reward that is most valuable to them. It's also critical cardholders understand the details of reward programs, especially those based on points.
One more aspect of rewards to be mindful about? Pfisterer said many rewards credit cards assess an annual fee while most non-rewards cards do not. 
In a GOBankingRates survey of 1,003 Americans on the topic of credit cards, almost 39% of respondents surveyed said no annual membership fee matters the most to them when picking a new credit card. This percentage exceeds the need for a credit card with rewards at 22% of respondents.
The benefit of the rewards aside, be mindful during the decision process that there could be a cost associated with rewards.
Pro Tip: Get a Copy of Your Credit Report
As you make the decision about which credit card to get for yourself, Pfisterer recommends new creditors get a copy of their credit report. This data is what credit card companies will use to make a decision about whether to approve the application or not. 
"Having visibility and understanding of one's credit report and score will ensure its accuracy, provide guidance for how to increase the score and create awareness around decisions which impact a consumer's credit worthiness."
More From GOBankingRates