Credit Card Customer Satisfaction Reaches 3-Year Low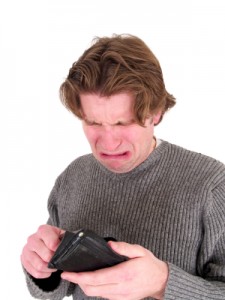 It looks like credit card issuers have reached a new low when it comes to customer satisfaction. According to a recent report from J.D. Powers, on a scale of 1000, customer satisfaction ranks at 703. This is lower than 2008's ranking of 710, and the lowest showing since the firm began looking at credit cards in 2007.
There are a number of reasons that credit card issuers have not been popular with customers. For one, issuers in recent months have been known to decrease limits by hundreds or even thousands without notice – even for the best customers – based on economic issues. Some customers have even complained that they've become the victims of a special kind of profiling tactic that lowers their limits because they shop at stores where some of their customers shop who may not be as good with making their payments.
Other reasons for dissatisfaction include increased fees, minimum monthly payments, and penalty charges. In general, it seems that the credit card issuers have been less concerned with looking out for their customers.
According to the report, the 2009 satisfaction score dropped from a solid D to a D-minus. Some respondents in the report noted that their feelings come from being hit with an interest rate increase of almost double over the past year. Overall, customers reporting complaints increased from 10% in 2008 to 18% in 2009.
Earn More Perks From Your Credit Card
Sponsors of
While most credit card issuers were hit hard by the report, the two with highest satisfaction ratings were American Express and Discover. However, the general dissatisfaction with the industry is palpable. Many credit card holders are holding their breath for the new Credit Card Accountability, Responsibility and Disclosure Act that is supposed to restrict unfair credit card practices starting in Feb. 2010. Until then, it's likely that credit card issuers will continue to meet with dissension from their disgruntled customers.
What is your take on the credit card situation? Are you a happy with your credit card company?