GOBankingRates Staff Picks: What's Your Favorite Credit Card?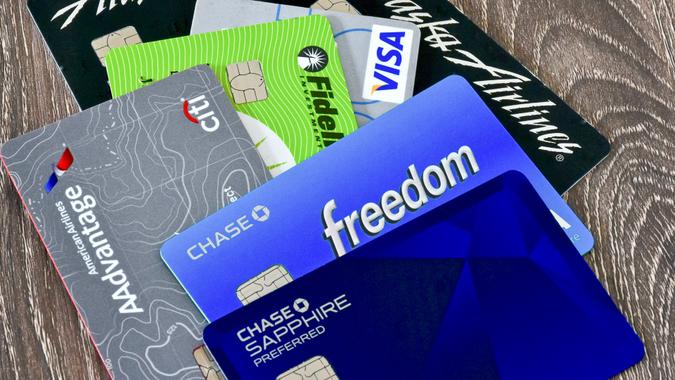 Jeramey Lende / Shutterstock.com
There are certain factors that make for an overall good credit card such as low interest rates and fees, and the ability to earn rewards, cash back and other perks. But when it comes down to it, the best credit card for you will depend on exactly what you are looking for in a credit card.
GOBankingRates' Best Credit Cards: See the Top Cards and Get Helpful Tips
Find Out: New Survey Reveals What Americans Hate Most About Credit Cards

GOBankingRates talked to employees of our parent company, ConsumerTrack, Inc., to get our staff's picks for their own personal favorite credit cards.
American Express Gold Card
"My favorite credit card is the American Express Gold. While the annual fee is $250, I receive $240 in food delivery credits and also earn four points per $1 on dining and groceries, as well as three points per $1 on all flights regardless of airline. I love that I can transfer my points to multiple airlines/hotels to use for free travel or get cash back if I need it."
Stephanie Cobb, Senior Native Ads Relationship Manager
See: GOBankingRates' Best Cash-Back Credit Cards
American Express, The Platinum Card
"American Express is my absolute favorite credit card. For someone like myself who likes to travel, not only can I get up to five times the points on both my room and flight charges, I also get a $200 airline fee credit. Let's not forget to mention the annual $200 in Uber cash and getting 10 times the points on restaurant purchases. And the icing on the cake: I get out of using my cash at Christmas for gifts — instead, I can use my points to purchase gift cards. So, if you're a shopaholic, food-a-holic, travel-holic like me, American Express is for you!"
Tania Burnett, Media Operations Specialist
Check Out: GOBankingRates' Best Travel Credit Cards
Bank of America Customized Cash Rewards
"I use this card the most just because of all the great cash-back rewards I can earn with purchases big or small."
Christine Kayayan, PR & Marketing Manager
"My favorite credit card is my old reliable, the Bank of America Customized Cash Rewards Visa. I get lots of 'BankAmeriDeals,' which occasionally give me 5% or 10% rewards from stores/hotels/etc. I love, like Whole Foods or Glossier, but the customized rewards are the best part. I get to choose which category gives me the most rewards (at 3%), and I picked online shopping — a real boon during the pandemic since almost all of my purchases are done online. I've had the card for almost 15 years and frequently have a perfect credit score (and have been above 830+ for three years). I could probably go all-in on other cards with bigger rewards, but I know I'm getting as much as hundreds of dollars in cash back every month, which is pretty cool."
Katie Wudel, Director of Content
See: 4 Credit Cards That Are Great for Day-to-Day Errands

Capital One Quicksilver
"One of my favorite cards is my Capital One Quicksilver card. You earn 1.5% cash back on everything you buy — no exclusions and no annual fee. You can turn in your rewards cash as credit towards your balance, rewards at Amazon, gift cards and more."
Lyndsey Woods, Senior Sales Ops Manager
Get the Best One: GOBankingRates' Best Rewards Credit Cards
Capital One VentureOne Rewards
"I chose this card initially when wedding season approached, as the 20,000 bonus miles for spending $500 in the first three months seemed like a good opportunity, considering the amount could essentially be spent on one outing alone. Since then, I've spent plenty more on travel to the aforementioned weddings and accommodations, which has earned me 1.25 miles per $1 on every purchase. And since you can spend them on any airline or hotel, the card slowly pays for itself."
Cory Dudak, Editor, Content
Capital One Venture Rewards
"We received a great sign-up bonus and the points are easy to redeem. I've used them to cover my travel-related charges for several trips."
Caren Fukushima, Senior Executive/Personal Assistant
Worth Checking Out: GOBankingRates' Best Airline Credit Cards
Chase Freedom Flex
"My favorite one is Chase Freedom Flex because it has a rotational period of 5% cash back on stores such as Target, Amazon, Walmart and Kohls, and 3% on all dining services — I really like this perk as I am a foodie."
Shweta Shah, Talent Acquisition Coordinator
Learn: The Top Purchases You Should Always Make With a Credit Card
Chase Sapphire Preferred Card
"My favorite credit card is the Chase Sapphire Preferred Card. When I recently got it, the sign-up bonus was 100,000 Chase Ultimate Reward points (basically over $1,000 in free travel). Although it costs $100 per year, depending on your lifestyle, you can make up for this in points via your purchases. It even comes with a free DoorDash subscription!"
Patrick Buffum, Product Manager, Optimization (Credit)
Read More: GOBankingRates' Best Balance Transfer Credit Cards
"I love my Chase Sapphire Card despite the annual fee. My Sapphire card is used for all things travel — I can easily redeem my points for all travel-related expenses (airfare, lodging, rentals), and I get 25% more value by booking through the Chase portal. Internationally, I have no international exchange fees. I am also provided access to events that are exclusive to cardholders. Not to mention the free DoorDash membership!"
Eva Furer, Senior Strategic Planning and Operations Manager
"My wife and I love traveling, and we often use this card because it has access to Chase's Ultimate Rewards, where we get 25% more value when redeemed for travel. It has no foreign transaction fees so we're not worried about using it outside the U.S. We're in Seattle and we often drive up to Vancouver, BC, Canada (pre-COVID times), so we used this card often and we're not concerned about getting charged with the expensive international fees. Lastly, it has travel and purchase coverage, like trip insurance and even auto rental insurance, so we don't have to purchase the expensive rental insurance that car rental companies recommend to us."
Jason Jaingue, Senior Director of Product Management
"It's a good all-around card that doesn't have a high fee and works well for travel, dining out, DoorDash and even grocery shopping. Rewards include a $50 annual Ultimate Rewards hotel credit, five times the points on travel purchased through Chase, two times the points on all other travel purchases, three times the points on online grocery purchases, three times the points on dining, three times the points on select streaming services, complimentary DashPass subscription from DoorDash, five times the points on Lyft rides, five times the points on Peloton equipment, travel insurance, rental car insurance and the list goes on…"
Ravi Mullapudi, Senior Director of Data Engineering & Data Science
Read More: The Quickest Ways To Pay Off Your Credit Card Debt
Citi Double Cash Card
"My favorite credit card is the Citi Double Cash Card because it provides 2% cash back on every transaction forever — 1% cash back when you buy plus 1% cash back when you pay. Other cards don't have such a consistently positive reward."
Evan Harris, Content Partnerships Specialist
Discover it Cash Back
"I've had a Discover card for 20-plus years and it's my go-to card for daily purchases. They don't have any hidden fees and automatically give you cash back on every purchase. I also love the rolling rewards program that gives you the opportunity to earn up to 5% cash back each quarter, including Amazon for the months leading up to the heavy gift-giving holiday season!"
Amy Shinn, Director of Analytics and Yield
Discover it Miles
"My favorite card is the Discover travel card: Discover it Miles. There's no annual fee, plus I get unlimited 1.5 miles for every dollar spent! My favorite part is I can redeem the points to credit my travel purchases or get it back in cash."
Camille Salvador, Staff Accountant
See: Why It's Still Better To Use Your Credit Card Over Your Debit Card
Southwest Rapid Rewards Plus
"The Southwest Rapid Rewards card is my all-time favorite credit card. They have some amazing rewards, such as earning two times the points for every Southwest Airlines purchase or Southwest travel package (hotel and car rental). I receive 7,500 points each year on my card anniversary, and there are no foreign transaction fees for international purchases. They also offer a companion pass, which allows you to bring a friend or family member to fly with you for free. The annual fee isn't as high as some of the other rewards cards — it's only $149 — which, between all the perks, is well worth it."
Jonnie Wheeler, Technical Program Manager
More From GOBankingRates
Last updated: Oct. 19, 2021