How Many Credit Cards Should You Use on a Monthly Basis?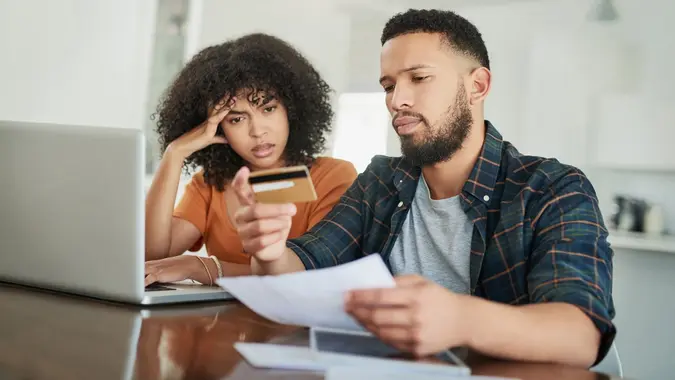 LaylaBird / iStock.com
Is there a magic number of credit cards you should use on a monthly basis? Not really. The answer to this question is not necessarily about having and using dozens of credit cards, nor is it about attempting to have no credit cards. When using credit cards on a monthly basis, whether you use just one or more than one, keep the following considerations in mind for picking the best credit card for your needs and maintain good habits that allow you to build good credit.
Learn: What Not To Do When Your Credit Limit Increases
Related: What To Do When Your Credit Limit Increases
Use Credit Cards With the Best Points and Interest
Carter Seuthe, CEO of Credit Summit, said the starting point for considering which credit card to use, or how many credit cards to use, is not to have all of your credit cards be identical in their offerings. 
"Unless a credit card offers more rewards points for specific kinds of purchases or your usual credit card is at its limit, stick with the one card that offers you the best mix of points and interest rate," Seuthe said. 
Use Fewer Credit Cards
You may find the best rewards come with one credit card. There may be a few cards that offer incredible benefits, like mileage, travel or gas points to suit your lifestyle. But, how many cards should you have and actively use at one time?
Seuthe recommends not having too many cards. Having fewer credit cards can help you stay organized with your transactions and on top of payments.
"One of the big advantages of fewer credit cards is the simplicity of it," Seuthe said. "You have one bill to pay each month, which you can time to coincide with your paydays. It's much easier to review all of your transactions each month, making it easier to avoid fraud." 
Explore: 7 Ways To Boost Your Credit Score This Month
Look for Credit Cards That Offer Bonuses
Christie E. Malmborg, financial advisor at Halliday Financial, said there are lots of perks to using different credit cards in different situations, but you want to make sure you use the right ones. Avoid cards with annual fees, unless they have particular benefits worth paying for. 
Instead, Malmborg recommends a card that offers bonuses. 
"Some bonuses are just a flat percentage cash back (normally around 1%) and some of those offer rotating special categories, like grocery stores or gas stations where you can get 5% or more cash back during the designated period," Malmborg said. 
You can even find specific brand perks, such as points toward the purchase of a new car or a ridesharing branded credit card that offers high levels of cash back on transportation.
Know Which Credit Cards Your Partner Uses
If you are in a relationship or married, it's a good idea to discuss credit card usage with your partner.
David Frederick, director of client success and advice at First Bank, said he has a credit card that allows him to choose three categories for bonuses and cash back from a list of more than a dozen categories. His wife also has a credit card that allows her to choose three categories. 
"I have a copy of my wife's credit card and she has a copy of mine," Frederick said. Together, this allows them to copy six of the total categories on the listed options. 
Set aside some time to discuss credit cards with your partner. Not only should you have an understanding of the number of cards they have and the balance carried on these cards, there's an opportunity to follow Frederick and his wife's lead and earn twice as much back each month as you would with just a single credit card.
Discover: 9 Things To Do Now If You Have An 800 Credit Score
Beware the Pitfalls
One of the major pitfalls of credit cards is being careful not to apply for too many, even if they have great rewards. "Every time you apply for a credit card, it's a mark on your credit report," Malmborg said. 
If you do wind up with more cards than you need, avoid canceling them.
"Doing so gets rid of your positive credit history while you were using it," Malmborg said. "It's OK to not use a card — just know you risk eventual cancellation. You can always keep a card active by designating it for certain purchases, especially automatic ones like your cellphone bill."
For all the points and rewards that come with credit cards, remember to use cards practically and responsibly. Pay off the balances every month and make sure your partner is paying off balances, too. Otherwise, the cashback value may quickly evaporate and you could face an avalanche of credit card debt if the balances continue to accumulate.
The fantastic points and interest offered through credit cards may, with practical use, open up paths for holders to receive even more financial benefits that have healthy impact on their lives.
"A responsibly used credit card can be an excellent way to build up a credit score and improve access to other financial tools like mortgages and business loans," Frederick said.
More From GOBankingRates