How To Handle Day-to-Day Credit Card Mishaps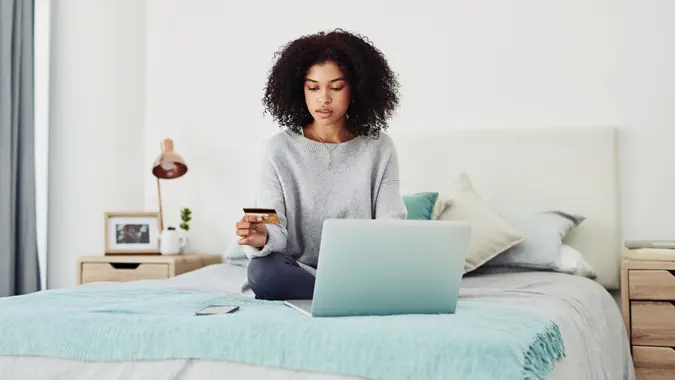 LumiNola / Getty Images
Using a credit card is typically a seamless experience — but there are some issues that may pop up from time to time. Fortunately, these mishaps are usually easy to bounce back from.
GOBankingRates' Best Credit Cards: See the Top Cards and Get Helpful Tips
Important: Why It's a Bad Move To Use the Same Credit Cards Indefinitely
Here's a look at some of the most common credit card mishaps and how to handle them.
You Lose Your Credit Card
We've all been there — we open our wallet to pull out our credit card and see that it's no longer there. Did you leave it at a store? Did it fall out of your pocket when you were walking? Or worse, did it get stolen? Whatever the case, a missing credit card is no need to panic.
What to do: The first thing you need to do is call your credit card issuer and let them know that your card was either lost or stolen. They will immediately freeze your card and send you a replacement. Fortunately, federal law limits your liability for unauthorized charges, so you don't have to worry about being on the hook for charges you didn't make in the event your card was stolen.
See: 50 Easy Things You Should Do To Save Money
Your Credit Card Gets Declined
When your credit card is declined, it can be embarrassing. But ultimately, this is done to protect you in most cases.
What to do: Figure out why your card was declined. Possible reasons include reaching your credit limit, having a large pending transaction on your account, making a transaction that deviates from your normal spending patterns that may have been flagged as fraud, using an expired card or attempting to use a card that you are not up-to-date on payments for.
Call your credit card issuer to find out why your card was declined and what can be done to fix this. If a transaction was incorrectly identified as fraud, this is an easy fix. But if it's because you reached your credit limit or are behind on payments, you will likely need to get back into good standing with your issuer before you are able to use your card again.
Take a Look: GOBankingRates' Best Rewards Credit Cards
See: 4 Credit Cards That Are Great for Day-to-Day Errands
You See Incorrect Charges on Your Credit Card Statement
Every so often, you may see an incorrect charge on your statement. Maybe a retailer never refunded you for an item you returned, billed you twice for the same item or charged you an incorrect amount. Whatever the case, these errors can likely be corrected.
What to do: Contact your credit card issuer to let them know about the incorrect charge. This will typically kick off an investigation on their end into the charge, and if they conclude that the charge is erroneous, you will not be liable for paying it.
Options: GOBankingRates' Best Cash-Back Credit Cards
Learn: The Top Purchases You Should Always Make With a Credit Card
You Miss a Credit Card Payment
If you're juggling multiple bills and credit cards, it's pretty easy to miss a payment from time to time. However, once you realize you have missed a credit card payment, you need to take steps to repair this mistake before it dings your credit score. Missed payments can also lead to late payment fees, penalty APRs or cancellation of an intro 0% APR period, CNBC reported.
What to do: The first thing you should do is make at least the minimum payment as soon as possible. Credit card issuers won't report a late payment to the credit bureaus until your payment is more than 30 days late, so if you get your payment in before then, it should not affect your credit score.
If you typically pay your bill on time, contact your credit card issuer directly to see if they will waive or negotiate any late fees. You should also take proactive steps to ensure you won't miss future payments, such as setting up autopay or putting a reminder in your calendar about your credit card bill due date.
More From GOBankingRates