Is Mark Cuban Wrong About Credit Cards?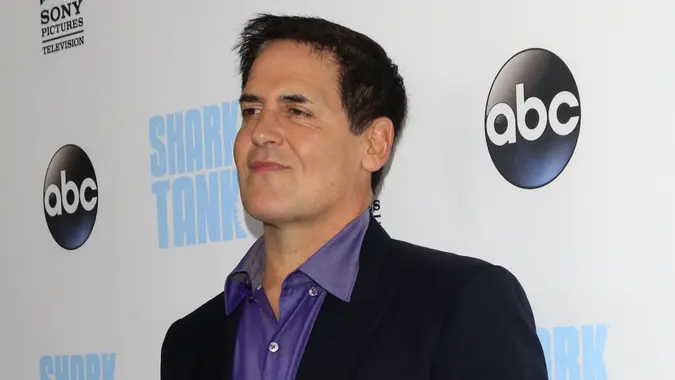 Kathy Hutchins / Shutterstock.com
Billionaires often have financial advice to give, and seeing as they're, well, billionaires, we might do well to listen. However, some advice is controversial. For example, Mark Cuban told financial expert Dave Ramsey in an interview in 2011, "If you use a credit card, you don't want to be rich."
While it's certainly true that credit cards can lead to amassing a hefty amount of debt, particularly in how easy it is to accrue interest, is Cuban's point really accurate? For one thing, simply having credit cards can often lead to using them, even when you don't really need to spend the money, said Fred Winchar, co-founder, president and CEO of MaxCash.com. Though Winchar is not anti-credit card, he does suggest, "If you don't have the money, then don't spend it just because you have credit available. It ultimately isn't worth it and costs you too much in interest and fees."
However, there are a lot of other functions that credit cards serve.
Credit Cards Teach Discipline
Mark Cuban couldn't be more wrong about credit cards, according to Matt Bruce, CFP®, AIF®, president of the Pointer Financial Group. "Aside from the obvious benefits of credit cards (points, rewards, etc.) credit cards have the added benefit of forcing discipline with money. For sure, using an envelope system or cash system puts the reality of spending money front and center, but properly using a credit card requires us to think ahead about the consequences of our decisions, the bill that will eventually come due, and our ability to pay that bill in full."
He said that those who truly build wealth are good at this kind of financial future planning. Moreover, he added, "Suffice it to say, I've never worked with a wealthy client who didn't use credit cards responsibly. It's not that using or not using a credit card that builds wealth, it's that the ability to responsibly use credit is a determining factor in the ability to generate wealth."
He does, however, agree with Cuban that maintaining any kind of balance month over month on a credit card is the absolute worst thing you can do for your personal finances.
Pay Off the Balance Each Month
Mark Cuban is on the right track, said Jay Jay Zigmont, PhD, CFP®, founder of Childfree Wealth, but he would add to the end of Cuban's statement, "if you use a credit card and keep a balance on it…." Zigmont added, "If you can pay your credit cards off completely (to zero balance) each month, you may be able to use it responsibly. If, on the other hand, you carry a balance or have had trouble with carrying a balance in the past, you are probably better off not using credit cards at all. "
Winchar agreed, adding that so long as you treat a credit card more like a debit card (i.e., never spending what you don't have and paying the balance off each month), "It can actually be financially beneficial and responsible to use a credit card for cash back or reward points you will use, such as frequent flyer miles if you travel a lot. Credit card companies are betting that you will slip up and leave a balance for them to charge you interest. Don't lose that bet. Game the system instead by reaping the rewards without paying any of the cost." 
Credit Cards Can Help Build Wealth
There's another debate to be had that responsible credit card usage helps build wealth, said Jordan Taylor, independent financial advisor with Core Planning. "After all, credit cards provide access to spending power that you don't immediately have on hand. If you have the assets to pay off the card immediately, using a credit card for emergency or large purchases could make sense. Healthy usage improves your credit score…which is practically a requirement to obtain any loan, home, rental, or apartment."
However, he drives home the point that "[y]ou can't spend money you don't have, even if your credit limit says you can. You can't spend money you wouldn't normally spend, just because you have the credit limit to do so."
If you can't control your financial behaviors and use debt for your benefit, you're better off not using debt at all, he concludes.
Exceptions to the Rule
It's not that Mark Cuban is wrong, per se, said Kimberly Malesky, of Harmony Investment Management, LLC, but, "[h]is comments speak to the majority of folks, but not those who fall into the exception to the rule category. Most individuals struggle to strategically use and leverage credit card usage. It's a slippery slope, has inherent risks to it and requires diligence. Those who are risk averse are unlikely to be a good fit for credit card leveraging. Credit cards charge on average a 24% interest rate. This means that you pay nearly a quarter for every dollar you borrow, which is not ideal."
It is true that some individuals can strategically leverage their credit cards and do so masterfully. This is not without its risks. In a perfect world, your credit card is paid off on a monthly basis.
The World Requires Credit
"In my view, it's very easy for someone wealthy like Mark Cuban to say that people should avoid credit cards if they want to be wealthy," said Colin Palfrey, chief marketing officer at Crediful, a personal finance management company. "While impulse spending and credit card debts are huge problems that can hinder financial security, having no credit can be a large roadblock when it comes to buying a home." 
Without a credit history, people will need a cosigner for major lending products like mortgages or cars. "For many average Americans, buying a home is a major part of their wealth building plans, and not being able to establish a credit history will make it harder to get good rates." 
In short, life demands credit card use to build a credit history, purchase certain items and leverage buying power between paychecks. Thus, while Cuban isn't wrong that credit cards can lead to debt if you utilize them responsibly, you can prove Cuban wrong; credit cards can be an important tool in your finances.
More From GOBankingRates