Parents: How To Tell Whether Your Child Is Ready for a Credit Card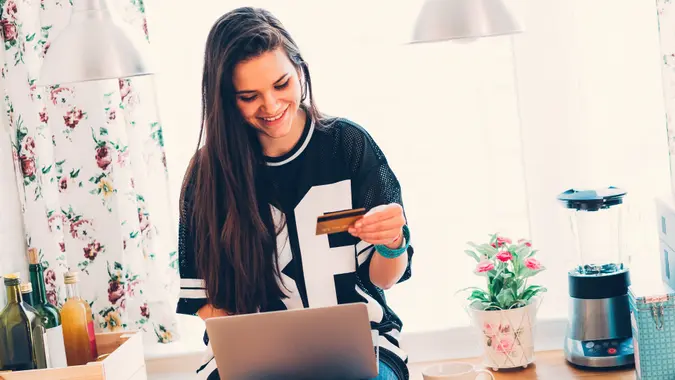 martin-dm / Getty Images/iStockphoto
Having a credit card is a big financial responsibility, so you may be wary about giving your children their own. However, if they are ready for this new financial milestone, it can help them learn about responsible spending as well as help them get started building credit.
Here's how to tell whether your children are ready for their own credit cards.
They Already Have Familiarity With Other Financial Tools
Elly Szymanski, assistant vice president of credit card products at Navy Federal Credit Union, said your children should have experience using debit cards/checking accounts before transitioning to credit cards.
One sign your teens are ready for credit cards is that they "know how to responsibly manage their spending with a debit card and the money in their checking account," she said. "They've used mobile and online banking tools to regularly check in and stay on top of their spending. By doing so, this can better prepare them to monitor activity on their credit card and report any unauthorized charges to the card issuer."
They Understand Credit Card Basics
If your children have been educated on how credit cards work, they may be ready to get their own.
"For example, they know what an APR is, due dates, what credit utilization means and how it affects their credit score," Szymanski said, adding they "are able to distinguish different types of fees and when they might apply."
They also should know how to use a credit card responsibly.
"First and foremost, a credit card isn't free money," Szymanski said. "Credit cards are financial tools and need to be used responsibly in order to be useful. Stress to your teen that they shouldn't charge more than they can reasonably afford to pay off each month by the due date. That way, they avoid dealing with late payments or accruing interest."
They Have Experience Paying Balances Off in Full
Before opening a credit card for your children, you may want to start by making them authorized users on your account. This can teach them responsible credit card habits.
"If [they are] an authorized user on their parent's account, they're able to make small purchases with the card and pay those purchases back in full right away," Szymanski said. "This reinforces the importance of not spending beyond your budget."
At What Age Should a Child Get a Credit Card?
Most credit cards require account holders to be 18 or older, and Urban Adams, an investment advisor at Dynamic Wealth Advisors, does not advise giving a teen a credit card before this age anyway.
"As a parent, I did not encourage having a credit card until turning age 18," he said. "Even then, it was through assisting them in obtaining a secured credit card with a deposit they funded from their own earnings/savings."
Adams also doesn't recommend giving your child a credit card until they have their own source of income.
What Type of Credit Card Should Your Teen Get?
Szymanski recommends opening a secured credit card as a child's first card.
"It uses your own money as a line of credit, usually requiring a deposit of $200 or $500," she said. "When you close your account or graduate to a non-secured card and your balance is fully paid, the deposit is returned to you."
Whatever card you choose, make sure your teen reads all of the fine print.
"Walk them through interest rates, credit limit, payment dates and any fees that come along with the card," Szymanski said. "The fine print is where you'll find the ins and outs of the card. With this in mind, it'll encourage your teen to be responsible with their spending in the long run."
More From GOBankingRates