How To Pay Rent With a Credit Card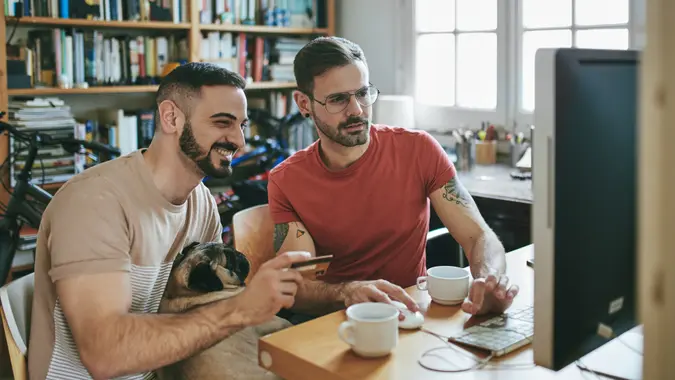 xavierarnau / Getty Images
You may want to pay your rent with a credit card to bridge the gap until payday, rack up rewards or get that sizable welcome bonus. However, many landlords only accept cash or checks when it comes to rent, which makes sense. Most credit card companies charge processing fees, which typically range from 2.5%-2.9% of the transaction and can add up over time.
Here's how to pay your rent with a credit card — even if your landlord doesn't accept credit card payments.
Find Out: Explore the Cost of Education in the United States
Follow Along: 31 Days of Living Richer
How To Pay Your Rent With a Credit Card
If your landlord accepts credit card payments, you will either pay your landlord directly or via an online payment portal where you can enter your credit card information and make your payment. However, before you use your credit card for your rent payment, ask if you'll have to pay any extra fees, so you'll know the total amount upfront. For example, a 2.5% processing fee on a rent payment of $1,200 is $30.
Generation Z: The Future of Finances
Learn More: Gen Z Has Strong Opinions on Capitalism -- Do Experts Agree?
Choose the Right Credit Card
When you're paying a large expense, such as your rent, why not get rewarded for doing so? The key to making this work is to choose the right credit card — preferably one that offers rewards and doesn't charge transaction fees.
While there are plenty of rewards cards out there, Bilt Mastercard is the only one available right now that rewards you for paying rent without including processing fees per transaction. Additionally, no annual fee or foreign transaction fees apply.
If you use BiltProtect, one of the card's features, the funds to pay your rent will come directly out of your connected bank account — not your credit line, like the way a debit card functions. If you choose to pay your rent with your credit line, that amount will be added to your minimum payment due, which you will owe, in full, on your next statement due date.
Check Out: 90-Second Moves To Raise Your Credit Score 200 Points
If you do decide to pay your rent with another card, review your credit card agreement or call the issuer to make sure that it will not treat your rent payment as a cash advance. Transactions coded as cash advances carry additional fees and higher interest than transactions coded as purchases.
Also, when you pay your rent with a credit card other than Bilt, you won't have the option of having the funds pulled directly from your bank account, so the amount will be drawn from your credit line. If possible, make a plan to pay off the amount you charged for your rent before your next statement due date to avoid interest charges.
Important: 10 Things to Do Now If You Have a 500 Credit Score
How To Pay Rent With a Credit Card When Your Landlord Won't Accept Credit Cards
Some landlords won't accept credit cards for rent. If this is the case, here are two of the most economical ways to pay your rent with a credit card.
Bilt Rewards App
You can earn points on your Bilt Mastercard account by paying your rent through the Bilt Rewards app, which is also fee-free. Once you pay, Bilt will send a check to your landlord, via first-class mail by the United States Postal Service. It can take five to seven days for the check to reach its destination, however, so you'll need to plan ahead.
Plastiq
You can also pay your rent with your credit card via Plastiq, but it's not fee-free. Plastiq accepts American Express, Discover, Mastercard and Visa for rent payments and charges 2.85% per transaction. Your payment can be sent via check or in another way your landlord prefers.
Try Now: This Easy Trick Will Improve Your Credit Score and Avoid Late Payments
Is Paying Your Rent With a Credit Card a Good Idea?
It depends. If you're trying to earn rewards or a welcome bonus, you'll need to consider whether the amount of rewards or bonus you earn is more than any processing fees you may incur. Also, if you're using your credit card to pay your rent because you don't have the cash, ask yourself if you'll be able to pay off that portion of your credit card balance by your statement due date to avoid interest.
Racking up high balances that you can't pay off won't only cost you money in interest charges, it also can affect your credit utilization, which is the amount of credit you're using versus the amount of credit you have available. Many financial experts recommend keeping your credit utilization under 30%. Credit utilization is one of the more influential factors in determining your credit score.
More From GOBankingRates