5 Practical Ways To Meet the Minimum Spend on a New Credit Card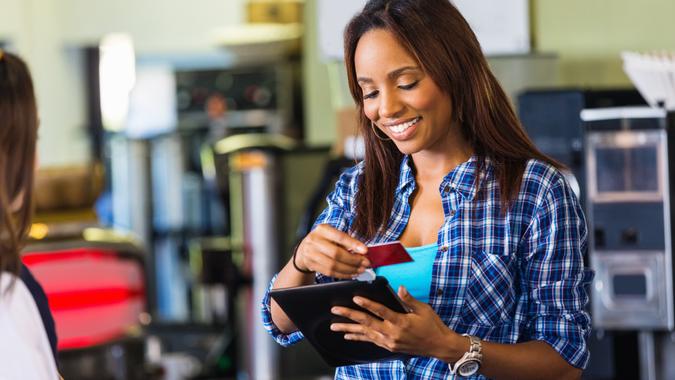 Steve Debenport / Getty Images
One of the most popular ways to get people to sign up for a new credit card is enticing them with bonuses. However, those bonuses are often tied to a minimum amount spent within a certain period of time. Both the amount and the window of time attached to it can vary significantly from card to card, but sometimes reaching that spend amount can prove to be a bit of a challenge.
See: Top Purchases You Should Always Make With a Credit Card
Find: Riskiest Places To Swipe Your Credit Card
If that number ends up being a little out of reach, and going on an impulse shopping binge isn't what you're looking for, there are other ways to meet the mark. Here's a look at five practical ways you can help meet the spend requirement on a new credit card.
Prepay Expenses 
One of the easiest ways to meet the minimum spend on a new credit card is pre-paying whatever you can. This helps you reach your goal while helping you get a little ahead on monthly expenses. "If you're trying to reach a bonus and still need to spend a couple of hundred dollars, then consider prepaying some of your expenses," said Chaim Geller, Financial Advisor and Founder of HelpMeBuildCredit.com. 
Of course, you'll have to see which of your expenses you'll be able to prepay on. Geller suggested looking at tuition and utility bills — including water, electricity, natural gas and trash. In addition, you can "pre-load your EZ pass account, buy a gas gift card or fund your Amazon wallet," a technique she referred to as "swipe now and use the credit later."
Learn More: 10 Things to Do Now If You Have a 500 Credit Score
Ask Family to Help Out 
If you've paid ahead where you can and still haven't quite hit the required spend amount, there's the option to do the same for those closest to you. "You can ask your parents or other family members to help you reach your minimum spend requirement by charging some of their expenses on your card," Geller said, adding that they'll need to be added as an authorized user on the card. 
"Just make sure you trust them that they will pay you back," she cautioned. "Remember a credit card is like cash. If you wouldn't lend them cash then don't lend them your credit card."
Pay Your Income Taxes
If you end up owing money after filing your taxes this year, that expense could also go to the minimum spend, which is easier than ever.
"The IRS has partnered with three companies to make it possible for you to pay your taxes with a credit card," Geller explained. "You can find the list of the three companies on the IRS website. They do charge a small fee to use a credit card, but it might be very worth it if you need to complete your spending for a welcome offer."
Find Out: Should I Contribute to My 401k or Pay Off My Credit Card Debt?
Lend Money With Kiva 
For anyone looking for outside-the-box ideas, there are new money-lending platforms that are a viable option. While there are a number of options, Geller recommended going with Kiva. "The concept of Kiva is to match people in need and who don't have access to conventional lending, to people that want to do a good deed and lend them the funds," she said, though there is the caveat that these loans don't earn interest.
While it can be a daunting prospect, Kiva has established itself as a reputable lending platform. "Kiva has an underwriting process and claims that 97 percent of loans get paid back," she said. "You can lend money with Kiva using a credit card with no fee and then once you're paid back you can transfer the funds directly to your bank account. I personally lent money on Kiva several times and I always got paid back."
Pay Your Rent, Mortgage or Property Tax
Part of the problem with meeting the minimum spend is you can't always pay with credit cards. However, as Geller explained, there is a way around that if you're still looking to hit that minimum spend.
"You can pay many bills that don't accept credit cards like rent, mortgage, property tax and car payments using a third-party company called Plastiq," she said, adding that the platform does charge roughly a 3 percent fee for doing so. "They will charge your credit card and pay the bill for you by sending a check to the lender or provider. Plastiq excepts American Express, Visa, MasterCard, and Discover."
Of course, nothing's foolproof, and not all bills might be supported on the platform. To see if it could work for you, check the platform's site for more information.
More From GOBankingRates