Suze Orman Says There's No 'Excuse or Reason' To Pay High Interest Rates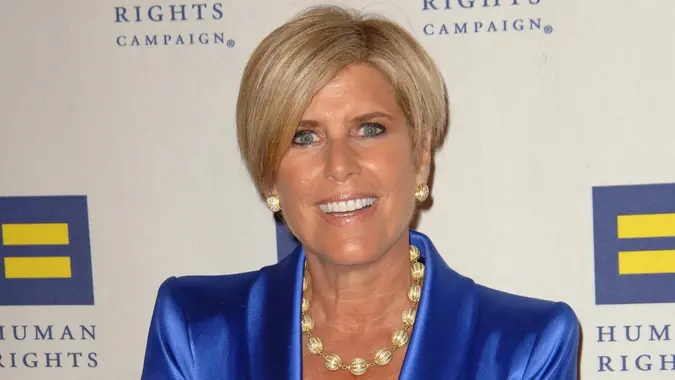 Picture Perfect / Shutterstock.com
Do you have an unpaid credit card balance? Personal finance expert and TV personality Suze Orman says that needs to stop now.
"If there are any wants showing up on your credit card statement, that has got to stop right now," Orman wrote in her weekly newsletter, Money Monday With Suze Orman. "There is no excuse or reason to pay 22% interest for something that is not an essential need."
Over the past year, the Federal Reserve has been raising the benchmark rate to fight inflation and high prices. As a result, the prime rate also changed, pushing credit card APRs up to nearly 21%, CNBC reported. Ted Rossman, industry analyst for CreditCards.com, doesn't think rates have gotten bad enough to be in "loan shark" territory; however, 37 out of 100 cards tracked by CreditCards.com currently cap their APRs at 29.99% and higher.
And if you have been using credit cards lately, Orman suggests checking your credit score. Your credit score plays a big role in whether you can qualify for a loan and the interest rate you are charged on loans and credit cards, Orman wrote. A good credit score can help you get the best deals.
FICO credit scores range from 350 to 850, and if your score is at least 720 or higher, you're in good shape, wrote Orman. If it's lower, you'll likely pay more interest for most financial products.
Most banks offer free credit score reports. You can also request a free copy of your credit report from each of the three major credit reporting agencies — Equifax, Experian and TransUnion — at AnnualCreditReport.com. Children over the age of 13 can also check their credit history using this online tool, according to a post on JPMorgan Chase.
Check your credit report regularly for any mistakes, wrote Orman, such as a loan you paid off that's still showing up or an account you don't recognize. When you get your report, it will also include instructions on how to identify mistakes or identity theft.
More From GOBankingRates