20 Capital One Venture Card Benefits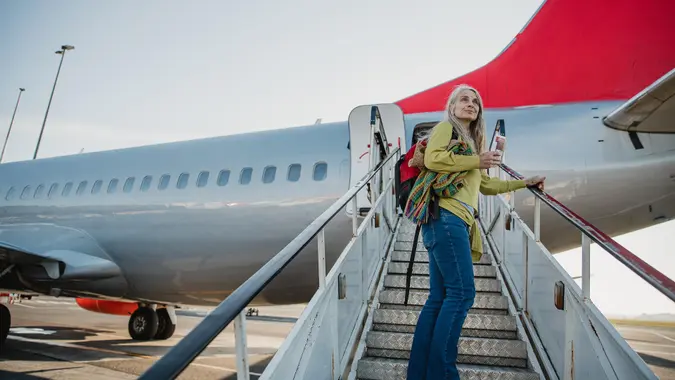 SolStock / Getty Images
Of all the best travel rewards credit cards on the market today, CapitalOne Venture is not well-known for its tremendous points value or amazing welcome bonus — although, it does have one of the best in the industry.
See Why This Credit Score Mistake Could Be Costing Millions Of Americans
What Benefits Does Capital One Venture Offer?
Venture's straightforward rewards system that offers 2X miles per dollar for virtually all purchases and 5X miles for Capital One travel purchases makes it an easy card to use daily without having to remember purchase categories.
Plus, the Venture card comes in a Visa Signature version, giving cardholders access to various additional benefits.
What are some of the best Venture card benefits?
1. Welcome Bonus of 75,000 Miles
When you spend $4,000 within the first three months of opening the Venture Rewards Credit Card account, Capital One will treat you to 75,000 bonus miles, worth $750 in travel when you redeem through the Capital One Travel portal.
2. No Blackout Dates on Miles
You can redeem your points for things like hotels, airline tickets, or rental cars at travel.capitalone.com with no blackout dates. The number of miles required depends on the cost of your booking, so a $200 reservation would cost 20,000 miles, for instance.
3. No Expiration Dates on Miles
Miles never expire, but you will lose your miles if you close your account.
4. No Cap to the Miles You Can Earn
Similarly, there is no limit to the miles you can earn each month, quarter or year. Earn five miles per dollar when you book your hotel or rental car through Capital One Travel and earn two miles per dollar for every other purchase.
5. Multiple Ways to Redeem Rewards
You can redeem rewards easily through the Capital One Travel portal at a rate of a penny per mile. But you can also redeem rewards for a statement credit on your Venture bill or use your rewards to pay for purchases on Amazon. You can also use Capital One to Pay with Rewards through millions of online retailers that accept PayPal. First, link your Capital One card to your PayPal account and then choose "Use Capital One Rewards" as your payment method.
6. Partner Travel Programs Let You Transfer Points
Transfer points to more than 15 Capital One international travel partners to use your miles in a way that's best for you.
7. No Foreign Transaction Fees
Pay no foreign transaction fees when you use your Capital One Venture card traveling abroad.
8. $100 Credit for Global Entry or TSA Precheck
Cash in with a $100 credit for Global Entry or TSA Precheck every four years. Use your Venture card to pay your application fees and you'll receive a statement credit. This benefit, combined with the welcome bonus, helps make the annual fee of worth it for many cardholders.
9. Lounge Access When You Travel
Gain access to luxurious Capital One airport lounges or more than 100 partner lounges across the world, two times a year, free of charge. Partner lounges include lounges that are part of the Plaza Premium Group, including many Virgin Atlantic Clubhouses and more than 1,300 Priority Pass lounges.
10. Auto Rental Collision Damage Waiver
When you rent a car, you want to know you can save money while having the right insurance protection. Pay with your Venture Visa Signature card and you'll be covered with the Auto Rental Collision Damage Waiver.
11. 24-hour Travel Assistance
If your Capital One card gets lost, the company will issue an emergency replacement card even while you're traveling. You can also get a cash advance, though subject to interest rates and fees if your wallet or handbag is lost or stolen.
12. Travel Accident Insurance
If you or a travel companion suffers severe injury or death on a trip and you used your Visa Signature Capital One card to buy the fare, you could receive compensation for damages.
13. Travel Price Guarantees
Use the Capital One booking system that notifies you when hotel rates or flight prices drop. If you follow Capital One's recommendation and book your flight and the price subsequently drops, Capital One will refund the price difference. If you find a better price for a flight or hotel after you book it using your Venture card, reach out within 24 hours and Capital One will issue a refund of the difference, according to the website.
14. Easy-to-Use Mobile App
Capital One's mobile app is easy to use and includes a host of features including the ability to lock your through the app if it's misplaced, lost or stolen. You can easily unlock the card if you find that it's safe, so you don't have to request a new card.
You can also use the app to check your credit score and look for changes in your credit reports from TransUnion and Experian, pay your bill, view your current balance and get notified each time your card is used for a transaction. That's especially handy if you have authorized users on your account.
15. Virtual Credit Card Numbers for Security
Gain peace of mind when you shop online using virtual card numbers that change with each transaction, keeping your actual card number off the cloud and safe in your wallet.
16. $0 Fraud Liability
If your card is lost or stolen, report it promptly and you won't be liable for unauthorized charges. Capital One will also notify you of suspicious activity through text, email or phone. You may also get alerts if Capital One spots an error, duplicate charge or large recurring bill increase. These benefits protect can help protect you from fraud and identity theft.
17. Extended Warranty Coverage
If you carry the Visa Signature version of Venture, you'll enjoy warranty protection on eligible purchases made with your card.
18. Choose Your Due Date
Choose the due date that works best for your budget, and pay your bill easily online, in-person at Capital One banks or on the app.
19. Capital One Shopping Finds the Best Deals When You Shop Online
Install the Capital One Shopping extension to your browser and find coupon deals anywhere you shop online. The Shopping extension will also tell you if you're already paying the lowest price for everything from cloud-based services, subscriptions and apps to clothing, children's toys, and more, anywhere you shop.
20. Exclusive Access to Award-winning Restaurants and Entertainment Events  
Get reservations to the top restaurants in 11 U.S. cities when you reserve a table through dining.capitalone.com or through the mobile app. You can also purchase tickets to exclusive music and sports events, get tickets before they go on sale to the general public, and enjoy VIP experiences when you book with your Capital One card.
Final Take
The Venture card requires Excellent credit for approval and carries a annual fee, but the Capital One rewards make the card well worth it for frequent travelers who want simple, straightforward and lucrative rewards.
Keep in mind some benefits may only be available for Visa Signature card holders, but the vast majority of Venture card benefits are available to all cardholders.
Capital One Venture Card Benefits FAQ
Here are the answers to some of the most frequently asked questions about the benefits of the Capital One Venture card.
What are the benefits of the Capital One Venture card?

The Capital One Venture Card has many travel benefits, as well as other benefits and a generous welcome offer that equals $750 if you use it to purchase a hotel stay, plane tickets, or a rental car through Capital One Travel.

Does Capital One Venture card cover baggage fees?

Many airlines today have baggage fees for checked bags and even carry-on luggage. Your Capital One Venture card does not cover those fees. But if you pay the fees with your Capital One Venture card, you could be reimbursed up to $3,000 if your bags are lost or stolen in transit. You can also use your Capital One Miles to pay baggage-check fees.

Does the Capital One Venture card give you access to airport lounges?

Yes, the Capital One Venture card gives you access to more than 100 airport lounges through its partner network, two times per year.

Does Capital One Venture Card have trip insurance?

Trip cancellation or lost luggage insurance is not included in Venture Card benefits. But the card does include travel accident insurance if you or a family member suffers severe injury or death during a trip.
Rates and fees are subject to change.
Editorial Note: This content is not provided by any entity covered in this article. Any opinions, analyses, reviews, ratings or recommendations expressed in this article are those of the author alone and have not been reviewed, approved or otherwise endorsed by any entity named in this article.