How To Find and Use Your Academy Credit Card Login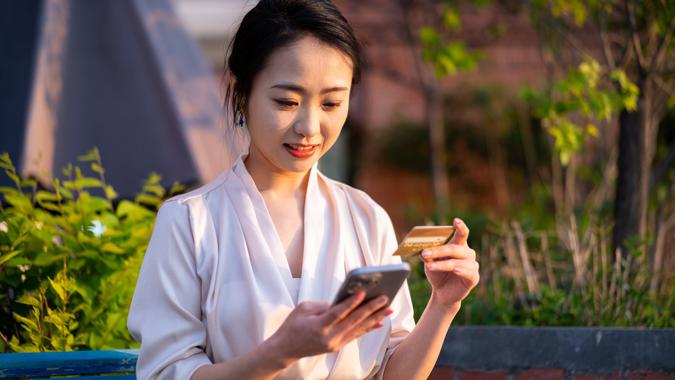 Young777 / iStock.com
If you're a sports and outdoor activity enthusiast, you may want to take advantage of the benefits available to Academy credit card holders who sign up for online account managing. To do so, you'll need your Academy credit card login information when using a computer, mobile phone or tablet.
As Academy credit cards are issued by Comenity Capital Bank, account holders having trouble using or recovering their username or password can look to Comenity for different ways to help.
View Your Academy Account Using a Computer
You can access your Academy credit card login via computer to manage your spending and bill-paying.
To Log In

Start at Comenity's online banking portal for Academy credit cards.
Click "Sign In."
You can create an online account if you don't already have one by clicking "Register Now" and following the prompts. You'll need to provide your card number and some personal information, like your Social Security number.
View Your Academy Account Using a Mobile Phone or Tablet
Comenity doesn't offer a mobile app for managing your Academy credit card accounts. Still, you can manage your account using internet access from a mobile phone or tablet. The steps are comparable to those when using a computer. Again, you can create an account from your phone or tablet if you don't have one set up yet.
Visit Comenity's online portal for Academy credit cards to log in.
Click "Sign In."
 Input your username and password. Click "Sign In."
How To Locate Your Lost Academy Credit Card Account Login
Perhaps you've misplaced your Academy credit card login information — your username and password. Fortunately, Comenity makes it easy to find it.
Click "Sign In" to open the account portal.
Below the "username" and "password" fields, locate the link for "Forgot Username / Password?" Click on this link.
Read the directions to find your login information. Have your account number, zip code and last four digits of your Social Security number handy to prove identification. 
Visit Comenity for Customer Assistance
You may have additional questions about your Academy credit card login, and you can contact Comenity in a few different ways to get your answers.
From your Academy credit card account access page, click "help" in the upper right-hand corner. There, you'll see a few options to finding the information you need:
View the FAQs to see if your question matches those listed.
Check "All Help Topics" for more specific FAQs based on your particular problem or question.
Send a secure message to Customer Support.
Call Customer Service at 1-877-321-8509, available Monday to Saturday from 8:00 a.m. to 9:00 p.m. EST
Mail correspondence to: Comenity Capital Bank, PO Box 183003, Columbus, OH 43218-3003.
Additional Benefits To Using Your Academy Credit Card Login
While creating and using an online account for your Academy credit card is not required, you may miss out on extra perks if you don't. In addition to the basics, like viewing statements and paying your bill, your Academy account online offers additional resources.
Authorized Users
Comenity allows you to add "authorized buyers" to your credit card account. By visiting the Account page, you can add up to four people to your Academy credit card, allowing them to use your account for spending. However, as the primary account holder, you're still the responsible party for balances on your account, no matter who you've authorized to make purchases.
Additionally, you can remove people from your account by sending Comenity a secure message.
Promotional Plans
Comenity sometimes offers deferred-interest promotional plans for Academy credit card users, and you can learn more about these specials when you visit the "What is a Deferred-Interest Promotional Plan?" landing page.
These promotions allow you to sign up for a financing plan with limitations when making large, specialized purchases, such as furniture. You can also find additional information about your enrolled programs on your online monthly billing invoices under "Details of your plans."
Financial Tips
Furthermore, having an Academy credit card online account gives you access to financial tips, which is helpful if you need quick advice about getting out of debt or protecting your personal information. 
Takeaway
Creating and managing your Academy credit card online account allows you to quickly view your benefits whenever you need a reminder. All of your card and account benefits are at your fingertips instead of searching through piles of paper statements.
Editorial Note: This content is not provided by any entity covered in this article. Any opinions, analyses, reviews, ratings or recommendations expressed in this article are those of the author alone and have not been reviewed, approved or otherwise endorsed by any entity named in this article.