How To Make an Academy Credit Card Payment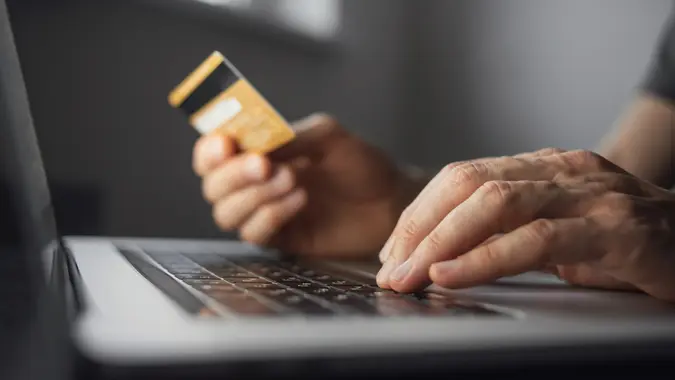 Poike / Getty Images/iStockphoto
Academy credit cards are issued by Comenity Capital Bank and are a great way to access benefits when purchasing sports and outdoor equipment. As a cardholder, you can get $15 off your first qualifying purchase. Additionally, you can receive 5% off future online or in-store qualifying purchases while enjoying free standard shipping for purchases of at least $15 on Academy.com.
Making timely payments toward an Academy credit card is important for keeping your credit in good standing and avoiding late fees. You can easily make payments online, by mail or by phone, and here's exactly how you can do that.
How To Make an Academy Credit Card Payment Online
Making an Academy credit card payment online takes three simple steps. It's worth noting that you'll need to submit your payment by 5:00 p.m. EST on your due date to avoid a late fee.
Paying Online

Log in to Comenity's online banking portal with your username and password. First-time users have to register for online access, which requires your credit card number, zip code and Social Security number.  
On the "Account" page, input your checking account and routing numbers. Comenity does not currently support making payments via debit card.
Select your payment amount and choose your payment date. You can also set up automatic payments by selecting that option on the "Payments" page.

If you don't have an online account and prefer not to go through the trouble of setting one up, you can take advantage of Comenity's EasyPay system.

Enter your credit card account number, zip code and the last four digits of your Social Security number, Social Insurance number or alternate identification to find your account. 
How To Make an Academy Credit Card Payment by Mail
If you're receiving bills and statements via paper, you may opt to make an Academy credit card payment by mail:
Write a check or money order for the desired payment amount.
Write your card or account number on the check and include the statement's payment coupon in the envelope. 
Mail the payment to the address stated on the envelope or paper statement.
Be sure to post your payment at least a week before your payment is due to ensure timely delivery and avoid late fees.
Comenity Bank partners with many retail stores for credit cards, such as Academy, and payment addresses may vary from card to card. If you're unsure of the address to which you should mail your payment, contact Customer Care at 1-877-321-8509.
How To Make an Academy Credit Card Payment by Phone
A third option is to make an Academy credit card payment by phone. This can be a convenient option if you can't log in to your online account.
Make sure you have your bank account information before making the call.
Dial 877-321-8509 to reach the customer care hotline. Live customer care is available 8:00 a.m. to 9:00 p.m. EST, Monday through Saturday.
You can choose whether to submit your payment using the automated system or speak with a customer service representative first.
What Are the Late Fees for Academy Credit Cards?
The minimum amount for any Academy credit card payment is due at least 25 days after the close of each billing period. The latest time to make a payment without incurring late fees is no later than 5:00 p.m. EST on the bill's due date.  
You will see a late fee of $30 if you have no record of late payments for the previous six months. However, if you did make late payments during that time, the fee increases to $41.
Editorial Note: This content is not provided by any entity covered in this article. Any opinions, analyses, reviews, ratings or recommendations expressed in this article are those of the author alone and have not been reviewed, approved or otherwise endorsed by any entity named in this article.