11 Benefits of the Capital One Quicksilver Credit Card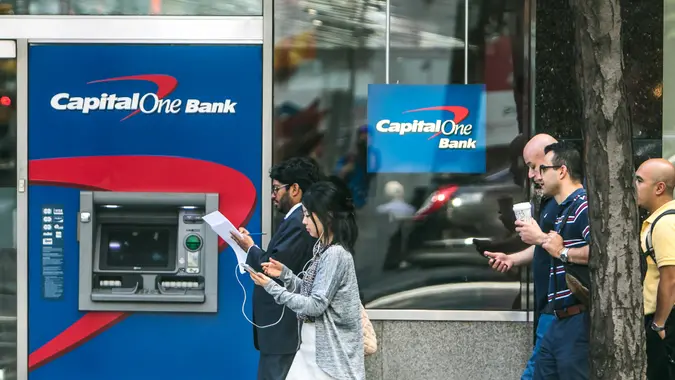 Roman Tiraspolsky / Getty Images
Capital One is one of the largest credit card issuers in the United States, and for good reason. One way the company brings customers in is by offering compelling rewards and terms to its borrowers. In 2013, Capital One launched its Quicksilver offering, which simplifies rewards and offers several perks. 
What Are the Benefits of Having a Capital One Quicksilver Card?
The Capital One Quicksilver credit card has become an overwhelmingly popular option primarily because it offers multiple benefits.
A sign-up bonus

A low introductory interest rate
An easy-to-follow bonus structure 
No annual fees
5% cash back on all travel purchases you make through Capital One Travel 
24-hour travel assistance
No foreign transaction fees
Access to Capital One Dining for exclusive reservations and dining experiences
Extended warranties on qualifying purchases
Multiple reward redemption options
No minimum threshold to redeem the cash you earn
$200 Sign-Up Bonus
The card comes with a competitive $200 sign-up bonus. To access the bonus, you'll have to spend $500 within the first three months of account membership. Although $200 is a lower value than some cards offer, the $500 spending threshold makes the bonus very easy to get.
Introductory APR
The 0% introductory annual percentage rate is one of the primary Capital One Quicksilver Benefits. New cardholders enjoy a 0% interest rate on purchases and balance transfers for the first 15 months of account membership, after which the APR will be .
However, you will have to pay a 3% transfer fee for balance transfers, and Capital One will charge the standard interest rate for the card on any remaining balance once the promotional period expires. 
Easy-to-Follow Bonus Structure
Some credit cards require you to keep track of multiple categories to earn cash-back rewards, but that's not the case with the Capital One Quicksilver card. The card comes with 1.5% unlimited cash back on all purchases. So, whether you're buying gas, eating at a restaurant or grocery shopping, you know you'll earn 1.5%. 
No Annual Fee
Many rewards credit cards come with annual fees. Banks design these fees to cover maintenance and administrative costs for the lender. However, you won't have to worry about that with the Capital One Quicksilver credit card because it comes with no annual fee. 
Unlimited 5% Back on Purchases Through Capital One Travel
Capital One offers Quicksilver cardholders unlimited 5% cash back on all travel purchases booked through Capital One Travel. The company offers advice on when to book for the lowest price on travel, whether you book airfare, a hotel or even a rental car — and Capital One will refund you a set amount if the price drops after you book.
24-Hour Travel Assistance
Travel is exciting, but it can also be daunting. Mistakes in bookings and other issues can turn a dream vacation into a nightmare. When Capital One Quicksilver cardholders have these issues, they also have access to the company's free 24-hour travel assistance team to help find solutions. 
No Foreign Transaction Fee
If you travel often or make online purchases with foreign merchants, the Capital One Quicksilver card might be the best option for you. That's because the card comes with no foreign transaction fee. Credit card companies typically charge between 1% and 3% for foreign transactions, so this can become a big savings point. 
Capital One Dining
All Capital One Quicksilver members get access to Capital One Dining. Through this service, you can access exclusive reservations at award-winning restaurants. You can also get your hands on tickets to exclusive events and culinary experiences you'll never forget. 
Extended Warranty
It's nice to know that when you purchase something it's going to last a while; if it doesn't, the company replaces it. Capital One gives its cardholders that peace of mind by offering free extended warranties on eligible purchases they make with their Quicksilver credit cards. 
Multiple Reward Redemption Options
It's best to have a rewards credit card that offers multiple options for redeeming your rewards. The Capital One Quicksilver credit card fits that bill. Cardholders can redeem their rewards on PayPal, as a credit on their credit card statement or they can use their rewards to pay for purchases in real-time. 
Redeem Cash Back for Any Amount
You don't have to build up your cash-back rewards until you meet a minimum threshold to redeem them with a Capital One Quicksilver credit card. That's because there's no minimum threshold to speak of. You can redeem your cash-back rewards for $1, $100 or any other denomination you'd like.
Final Take
The Capital One Quicksilver credit card offers several perks. If you don't have one in your wallet yet, consider applying today.
FAQ
The Quicksilver card is one of the most popular offerings from Capital One. However, chances are you have some questions about the card. Below are answers to some common questions about the Capital One Quicksilver.
How much does Capital One Quicksilver give you?

You can earn 1.5% cash back on every purchase every day with the Capital One Quicksilver card, plus a sign-up bonus. As far as the card's credit limit, your limit will vary based on several factors including your credit score, income and debts.

What is the highest limit on a Capital One Quicksilver?

Capital One hasn't published its maximum credit limit. Your credit limit will vary based on several factors, like your credit score, income, outstanding debt and payment history.

How does the Capital One Quicksilver $200 bonus work?

Capital One offers a $200 sign-up bonus for new applicants who apply, and whom the bank approves, for the Quicksilver credit card. You must spend at least $500 in the first three months after you open your new account to access the bonus. Once you meet the spending threshold, Capital One will credit your account with $200 in additional cash back.
Rates are subject to change; unless otherwise noted, rates are updated periodically. All other information on accounts is accurate as of Nov. 10, 2022.
Editorial Note: This content is not provided by any entity covered in this article. Any opinions, analyses, reviews, ratings or recommendations expressed in this article are those of the author alone and have not been reviewed, approved or otherwise endorsed by any entity named in this article.