25 Chase Sapphire Reserve Benefits: Is It Worth the Fee?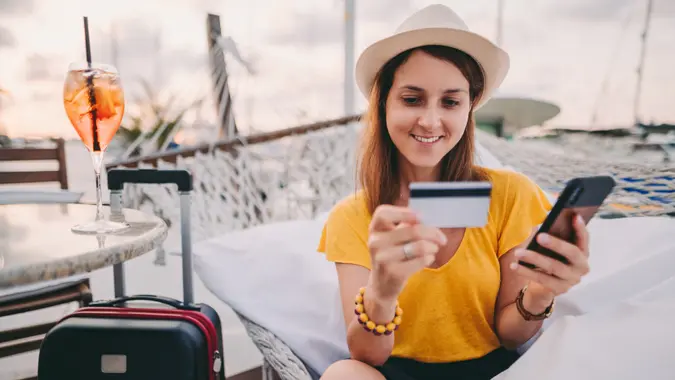 martin-dm / Getty Images/iStockphoto
Consumers no longer just appreciate credit cards that tout rewards, they all but demand them. According to a 2021 poll by GigaPoints/Ipsos, 60% of Americans say that credit card rewards are very important to them.
This is hardly surprising, considering our growing dependence on credit, with the average American carrying $3,356 in credit card debt, accounting to Finder.com. This number could very well increase thanks to inflation, which is putting a huge strain on wallets.
And so there is no shortage of credit cards offering perks and rewards. Indeed, there are so many options that it's difficult to keep track of who is offering what. It's important to consider the offerings of each card on an individual level. Take the . What are its best and most valuable benefits?
Before diving into all the rewards that Chase Sapphire Reserve offers, it must be highlighted that the annual fee to use this card is — $100 more than it previously charged — which is definitely not pocket change. As such, it's key to consider whether you'll take advantage of these benefits, because they sure don't come free. Nor is the interest at all forgiving at APR.
1. Sign-Up Bonus
When you sign up for Chase Sapphire Reserve, you'll get 60,000 Chase Ultimate Rewards points after you spend $4,000 on purchases in the first three months of opening an account. That'll get you $900 toward travel when you redeem through Chase Ultimate Rewards.
2. $300 Annual Travel Credit
People love travel rewards, and Chase Sapphire Reserve is presumably looking to stand out in this space by offering an automatic $300 travel credit for travel expenses charged to your card — every year. The credit is applied to your statement after each account anniversary.
3. Lost Luggage Reimbursement
Again, Chase Sapphire Reserve is trying to stand out as a strong credit card choice for people who travel a lot, and if you're one of those people, you might have some anxiety about airlines losing your luggage. With this card, you'll get up to $3,000 of coverage per passenger should your checked or carry-on luggage be damaged or lost.
4. No Foreign Transaction Fees
When you use the Chase Sapphire Reserve card abroad, you won't be charged any foreign transaction fees. 
5. 50% More Redemption Value on Travel
If you use your card to purchase travel through Chase, you'll earn 3 Chase Ultimate Rewards at 1.5 cents per point — that's roughly 50% more value than what you'd get with a non-travel purchase.
6. Bonus Rewards on Travel and Dining
For every dollar spent on travel and dining anywhere in the world, you can collect Chase Ultimate Rewards points.
After you earn that $300 statement credit, hotel and rental car purchases through Chase Ultimate Rewards earn an incredible 10x points, and travel purchased through Chase Ultimate Rewards will earn 5x points. All other travel purchases bring in 3x points.
7. Point Transfers to Hotels and Airlines 
Credit card points are great, but what about points with hotels and airlines? Chase Sapphire Reserve lets you transfer your Chase Ultimate Reward points to various airline and hotel loyalty programs at a 1:1 ratio.
8. TSA PreCheck Credit
No one enjoys waiting in line for security at the airport. Chase Sapphire Reserve can help with that — cardholders get one statement credit of up to $100 every four years as reimbursement for the application fee charged to your card for Global Entry, TSA PreCheck or NEXUS.
9. Complimentary Airport Lounge Access
Cardholders can tap into a VIP vibe at the airport with their Chase Sapphire Reserve card, which enables access to over 1,300 VIP lounges in airports around the world. Cardholders must obtain a Priority Pass to experience this benefit. 
10. Luxury Hotels and Resorts Collection Perks
A number of prestige hotels and resorts around the world are partnered with Chase to allow Chase Sapphire Reserve cardholders to access a variety of perks including early check-in, late checkout and room upgrades — if the hotel has them available — among others.
11. Medical Emergency Coverage when Traveling
If you or an immediate family member get sick or injured while traveling and need an emergency evacuation, Chase Sapphire Reserve covers up to $100,000 for medical services and transportation.
12. Trip Delay Reimbursement
There have been a lot of issues with travel delay of late — especially at airports. With this card, if your carrier travel is delayed more than six hours or requires an overnight stay, you and your family are covered for unreimbursed related expenses, such as meals and hotel, up to $500 per ticket.
13. Trip Cancellation/Interruption Insurance
If your trip is canceled due to factors such as illness or severe weather, you can be reimbursed up to $10,000 per traveler and $20,000 per trip for your non-refundable travel expenses that you already paid for. You get the same coverage if your trip is delayed.
You're also covered if your trip is cut short due to eligible factors, such as severe weather or sickness.
14. No Blackout Dates
Some rewards services have blackout dates littered throughout the fine print, but when you book travel through Chase Ultimate Rewards, any available seat is yours once you claim it.
15. Rental Car Collision Damage and Theft Coverage
You no longer need to get the car rental company's collision insurance — just charge the entire rental cost to your card and you will get up to $75,000 for theft and collision damage for rental cars in the U.S. and abroad.
16. DoorDash Pass Subscription
DoorDash has become a phenomenon, with 25 million active users in 2021. Diners who hold the Chase Sapphire Reserve card may be extra inclined to use the service, as membership grants you a free DoorDash pass subscription which lets you forego delivery fees.
17. More Points on Lyft Rides
Lyft is another popular company that has partnered with Chase to deliver rewards through the Sapphire Reserve card. Riders can earn 10x total points on Lyft rides through March 31, 2025.
18. Gopuff $10 Monthly Credit
Chase Sapphire Reserve cardholders can nab a $10 monthly statement credit from Gopuff, a company that delivers drinks, snacks and other essentials on demand. This is a limited time promotion, but it's good through December 31, 2023. 
19. Purchase Protection
If you purchase something with your Chase Sapphire Reserve card that ends up getting stolen or damaged within 120 days of purchase, you're covered up to $10,000 per claim and $50,000 per year.
20. Return Protection
When you shop with this card, you can be reimbursed for eligible items that a retailer will not take back within 90 days of your purchasing it. You have protection up to $500 per item and $1,000 per year.
21. Extended Warranty Protection
When you purchase an item using Chase Sapphire Reserve, you can extend your window of eligibility for the item's warranty for an extra year on eligible warranties of three years or less.
22. Early-Access Tickets and Priority Seating
Using your Chase Sapphire Reserve card you can potentially get ahead of the crowds for live events by accessing tickets to concerts and sporting events early — before they sell out.
You can also nab priority seating at select events using Chase Sapphire Reserve.
23. Sapphire at Home
Your card has a whole life on the internet too! You can log on to have virtual culinary experiences by watching chefs, restaurateurs, mixologists and farmers create a variety of drinks and dishes.
24. Seaport District NYC
If you're near the Seaport District, all you need to do is visit on Sunday and show your Sapphire Reserve card to participating vendors to unlock special offers.
25. Customer Service Hotline
Cardholders can use a 24/7 hotline to speak with a live agent. The number of the back of the Chase Sapphire Reserve card is dedicated to Sapphire Reserve cardholders.
Is Chase Sapphire Reserve Worth the Fee?
In a country brimming with credit card options, perks are paramount and Chase Sapphire Reserve delivers quite a few. That said, this card is certainly not for everyone.
Chiefly, it is not for those who will not use it enough to justify the hefty annual fee. It's also not worth it for people who don't travel a lot or who are looking to cut out credit card interest from their financial lives.
The best of the card's rewards offerings apply to travelers, so if you fly and stay in hotels often — and are an ample spender when abroad — this is probably a great card for you. Through its various benefits, the frequent traveler could quickly recoup the annual fee, plus the $75 for additional authorized users. At the very least, you can have some additional peace of mind knowing that you have strong travel coverage via the card.
This card is also worth considering if you're shopping up a storm and want to protect your purchases, returns and extend any warranties under a 3-year limit. Additionally, if you're a loyal fan of DoorDash, Lyft or Gopuff, you might find the related rewards that come with Chase Sapphire Reserve worth your money.
Rates, offers and requirements are subject to change; unless otherwise noted, rates are updated periodically. All other information is accurate as of Aug. 15, 2022.
Editorial Note: This content is not provided by any entity covered in this article. Any opinions, analyses, reviews, ratings or recommendations expressed in this article are those of the author alone and have not been reviewed, approved or otherwise endorsed by any entity named in this article.
The information related to the Chase Sapphire Reserve credit card was collected by GOBankingRates and has not been reviewed or provided by the issuer of this product/card. Product details may vary. Please see the issuer's website for current information. GOBankingRates does not receive commission for this product.
Our in-house research team and on-site financial experts work together to create content that's accurate, impartial, and up to date. We fact-check every single statistic, quote and fact using trusted primary resources to make sure the information we provide is correct. You can learn more about GOBankingRates' processes and standards in our editorial policy.