Navy Federal cashRewards Review: With Great Benefits Come Great Rewards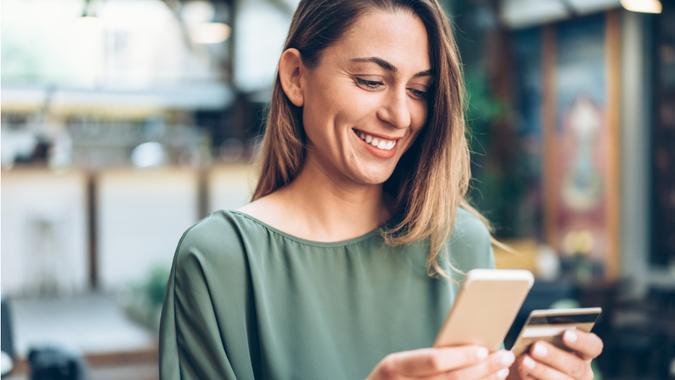 filadendron / iStock.com
In the competitive world of rewards credit cards, it takes a lot to stand out. The Navy Federal cashRewards Card is a solid competitor, with a wide range of features and benefits to go with its low costs. While the card is specifically for those with ties to the military, the credit union casts a wide net as to who can join–those who are eligible will enjoy a simple, inexpensive card that offers generous rewards. For service members, veterans and their families, the specific benefits of this card may top other cash-back cards.
Navy Federal cashRewards at a glance:
For members of Navy Federal Credit Union

You'll earn 1.75% cash back on all purchases with direct deposit; otherwise 1.5% cash back

No annual fees, balance transfer fee or foreign transaction fees

$250 Welcome Bonus when you spend $2,500 in the first 90 days
Navy Federal cashRewards Card Overview
The Navy Federal cashRewards Card offers generous cash-back rewards with no annual fee and low overall costs in general. The card also provides a number of additional no-fee perks, making it a good option for those seeking a low-cost, high-benefit rewards card. Although the card is limited to members of Navy Federal Credit Union, which is federally insured by NCUA, membership is open to anyone affiliated with the military–including service members, veterans and those with family or household ties to the armed forces, Department of Defense and National Guard.
Earn More Perks From Your Credit Card
Check Out: Reasons Why You Need a Cash-Back Card in Your Wallet
Benefits
The Navy Federal cashRewards Card is chock-full of benefits. The primary benefit, as the name of the card implies, is the generous cash-back rate of 1.5% on all purchases. For credit union members who are also signed up for a qualifying direct deposit, this cash-back rate jumps to a whopping 1.75% on all purchases, making it an even more valuable card for everyday spending.
Equally important for many cardholders will be the lack of an annual fee. Those who use the card overseas will like that Navy Federal charges no foreign transaction fees when using this card, while those looking to shift money around will appreciate the $0 balance transfer fee
. In terms of access to rewards, cash-back redemption is easy and quick through the Navy Federal Credit Union app.1 And, unlike many cash-back cards, there's no waiting period or minimums to redeem rewards.
On top of all of these impressive benefits, the Navy Federal cashRewards Card offers a number of additional no-cost features, including:
Earn More Perks From Your Credit Card
No cash advance fees

No rewards limits

No rewards expiration while the account remains open

Cell phone protection

Collision damage waiver

Ability to freeze and unfreeze your cards

No liability for reported unauthorized transactions

Fraud notifications

Access to your credit score

24/7 access to stateside customer service representatives
It's also worth noting that Navy Federal's customer service received a #1 ranking for customer experience from Forrester.
Currently, the Navy Federal cashRewards Card is offering a significant sign-up bonus for new cardholders. If you spend $2,500 within 90 days of account opening, you'll earn a cash-back bonus of $250. 
Advertised interest rates on the Navy Federal cashRewards card are 9.65% to 18% APR, depending on creditworthiness. While you should always pay off your credit card balances in full every month, a low interest rate can save you a lot of money if you do need to carry a balance. While the upper end of this range is typical of most credit cards, those who qualify for a 9.65% interest rate will be paying much less than the current average of 14.61% reported by the Federal Reserve.2
Keep Reading: How To Use a Credit Card Like a Pro This Holiday Season
Potential Drawbacks
One minor drawback of the card is that it charges a fee for cash advance ATM withdrawals that aren't performed at a Navy Federal branch or ATM. Navy Federal partners with the CO-OP ATM network, providing fee-free access to about 30,000 ATMs across the country. However, if you use a non-network ATM, you'll be charged $0.50 for domestic withdrawals and $1.00 for foreign transactions. If you need to withdraw cash at a non-network ATM, you'd be better off using your debit card, as multiple Navy Federal checking accounts include ATM fee rebates, such as up to $20 per statement period with Active Duty Checking (up to $240 a year) or $10 per statement period with Free Easy Checking (up to $120 a year).
Another thing to note is that this card comes in a variety of types, and you might not know exactly which card you'll receive until you actually apply. For example, if you're approved for a credit line of below $5,000, you may receive a straight Visa or Mastercard. If you're approved for a credit line of $5,000 or more, you'll receive either a Visa Signature or a World Mastercard. Each of these cards has its own perks and benefits, but you may not know which one you'll receive until you physically apply. On the plus side, you can be approved for this card with average credit and still access all its valuable benefits.
About Navy Federal Credit Union and Membership Eligibility
Navy Federal Credit Union has been serving members of the military and their families since 1933. With over 10 million members, they prioritize the financial health and wellbeing of their member-owners through a commitment to exceptional customer service tailored to the unique needs of the military community. That adds up to additional savings: NFCU reports members earn and save an average of $352 a year from banking with the credit union.
To qualify for membership in the credit union, you must be affiliated with the military. However, Navy Federal Credit Union's definition of "military affiliated" is broad. For example, in addition to those who have current or former ties to the armed forces (including the National Guard), Department of Defense employees are also eligible. You can also qualify if you have an immediate family member who has a membership with Navy Federal, or even if you live with someone who is a Navy Federal member. If you're associated with a Select Employee Group, such as NASSCO or BAE, you can also qualify.
How To Apply
You can easily apply for the Navy Federal cashRewards Card either at a branch or via the credit union's website. As previously stated, you'll need to be a member of Navy Federal Credit Union to apply. If you're already a member, you can see if you're prequalified for this card before you apply on the Navy Federal website without undergoing the standard credit check. That means you can learn if you prequalify without affecting your credit score. If you aren't yet a member, you'll be able to verify that you qualify for membership during the application process and then join the credit union. From there, the application process is simple. As with most credit cards, you'll need to provide personal information, such as your name, address, date of birth and Social Security number, along with certain financial information, such as your occupation and income.
Who This Card Might Be Best For
The Navy Federal cashRewards Card provides enough benefits to make it attractive to a wide range of potential customers. Its high cash back rate–1.75% with direct deposit and 1.5% without–and $0 annual, balance transfer and foreign transaction fees make it a valuable, low-cost card great for everyday spending. As a credit union dedicated to a select audience of service members and their families, as well as DoD employees, Navy Federal has an understanding of the specific needs of their members, unlike many other institutions. The Navy Federal cashRewards Card exemplifies this, providing a solution for those seeking an everyday rewards card that charges minimal fees but provides a generous level of cash back and other features and benefits.
Last updated: Oct. 19, 2021
1Message and data rates may apply. Terms and Conditions are available.
2Board of Governors of the Federal Reserve System (US), Commercial Bank Interest Rate on Credit Card Plans, All Accounts [TERMCBCCALLNS], retrieved from FRED, Federal Reserve Bank of St. Louis; https://fred.stlouisfed.org/series/TERMCBCCALLNS, September 26, 2021.