The Best Available Cash-Back Credit Card Rewards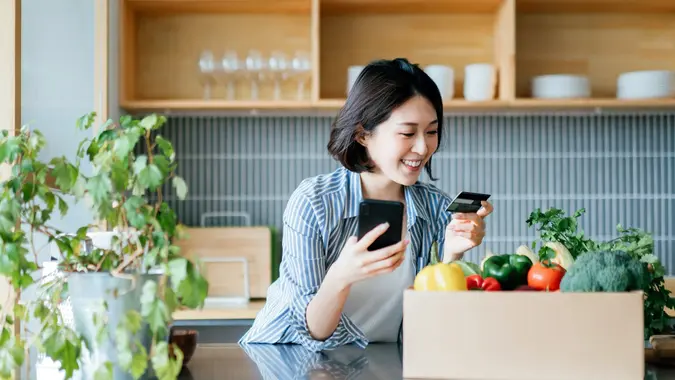 AsiaVision / iStock.com
Update: Some offers mentioned below may have changed or are no longer available. View current credit card offerings from our partners at CardCritics Here or on the issuer's website.
A quarter of Americans say their primary purpose for using a credit card is for the rewards and perks, a recent GOBankingRates survey found. In addition, 22% said that the rewards and cash back offered by a card are the most important factor they consider when choosing a new credit card. Of course, not all cash-back cards are created equal, and some offer better rewards than others.
See: 
Learn: 
Based on GOBankingRates' Best Cash-Back Credit Cards of 2021 ranking, here's a look at some of the best cash-back credit card rewards available.
Best Credit Cards Available Now: 
Top Rewards Rate
Some cash-back credit cards will offer a flat rewards rate for all purchases, while others will offer higher rates for certain purchase categories. Before choosing a cash-back card, compare the rates offered for the type of purchases you make the most. Look for cards that offer a high rate in categories you spend on frequently to make the most out of your credit card rewards.
Read More: 
Among the credit cards analyzed by GOBankingRates, the , Member FDIC, had the highest rewards rate, with 6% cash back on groceries, up to $6,000 (then 1%), in purchases at U.S supermarkets per year, and 6% cash back on U.S. streaming services. Cardholders also earn 3% cash back on transit, 3% cash back on gas at U.S. gas stations and 1% cash back on all other purchases. It's important to note that this card has an annual fee of (See Rates & Fees), so do the math to ensure you'll make more than this back with cash back based on your typical spending.
See: 
If you're looking for a no annual fee cash-back credit card, the cards with the highest rewards rates are Chase Freedom Unlimited, Chase Freedom Flex, U.S. Bank Cash+ Visa Signature Card, , Discover it Cash Back Card and the USAA Cashback Rewards Plus American Express Card. All of these cards offer 5% cash back on certain purchase categories.
Rewards Redemption Options
Cash-back credit cards typically give you rewards in the form of a statement credit, but some cards offer additional redemption options. Depending on your preference, you may want to choose a card that allows you to redeem your cash back in multiple ways.
See: 
For example, GOBankingRates' top pick for Best Cash-Back Credit Card of 2021, the card, also allows cardholders to redeem cash back for direct deposit into most U.S. checking and savings accounts, use cash back points to shop at Amazon, redeem cash back for a variety of gift cards and certificates for shopping, dining, entertainment and more, or use cash back to book travel with Chase Ultimate Rewards for competitive rates and flexible ways to pay.
Find: 
Methodology: GOBankingRates identified the best cash-back credit cards by analyzing the following factors: (1) annual fees; (2) APR for purchases; (3) promotional APR; (4) sign-up bonuses; and (5) rewards and features. All fees and rates are subject to change at the credit card issuers' discretion. Some bonus offers might no longer be available on the credit card issuers' websites, depending on how one accesses the web page. All data was sourced from each financial institution's website or promotional material and is accurate as of Aug. 11, 2021. Please verify terms and conditions before opening an account. Rewards had to be in the form of cash back to qualify.
All information about American Express card offers have been collected independently by GOBankingRates and have not been reviewed or approved by American Express. These offers are not available through GOBankingRates.
The information related to Chase Freedom Unlimited and Freedom Flex was collected by GOBankingRates and has not been reviewed or provided by the issuer of these cards. Product details may vary. Please see issuer website for current information. GOBankingRates does not receive commission for these products.
More From GOBankingRates