How To Make Visa Signature Benefits Work for You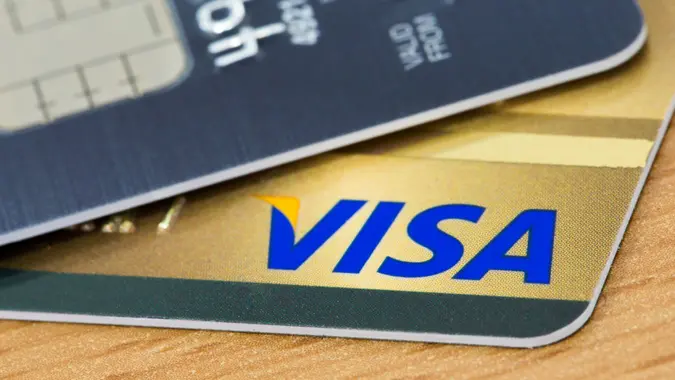 hatchapong / Getty Images
Choosing a credit card within the labyrinth of the modern-day credit system can feel overwhelming. You want the right card for you, and want to make sure you are reaping all the rewards and benefits that card has to offer. 
Most credit card companies offer a variety of cards in varying tiers, and it can be confusing to decide which one will work best for you. Sometimes you just want a card for emergencies, sometimes you want it for travel and sometimes you want a card that packs a bit more punch. This is where Visa Signature comes in.
What Is a Visa Signature Card?
The biggest difference between a Visa and a Visa Signature card basically boils down to the number of benefits you get. With the Visa Signature card, you get more benefits from a wider variety of vendors and banks. 
Basic Visa vs. Visa Signature Benefits
| Benefit | Visa Card | Visa Signature Card |
| --- | --- | --- |
| Zero Fraud Liability | X | X |
| Credit Limit of $5,000+ | | X |
| Emergency Transportation Assistance  | | X |
| Legal Referral Assistance | | X |
| Medical Referral Assistance | | X |
| Lost Luggage Locator | | X |
| Emergency Message Service | | X |
| Emergency Translation Service | | X |
| Roadside Dispatch | X | X |
| Pre-Trip Assistance | | X |
Visa Signature Benefits
Benefits for any Visa Signature card will vary, so make sure to check with your card issuer to be certain what benefits your card has, and how you should take advantage of them.  Whether you use Chase Sapphire Preferred Card or TD First Class Visa Signature or another Visa Signature card, it is important to understand what different perks are offered through different cards. 
Top 9 Functional Visa Signature Benefits
It is comforting to know you are protected in not only your everyday life, but also when you are traveling — just by using your Visa Signature card. Here are some of the many ways your card is looking out for you.
NortonLifeLock
Dovly
Extended Warranty Protection
Auto Rental Collison Damage Waiver
Lost Luggage Reimbursement
Trip Cancellation Reimbursement
Travel Accident Insurance
Emergency Medical or Dental
Purchase Security
NortonLifeLock 
NortonLifeLock is protection again identity theft. When most transactions are done online via credit card, keeping your information safe is paramount. Norton's ID Navigator helps alert you to any fraudulent activity, so you can act quickly.
Dovly
Dovly's platform helps raise your credit score by helping to edit your credit and remove any inaccurate information. Higher credit scores are imperative to attaining goals, such as home ownership or starting a business.
Extended Warranty Protection
Visa Signature cards will extend the warranty of any eligible purchase. For example, any eligible purchase with a U.S. warranty of one year or less will be doubled in length, and any warranty over one year will have an additional year added to it.
Auto Rental Collison Damage Waiver
No one really wants to pay for the rental insurance, so often people don't. However, accidents happen, and the Auto Rental Collision Damage Waiver through your covered Visa Signature card provides you with built-in rental protection.
Lost Luggage Reimbursement
If your bag is stolen or lost by the airline, you would be eligible for reimbursement if you purchased your ticket with your covered Visa Signature card. This can also apply to any baggage delay you experience.
Trip Cancellation Reimbursement
When airline tickets purchased with your covered Visa Signature card are canceled, you would be eligible for reimbursement for your non-refundable fare. These benefits also extend to delayed or interrupted flights. Trip reimbursements can also apply to other forms of transportation, such as bus, train or ferry.
Travel Accident Insurance
When you go on vacation you want to be able to relax, and not be stressed out by the thoughts of what could happen. With this benefit, you can rest assured knowing you are covered.
Emergency Medical or Dental
When you purchase your ticket with your covered Visa Signature card, you are covered for emergency medical and dental procedures up to $2,500 while traveling.
Purchase Security
If you purchase an item with your Visa Signature card and see it advertised for a lower amount, you could be eligible to be reimbursed for the difference.
Top 9 Fun Visa Signature Benefits
If you are using your Visa Signature card anyway, you might as well have a little fun with it. There are many great perks, but here are some favorites.
Sonoma Wine County
Golf
Fine Dining
Concierge
Shipt
Sofar
Skillshare
Lounge Access
Return Protection
Sonoma Wine County
In over 50 participating vineyards, if you purchase one tasting, you could get another of the same value for free. You would also be privy to savings in the tasting room or on food and wine pairing offerings. Sipping delicious wine in Sonoma is a benefit you didn't know you needed.
Golf
When you sign up for Troon Rewards with your Visa Signature card, it automatically bumps you up to Silver Status. This means you qualify for discounts on all things golf — including lessons, fees and merchandise. Now all that remains is setting your tee time.
Fine Dining
There are many fine dining and fine wine experiences offered. These offerings vary depending on your card issuer, so be sure to see what activities you can enjoy. Treat yourself to amazing food, drinks and savings.
Concierge
Think of Concierge as a travel assistant. It helps you navigate when plans change and figure out what your next steps should be. With everything so constantly up in the air when planning trips, it's definitely a benefit that takes a little stress out of your travel.
Shipt
With certain covered Visa Signature cards, you can enroll in a free membership to Shipt. This is a great way to get same-day deliveries from a variety of participating vendors, such as grocery or home goods stores. It is quite the perk having one less chore.
Sofar
Live music is happening again and Sofar lets you experience shows in a new way. With this benefit, you are able to claim one free ticket per show with a purchase with your covered card.
Skillshare
There is an abundance of online classes and now Skillshare gives you the opportunity to explore many of them with unlimited access and a discount on membership. Passion and hobby betterment is now included in your rewards program.
Lounge Access
Airports can be crowded and uncomfortable, but with this benefit, you get a priority pass to over 850 airport lounges around the world.
Return Protection
A reliable way to avoid buyer's remorse is to have Return Protection. When you regret a purchase you made with your covered card, you can return that item up to a value of $250.
What Are the Best Visa Signature Benefits for You?
There is always a bit of research to be done to find the card that best suits your needs and lifestyle. Many terms, conditions and restrictions apply, so make sure to check with your card issuer before signing up for a card that doesn't give you everything you want. Once you have the right card, make sure to use it for all it has to offer and really take advantage of the benefits. 
FAQ
Is the Visa Signature hard to get?

Visa Signature does require good credit to acquire. Additional qualifications will depend on the card issuer to which you are applying.

Is the Visa Signature better than Platinum?

The difference between Visa Signature and Visa Platinum mainly exists in the rewards programs and minimum credit limits. Visa Signature has more travel benefits, whereas Visa Platinum is better for cash-back options.
Editorial Note: This content is not provided by any entity covered in this article. Any opinions, analyses, reviews, ratings or recommendations expressed in this article are those of the author alone and have not been reviewed, approved or otherwise endorsed by any entity named in this article.