What To Know About Credit Card Rewards Structures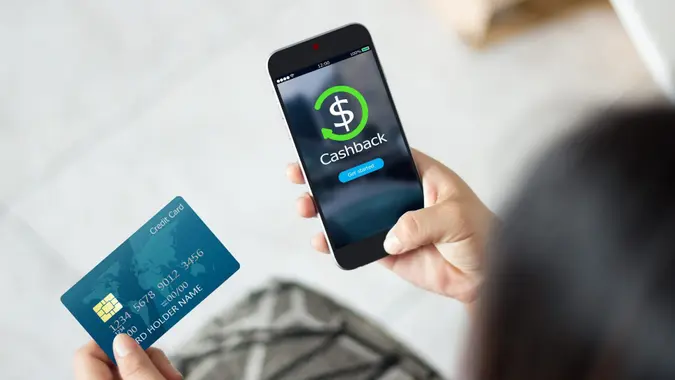 B4LLS / Getty Images/iStockphoto
One of the perks of having credit cards is the rewards they enable you to rack up. And this is highlighted in a new GOBankingRates survey, which found that more than 1 in 4 Americans say that rewards associated with a card are the most important factor in choosing one. But keeping track of them and understanding how each of them works can be difficult to navigate as the rewards structures are not always straightforward.
In addition to those who say rewards are the most important factor, 15% of Americans say their primary purpose for using their credit card(s) is for the rewards and perks, the survey found.
Explore: GOBankingRates' Best Credit Cards for 2023
Save More: Unplug These Appliances That Hike Up Your Electricity Bill
Meanwhile, the survey also showed that 9% of Americans say they do not compare credit cards before choosing the best option. But understanding which perks a credit card offers and which one is best suited for you, while time-consuming, can be highly rewarding.
"Consumers are definitely sensitive to both upfront costs and to higher interest rates when it comes to choosing a new credit card. Regardless, rewards, cashback opportunities and other 'what's in it for me' features are not far behind in terms of priority. They have become a de facto 'currency' in our culture and are highly valued," said Bobbi Rebell, CFP, author of Launching Financial Grownups and personal finance expert at Tally.
Rebell added that consumers need to be realistic about whether they will be using their credit cards for the benefits or to take out high-interest debt loans — which is effectively what happens if you aren't able to pay your entire balance on time.
"If they are confident that they will pay the entire balance every month, it often makes sense to choose a card that has the benefits that are of the most value for them," she added.
Rewards credit cards usually offer cash back, miles or points. Let's take a look at the different rewards structures credit cards offer.
Cash Back
A credit card offering cash back means that you can earn rewards on your purchases, often including everything from dining to travel to groceries.
As Experian explains, a cash-back credit card is rather easy to understand — for example, if your cash-back card offers 2% cash back on purchases, you'll get $2 in rewards for every $100 you spend. In addition, Experian notes that all cash-back credit cards enable consumers to redeem rewards for cash, either via a check, statement credit or bank transfer.
Consumers should prioritize interest rates rather than pursuing rewards, said Ted Rossman, senior industry analyst at CreditCards.com. He noted, however, that if you can pay in full to avoid interest, then rewards are great.
"Most people prefer cash back because it's very simple, straightforward and universal. Who couldn't use more cash, right? Especially with inflation so high," Rossman said, "You can redeem cash back into your bank account or as a statement credit, effectively paying you back for things you hopefully would have bought anyway."
Another key point with cash-back credit cards is that consumers should be aware of several criteria, including the reward caps, how much cash back you earn, where you can earn it and what alternative redemption options there are, according to Vadim Verdyan, head of advice operations at Albert.
A lot of cash-back cards will offer promising rewards, such as 6% cash back at all supermarkets, for example, "[b]ut they'll have a limit in the fine print that says something like, 'Up to the first $5,000 spent and then 1% cash back on all remaining supermarket purchases,'" Verdyan said.
In terms of how much cash back you can get and where to earn it, he recommends avoiding cards that only offer cash back at specific merchants or retailers.
"Picking cash-back cards that are more general and offer more rewards for necessity categories like groceries, gas, and restaurants will likely work out better in the long term," Verdyan added.
According to him, cash-back cards are best for consumers who want simple returns that can be used toward anything. These are also popular with people just starting their credit journey because many of them don't have an annual fee and still offer good rewards, he added.
Take Our Poll: Are You Struggling To Keep Up With Your Utility Bills?
Points
Some credit card rewards come in the form of points that you earn when you make purchases in certain categories.
"With a rewards credit card, you may be able to earn 1 point for every $1 spent. Your rewards credit card may also offer more generous point redemption options such as 2-5 points for every $1 spent on travel, dining and other categories such as department stores, grocery stores and more," Chase Bank stated on its website.
Cards that offer general points as rewards tend to be the most versatile type of card because you can redeem those points for travel, cash back or specific items from an online rewards catalog, Albert's Verdyan said, adding that the way you earn points is very similar to any other type of reward.
However, the difference to look out for comes at the time of redeeming them, Verdyan noted.
"Some companies may offer better redemption deals when used towards travel or specific items, but others may provide worse redemption deals for those things. For example, points redeemed for travel may have a 1.5x multiplier, cash back points may have a 1x multiplier, and specific merchant points may offer a 0.75x multiplier, all from the same card," he said.
Point rewards are generally best for someone who wants the most flexible option because you can redeem on cash back, travel or specific items, according to Verdyan.
Miles
As Chase Bank explains, there are two types of credit cards that offer airline miles: travel credit cards and co-branded airline credit cards that offer miles for use with a specific airline.
If your credit card offers airline miles as a reward, you earn miles by making purchases on the card, Chase explains, while for co-branded airline credit cards, you usually earn extra or bonus miles by booking and making purchases directly with the partner airline.
According to The Motley Fool, the best airline credit cards offer 1 reward mile per $1 spent as well as bonus credit card miles on certain purchases. Keep in mind, however, that the basic guideline for valuation is that each airline mile is worth 1 cent, the Motley Fool added.
"Each airline and credit card rewards program has different redemption methods for credit card miles. This means the miles you earn from airline rewards programs differ in value," according to the Motley Fool.
Experts note that for these rewards, consumers should be aware of blackout dates, travel perks, spending categories and transfer options.
"Some travel cards offer great reward options but won't allow redemption during the most popular travel dates. A lot of cards don't have these, so this is an important factor to check before applying," Verdyan said.
In addition, a key point is that some travel cards offer a lot of additional travel perks, including discounts — or free — vouchers for TSA PreCheck, Global Entry and access to airport lounges, which are becoming more and more popular.
"Look out for travel cards that offer more than just regular rewards and redemptions," Verdyan said.
Verdyan added that certain travel cards, such as those offered by airlines, sometimes offer really high rewards when you spend toward that specific airline and mediocre rewards for everything else.
"When picking a travel card, make sure it's a more general card that earns the best rewards on everyday spending and necessities like groceries and gas to make the most of your spending count," he recommends.
Finally, consumers should be wary of transfer options, as many travel cards have started to allow customers to transfer miles or points to external travel partners.
"For example, an airline card may allow you to transfer points to a hotel chain they partner with, which can be beneficial if those hotels also offer redemption multipliers when you transfer miles to them. So it can be a very beneficial feature to have. It also gives you more flexibility in redeeming those miles," Verdyan said.
Cards that offer miles are best for someone who travels often because you cover the costs of your flights and earn status with specific airlines if you fly enough.
"That said, travel cards are usually better suited for someone who has a little more discretionary spending since you can't use the points for anything other than travel," Verdyan said.
More From GOBankingRates
Methodology: GOBankingRates surveyed 1,003 Americans aged 18 and older from across the country between September 19 and September 20, 2022, asking twelve different questions: (1) Which of the following is the most important to you when it comes to picking a new Credit Card?; (2) How do you handle your Credit Card bill each month?; (3) Do you know your Credit Score?; (4) What age did you get your first credit card?; (5) What is your primary purpose for using your credit card(s)?; (6) Do any of the following statements apply to you? (Select all that apply); (7) Which credit card fees do/would you hate the most?; (8) How many Credit Cards do you own?; (9) What is your total current Credit Card debt?; (10) How long do you think it will take you to pay off your Credit Card debt?; (11) Have you ever hit the credit limit on your credit card?; and (12) Have you ever charged any of the following to your Credit Card? Select all that apply:. GOBankingRates used PureSpectrum's survey platform to conduct the poll.