6 Best Ways To Help You Keep Your Identity and Credit Safe
6 min Read
Brought to you by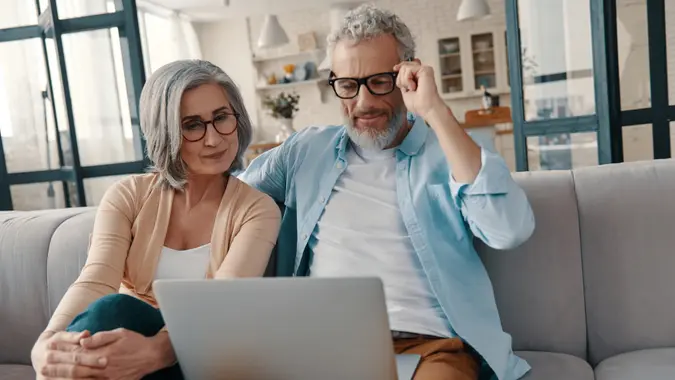 g-stockstudio / iStock.com
Fraud is big business in the United States. Consumers reported losing more than $5.8 billion to fraud in 2021, an increase of more than 70% over the previous year, according to the Federal Trade Commission.
If there's one thing you can count on when it comes to money, it's that somebody out there wants to steal it. Among the most popular ways thieves do so is by stealing victims' identities and financial information. This has become an increasingly big threat as hackers keep discovering new ways to break into online financial accounts.
Protecting your identity and your credit requires vigilance and knowledge of how thieves operate. The first thing you should understand is the difference between protecting your identity and protecting your credit. Here's a quick primer:
Credit Monitoring
With credit monitoring, you are alerted whenever activity affects your credit report. This typically includes inquiries from lenders as well as new accounts opened using your name and Social Security number. With credit monitoring, you'll be notified of activity by text or email.
One credit monitoring service that stands out is Chase Bank's Chase Credit Journey. It's completely free, and you don't have to be a Chase customer to use it. You simply sign up online, and this service keeps an eye on your identity and credit in multiple ways, going beyond basic credit activity alerts to give you wide-ranging protection. It scans the dark web to make sure your information can't be found on suspicious sites, and it alerts you if your data has been exposed in a breach. Chase Credit Journey also protects your identity by tracking activity connected to your Social Security number.
Identity Theft Alerts
Identity theft alerts are typically covered under credit monitoring programs. However, they go a step further by looking for signs that your sensitive data, such as bank account passwords, have been compromised by hackers, data pirates or cybercriminals. Credit cards are a particularly popular target. If you suspect that your credit card information has been stolen or breached, you should immediately cancel the credit cards and put a stop on any activity associated with them.
Take Our Poll: Are You Concerned About the Safety of Your Money in Your Bank Accounts?
6 Best Ways to Help You Keep Your Identity and Credit Safe
Taking proactive steps to protect your credit and identity is the ounce of prevention needed to avoid a pound of cure. Following are tips on the most effective methods you can use to keep your information secure.
1. Make a Habit of Changing Your Passwords
This should be a no-brainer, but it's something many people don't do often enough. Your password is the gateway to your financial and personal information, and the longer it sits there unchanged, the higher the chances that hackers will eventually breach it. Changing your password frequently will lower the chances of having your credit and identity compromised.
2. Sign Up for Credit Monitoring Alerts
One of the most important steps you can take to protect your credit is to set up credit monitoring alerts. This lets you know whenever suspicious activity appears on your account. While many credit card companies and financial institutions offer credit monitoring for their customers, a few offer services to non-customers as well.
For example, Chase Bank's Chase Credit Journey is a free credit monitoring service available to anyone who wants to sign up. This comprehensive service sends you an alert whenever it sees new activity such as charges, credit inquiries, and new accounts. You'll also be notified when Chase sees any changes in your credit usage, credit limits and balances. Other services include Social Security number tracking and identity verification alerts that let you know when a lender verifies your identity.
With Chase Credit Journey, you'll also be able to check your credit score online whenever you want, allowing you to take even more control of your credit.
3. Place a Credit Freeze
A credit freeze, sometimes called a security freeze, blocks lenders from checking your credit report in order to open a new account. This can help prevent identity thieves from opening accounts in your name.
4. Get ID Theft Protection
Identification theft protection programs provide non-stop monitoring of your credit accounts and notify you when your credit score changes, inquiries are made, or red flags are raised about potential fraud. Insurance is also available through many of these programs that cover financial expenses incurred while correcting damage due to fraud. You can buy ID theft protection programs from credit bureaus, insurance firms and third-party providers.
5. Protect Your Personal Information
It goes without saying that you should avoid letting your personal and financial information fall into the wrong hands. Don't share it with people or companies you don't know and trust. Be on the lookout for scammers posing as bank or credit card company employees requesting your personal and financial information over the phone, on social media, or via email or text messages. Nobody legitimate will call you to request information like your credit card PIN or Social Security number.
Identity thieves will use any means at their disposal to dig up your personal and financial information — including looking through your mail or even digging through your trash. Avoid leaving important documents and ATM or credit card receipts where others can easily find them.
6. Review Your Credit Reports Regularly
Your credit report holds a treasure trove of information about the type of credit accounts you've had, your payment history, your credit score, and the amount of credit you have. Because the report holds so much important information — and plays a key role in your ability to get a loan or credit card – you should review it regularly to ensure everything is accurate and up to date.
When reviewing your credit report, keep an eye out for items that don't belong, such as a credit card or loan you don't recognize, or a sudden drop in your credit score despite no change in your credit activity. If you see a new account you didn't open, or charges for purchases you didn't make, chances are a fraudster has tapped into your accounts.
More From GOBankingRates
Editorial Note: This content is not provided by Chase. Any opinions, analyses, reviews, ratings or recommendations expressed in this article are those of the author alone and have not been reviewed, approved or otherwise endorsed by Chase.