How to Report Credit Card Fraud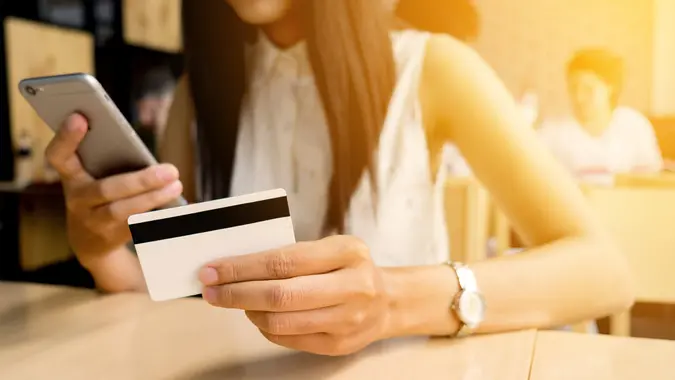 Maxx Satori / Shutterstock.com
A stolen or lost credit card leaves your account and identity vulnerable. Criminals can use your account information to obtain unauthorized goods or funds and leave you stuck with the bill.
But that's not the only way thieves can gain financial access to your account. Even if you have your credit card safely tucked away in your wallet, you could still be a victim of identity theft and credit fraud if basic information such as your account number and security code fall into the wrong hands. Here are the different methods for reporting in the event that you are a victim of credit card fraud.
Report Fraudulent Activity Immediately
The best action you can take when you realize you're the victim of credit card fraud is to report it as soon as possible. Not only will you reduce your liability for unauthorized charges, you can also attempt to stay one step ahead of the criminal. Follow these steps to file a complaint with your credit card issuer, the police, the three credit bureaus and the Federal Trade Commission.
Read: How I Bounced Back From Credit Card Fraud
Contact the Card Issuer
As long as you report credit card fraud quickly, you have no additional financial responsibility for unauthorized charges, and your maximum liability for each lost or stolen card is $50, according to federal law. In addition, you're never responsible for any charges if only your card number is stolen and used.
Call the credit card issuer and lenders immediately to alert them that accounts are unauthorized and should be closed and removed from your credit report. Additionally, you might be able to free your credit card online to prevent further use.
Here's how to report credit card fraud to your card issuer:
Call your credit card issuer immediately to report unauthorized credit card charges or a lost or stolen card. Many credit card companies have toll-free numbers and 24/7 service to handle fraud reports, according to the FTC.
Follow up your report with a letter sent by certified mail, return receipt. The letter should include your account number, date and time you first noticed the theft and when you first reported your loss to the credit card issuer. The letter will serve as proof that you reported the theft, according to the FTC.
Monitor your credit card statement and activity daily — online is best — to ensure the unauthorized credit card charges are removed.
Contact the Police
The FTC recommends that you contact the police to report credit card fraud if you know the thief, the thief has used your name when dealing with the police or a creditor or debt collector asks you for a police report. If you suspect your information was stolen using a credit card skimmer, contact the establishment where you think it might have happened so they can take action. In the event that none of these scenarios apply, you can report the theft online to the FTC, a federal law enforcement agency, in place of a police report. Some creditors will want you to provide them with an official copy of a police report before they take action, as well.
Gather the following items to report credit card fraud to police:
A government-issued ID
Proof of residency at your address, like a utility bill
Evidence of the fraudulent activity, like credit card statements and credit reports
Next, follow these steps for how to file a local police report:
Bring the evidence to your local police department, and ask to report the credit card fraud.
If the police officer is reluctant to do an identity theft report, ask to file a miscellaneous incident report instead.
Get a copy of the police report for your records. Make a note of the report number if you can't get a full copy.
Contact your state attorney general's office for help if your local police won't assist you in making a report.
Learn: 5 Ways to Accidentally Set Off Your Own Fraud Alert
Contact at Least One of the Three Credit Bureaus
You can get free copies of your credit report from each of the three credit bureaus — TransUnion, Experian, and Equifax — through AnnualCreditReport.com. Federal law entitles you to free copies of your credit report every 12 months, so it's a good idea to review them annually to potentially catch fraudulent activity early. In the event that you already requested copies within the past 12 months, the fraud alert entitles you to free current copies.
Call one of the three credit bureaus at the telephone numbers below or visit a bureau's website to report credit card fraud online:
TransUnion:

 

1-800-680-7289
Experian:

 

1-888-397-3742
Equifax:

 

1-800-525-6285
Then follow these steps to report the credit card fraud with the credit bureaus:
Ask the credit bureau of your choice to place a fraud alert on your credit report. The credit bureau you choose must legally alert the other two to do the same. Your initial fraud alert lasts 90 days and signals lenders to

 

take extra verification steps

 

before opening accounts in your name.
Make a calendar note to remind you to renew the fraud alert after the initial 90 day period if you feel that it's necessary.
Report fraudulent credit accounts that don't belong to you but that show up on your credit report. Criminals might have opened accounts in your name, which could ultimately affect your credit score.
Helpful Tips: How To Handle a Credit Card Dispute
Contact the FTC
You should also report credit card fraud to the Federal Trade Commission. Here's how:
Visit

 

IdentityTheft.gov.
Click the "Get Started" button to start the process of filing a complaint and reporting the fraudulent activity.
Select the option that most closely describes your situation. When you report credit card fraud, you'll usually choose the option that states, "Someone has my information or tried to use it, and I'm worried about identity theft."
Answer the questions that guide you through the process of filing a complaint. At the end, you'll receive a recovery plan based on the information that you entered to help you recover from the credit card fraud.
Keep Reading: See If You Might Accidentally Be Committing Credit Card Fraud
Over 6 percent of consumers were victims of identity theft in 2016, including those who had new credit card accounts opened in their names or who had thieves use their credit card numbers for fraudulent activity. In the event that you find yourself part of that statistic, know how to report credit card fraud, and follow the appropriate steps to get your accounts back on track.