The Pros and Cons of Paying Someone To Fix Your Credit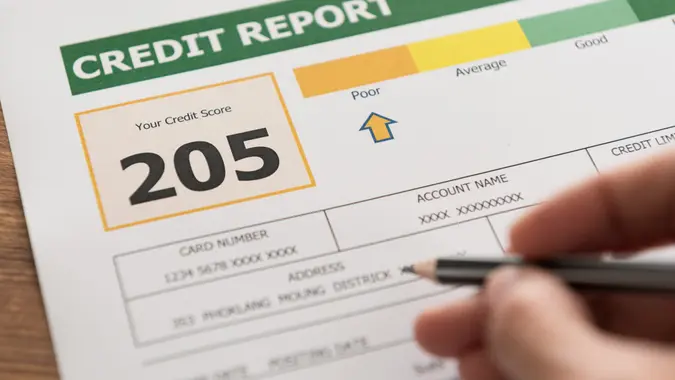 utah778 / Getty Images/iStockphoto
Having a poor credit score can be a major hindrance when you are trying to open a new line of credit, whether it be a new credit card, car loan or mortgage. If you're in this boat, it's likely you want to improve your credit score ASAP to be able to move on with your financial life. Credit repair services promise to do just that — but there are costs associated with these services, so they may or may not be worth it for you to use. To help you determine if you should consider using a credit repair service, take a look at some of the pros and cons.
Read More: 30 Things You Do That Can Mess Up Your Credit Score
Look: What Is a Good Credit Score for Your Financial Goal?

Pros of Using a Credit Repair Service
Here are some of the reasons why using a credit repair service may be right for you.
1. It's easier and quicker than trying to repair your credit on your own.
"Companies that specialize in credit repair save you the time and hassle of trying to do it yourself," said consumer and money-saving expert Andrea Woroch. "They have stronger negotiating power and work with your creditors to consolidate and reduce your outstanding debt."
Full vs. Partial Payments: Which Is Best for Your Credit Score?
Credit repair services may be able to boost your score more quickly than you would be able to do on your own, which could save you money in the long-term.
"While you may end up paying around $100 per month for credit counseling services, they can sometimes end up paying for themselves — and then some," said Tony Wahl, director of operations at Credit Sesame. "In some cases, credit repair services can help repair your credit faster, which means that you can start benefiting from having a better credit score sooner. This can include lower interest rates, which can help save you even more money in the long run."
2. A credit repair service will show you exactly what's causing your credit issues, which can be helpful if you're unsure why your score is low.
"These services can help you figure out what exactly is wrong with your credit, even if they can't fix them," said Jack Cunningham, founder of the personal finance blog Nickel & Dime Decade.
Find Out: How It's Possible to Have a Perfect Payment History and Bad Credit
They can also help you understand what needs to be done to improve your score.
"If you're unsure where to start, credit repair services are a great resource and can provide you with a personalized plan," Wahl said.
3. It may the push you need to improve your credit if it's a process you've been putting off.
"There's nothing these companies will do that you can't do yourself, but you also have to be willing to do it," Woroch said. "If you don't take steps — and haven't taken steps thus far — hiring a professional and paying some fees may be worth it to finally repair your past credit mistakes."
Cons of Using a Credit Repair Service
For some people, the cons of using a credit repair service may outweigh the pros. Here's a look at the drawbacks of hiring someone to fix your credit.
1. These services sometimes charge high fees.
If you're already struggling with your finances, hiring a credit repair service may just add to your already existing debt.
"Many people can't afford the $70 a month or more that these services cost," Cunningham said.
2. It's not an instant fix.
"Some credit issues that are years in the making take years to fix," Cunningham said. "These take work on your behalf, and credit repair companies can't instantly fix these issues."
3. Some 'credit repair services' are scams.
"Before making the decision to hire a credit repair service, be sure to verify that the agency you're working with is reputable," Wahl said. "Most legitimate agencies are nonprofits and members of either the National Foundation for Credit Counseling or the Financial Counseling Association of America, so be sure to check for the appropriate accreditation or certification. It's also worth noting that 'nonprofit' doesn't always mean 'free,' so be sure to do your research before making a decision to find what's best for you."
Learn More: Credit Privacy Numbers: What They Are and How To Avoid Scams
4. You can fix your own credit for free.
"It is important to know that you can work to repair your credit on your own with the same tools that a credit repair agency would use," Wahl said.
Find Out: 90-Second Moves To Raise Your Credit Score 200 Points
Allyson Dennen, an accredited financial counselor and CEO of Fab Life Now, advises against using credit repair agencies. Instead, she said to be vigilant about monitoring your own credit and report issues yourself.
"Check each report one time per year at annualcreditreport.com and then dispute any mistakes or issues you see," Dennen said. "All consumers can easily dispute items on their credit directly with each of the three credit bureaus. To make it even easier, once you dispute an item and the bureau finds it is in fact a mistake or needs to be removed, they have the legal obligation to report this change to the other two bureaus on your behalf."
Did You Know: Will Opening a Checking Account Hurt Your Credit Score?
Even if there are no mistakes on your report, there are other steps you can take on your own to improve your credit score that don't require professional help.
More From GOBankingRates
Last updated: Sept. 13, 2021