How To Protect Yourself From Identity Theft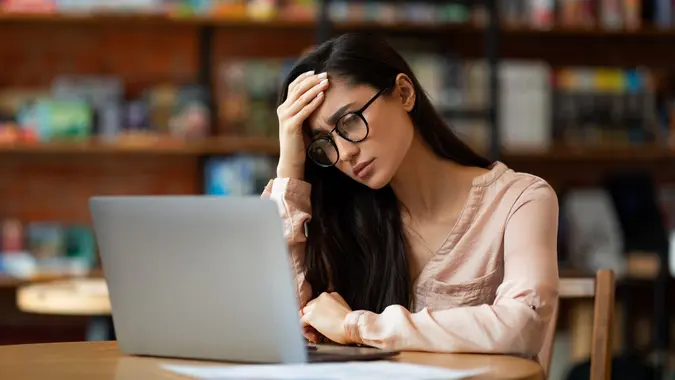 Prostock-Studio / iStock.com
Identity theft has been around for decades, but it has become an even bigger threat during the COVID-19 pandemic. The Federal Trade Commission received nearly 1.4 million reports of identity theft in 2020, making it the most common type of complaint lodged by consumers. The number of reports more than doubled in 2020 from the prior year. Meanwhile, there were nearly 324,000 reports of COVID-19 fraud last year, and that number has since ballooned to over 500,000.
Protecting yourself from identity theft begins with understanding the different types of and recognizing the warning signs. Keep reading to learn more about how to protect yourself from identity theft.
What Is Identity Theft?
Identity theft is a type of crime in which someone's personal and financial data are obtained and used without their permission. The thieves might use that information to commit a number of crimes, ranging from applying for loans in the victim's name to raiding their bank account, using their credit card, filing a fraudulent tax return or selling the info to someone else.
The first step in protecting yourself from identity theft is learning what it involves and how it occurs. After that, it's important to act immediately to limit the potential damage.
Types of Identity Theft
Several types of identity theft exist, each targeting different kinds of fraud. Here's a quick look:
Financial identity theft: This is the most common type and typically involves the thief stealing someone else's information for financial gain, such as using their bank account or credit card numbers to steal money or make purchases.
Tax identity theft: This occurs when someone uses your Social Security number to falsely file tax returns with the IRS or your state.
Medical identity theft: This happens when someone steals your Medicare ID or health insurance member number and then uses the information to get medical services or send fake bills to your health insurer.
Employment identity theft: Fraudsters might use your employment information to get a job or pass a background check.
Unemployment identify theft: This involves someone using your personal information to claim and receive unemployment benefits.
Child identity theft. Because most kids under 16 don't have credit reports, fraudsters will use their information to open credit accounts. This might go undetected until the victims apply for jobs or student loans.
Senior identity theft. Senior citizens are especially vulnerable because they tend to be more trusting about sharing information and less savvy about recognizing identity theft.
Estate identity theft: This happens when the thief uses the personal information of a deceased person to steal money or open accounts.
How To Recognize Signs of Identity Theft
One of the best ways to protect yourself from identity theft is to spot suspicious activity. In some cases, it might be obvious that someone is trying to steal your information, such as when you get random emails from strangers asking for bank account information. Other cases are much harder to spot. Here are some things to look out for:
You've been turned down for a loan or credit card. If you have a strong credit history but were rejected for credit, it could be a sign that someone else has opened or attempted to open other accounts in your name. Be sure to monitor your credit reports regularly to help prevent this kind of identity theft.
You no longer get bills in the mail. If you notice that your regular bills are no longer arriving in your mail, it could be a sign that someone has stolen your identity and changed your billing address.
Financial accounts contain charges you don't recognize. One of the surest ways to spot identity theft is when your bank or credit card statements show transactions you don't recognize. In some cases, you might see small charges of $5 or less, which means that the thief is "testing" whether their purchases are being monitored.
You get bills for items you didn't purchase. If you are billed for purchases you never made, or for overdue payments on accounts you don't have, it's a sign that your identity has been stolen.
Your tax return was rejected. If your tax return is rejected because of a duplicate return, it could mean a return has already been fraudulently filed in your name.
Your creditors alert you to suspicious activity. When creditors let you know about suspicious activity involving your bank account or credit card, it could be a sign of fraudulent activity.
How To Prevent Identity Theft
In an age when computer hackers can compromise even the most secure networks, it's impossible to prevent identity theft entirely. But there are numerous things you can do to protect yourself. Here's a quick checklist:
Tips to Protect Yourself from Identity Theft

Don't carry your Social Security card in your wallet or give out your SSN unless absolutely necessary.
Monitor your billing cycles closely. If bills or financial statements are late, contact the sender immediately.
Don't share personal information, such as birthdate, SSN, bank account numbers, to anyone you don't know or trust.
Don't leave financial information where others can easily find it.
Collect your mail every day and place a hold on it when you are away from home for several days.
Use the security features on your mobile phone.
Update your sharing and firewall settings when you're on a public wi-fi network and, when possible, use a virtual private network or VPN.
Review your credit card and bank account statements to ensure you recognize all of the transactions.
Shred receipts, credit offers, account statements and expired credit cards to prevent "dumpster divers" from getting your information.
Install firewalls and virus-detection software on your home computer.
Create complex computer passwords that thieves can't guess and be sure to change your passwords if a company you do business with has a breach of its databases.
Review your credit reports once a year to ensure they don't include accounts that you have not opened. You can order it free from Annualcreditreport.com.
Freeze your credit files with Equifax, Experian, TransUnion and other credit reporting agencies to prevent others from applying for accounts in your name.
Our in-house research team and on-site financial experts work together to create content that's accurate, impartial, and up to date. We fact-check every single statistic, quote and fact using trusted primary resources to make sure the information we provide is correct. You can learn more about GOBankingRates' processes and standards in our editorial policy.