6 Credit Report Red Flags You Don't See — But Your Lender Does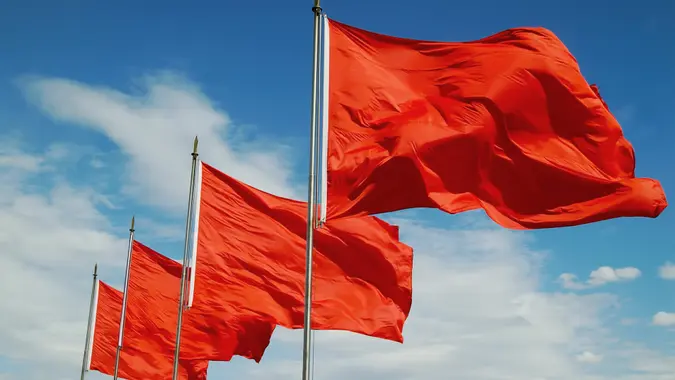 mozcann / iStock.com
e completing a new credit card application or applying for a loan, are you scouring your free credit report for errors and red flags? Credit report errors happen, and you need to find them and fix them on your credit report before completing the credit application.
Cleaning up your report will help you get the right credit card or the best loan rate for your needs. Check your credit report on a site like GoFreeCredit.com. Then, examine each entry for accuracy — and watch out for the following red flags so you can fix credit report errors.
1. Information on Your Report That Doesn't Belong to You
Credit agencies can mix up names, addresses, Social Security numbers or employers and put someone else's data on your report, especially if you have a common name.
If your name is "Julian Fisher," your credit report might include information from "Jillian Fisher," "Julian Fischer" or other people also named "Julian Fisher." A quick LinkedIn search turned up 25 profiles of men named Julian Fisher, underscoring the importance of double-checking for credit report red flags.
If you take the time, you can easily uncover this error. Verify that all entries contain your Social Security number, employment information and other personal data. If you discover an error, visit the website to each of the three major credit reporting agencies — Experian, TransUnion and Equifax — to find the link for reporting inaccuracies.
Related: 20 Things That Can Mess Up Your Credit Score
2. Unauthorized Activity Resulting From Identity Theft
If you don't regularly check your credit report and your identity is stolen, lenders might get the wrong picture of your creditworthiness.
Identity theft occurs when someone steals your personal information, such as your name, Social Security number and date of birth. With that information in hand, the crook can open credit card accounts in your name, charge up the card and leave the bill unpaid. Such a crime leaves you with delinquencies on your credit report and can affect your credit score.
To avoid becoming a victim of identity theft, Equifax recommends keeping your personal information safe offline. Shred mail with any identifying data, and keep your Social Security card safe at home. Be sure to password protect your electronic accounts and devices.
Regularly review your free credit report to avoid having identity theft ruin your credit. If you notice fraudulent information on your account, notify the credit reporting agencies immediately, put a fraud alert on the account and visit the USA.gov identity-theft portal.
3. Opening Multiple Lines of Credit
It can be a mistake to open multiple lines of credit at one time, said Peter Huminski, president of Thorium Wealth Management in Kernersville, N.C.
Opening a single credit card account from time to time is normal, Huminski said. "What is not normal is opening three or four in a short window of time," he said. "It may be a red flag to a fraud situation, or it may signal to lenders that you may be in some sort of financial trouble."
You might have heard stories about people successfully opening multiple accounts, such as entrepreneurs funding their business ventures with several credit cards. However, this behavior can result in sky-high interest rates and a negative credit profile if you fail to repay the debt.
To maintain or improve your credit score, avoid opening multiple credit cards within a short period. Instead of trying to get additional credit, get your spending under control.
4. Lacking a Diverse Credit Profile
Although you don't want to apply for many credit cards within a short period of time, investigate your credit mix, said Martin A. Smith, president of Wealthcare Financial Group, a retirement planning and investment advisory firm. A diverse credit mix — such as a mortgage, a car note and a few credit cards — with on-time payments shows you're financially responsible and can handle your finances.
"The more diverse your credit mix, the better — especially if you make on-time payments and do not max out your credit balance," Smith said. Acting in such a responsible manner is a good representation of your ability to properly manage multiple financial obligations, he added.
Lenders want to be sure you handle credit well and can pay your financial obligations before they send out a new credit card or lend you money. So, only take out a loan or sign up for a new card if you're positive you can make the payments.
Find Out: How Having Different Types of Credit Will Increase Your Credit Score
5. Using Too Much of Your Available Credit
Lenders might become wary if your credit report shows a large balance on all your accounts. "It is OK to pay the minimum payment every once in a while," said Huminski. "But if it is a regular thing, it may signal to your current or future lenders that you are not able to pay the obligation in full."
The utilization rate — the amount of credit you're using divided by your credit limit — has a big impact on your credit score. You actually have two utilization rates: One per credit card, and another when you divide the balance on all your cards by the total amount of credit available on all your cards.
Experian recommends keeping your credit utilization ratio below 30 percent and paying your bill in full every month. One way to keep your utilization ratio low is to leave credit card accounts open even if you do not use them. Another way to qualify for the best rates is to pay down outstanding credit balances.
6. Taking on More Debt After Buying a Home
For most people, a mortgage is their largest debt. Even a small mortgage runs well into the six figures. And another credit report red flag is to apply for additional credit — a loan or credit card — soon after taking out a mortgage.
Taking on too much credit in a short time is a bad idea. Think of your credit report as a LinkedIn profile for your financial self: Put your best foot forward by practicing responsible borrowing and repayment practices.
There are several ways to avoid mistakes and show that you are financially responsible. Four key ways to do this are:
Pay off bills before the due date
Pay the entire bill in full when possible
Limit applying for additional credit within a short period
Periodically check your free credit report, and learn how to fix credit report errors
Up Next: 9 Credit Report Myths You Need to Know
GOBankingRates.com and GoFreeCredit.com are both owned by ConsumerTrack, Inc., an online marketing company serving top-tier banks, credit unions and other financial services organizations.