Can I Trust Online Credit Reports?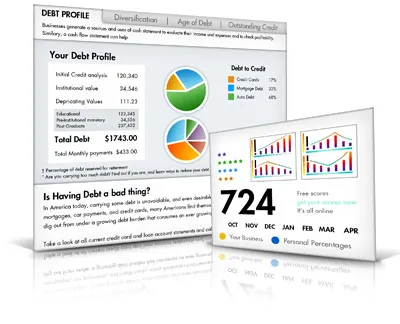 You can obtain one free credit report online per year from the three major credit bureaus since 2005 and the passing of the federal Fair Credit Reporting Act (FCRA), which was designed to help consumers. To comply with this new law, the three major credit bureaus – Experian, Equifax and Transunion – pooled their resources to create a website that allows you to get your free credit report from all three agencies in one place: www.annualcreditreport.com. Remember that you only get one free annual credit report per year so if you need to have your credit checked later on, you'll most likely have to pay for it.
Obtaining a Free Credit Report Online
However, since the new federal law went into effect, there has been some general confusion as to how and where exactly one acquires one's "free" credit score. It is important to understand that the official website created by the three agencies, is, in fact, the way to get your free credit report from the three major credit bureaus. If you contact the credit bureaus directly, they are entitled to charge you for your individual credit report. You can also get an online credit report from many of the sites on the web that provides them.
Can You Trust Online Credit Report Sites?
There are websites which are made to look like the official annual credit report site, and which will offer you a credit report if you sign up for their services, but should you trust them?. These sites are private businesses and are usually not affiliated with the three credit bureaus. In general, it is not a bad idea to sign up with them as long as they are open and honest about how you will be charged. They should also show that they are a private company and not misrepresenting themselves as the official free credit report site online. If you choose to take advantage of some of the subscription services offered by these sites, they will usually provide you with beneficial credit monitoring services or sometimes even identity theft protection for a small payment each month. If in doubt, check to see if they have the Better Business Bureau accreditation on their site.
It's important to be an informed about your credit and to know your credit score. However, you should also be alert to any online scams or misleading information. Be sure you know who you are doing business with before you give any website your credit card number or any sensitive personal information which might be used in identity theft.