How To Fix a Mistake on Your Credit Report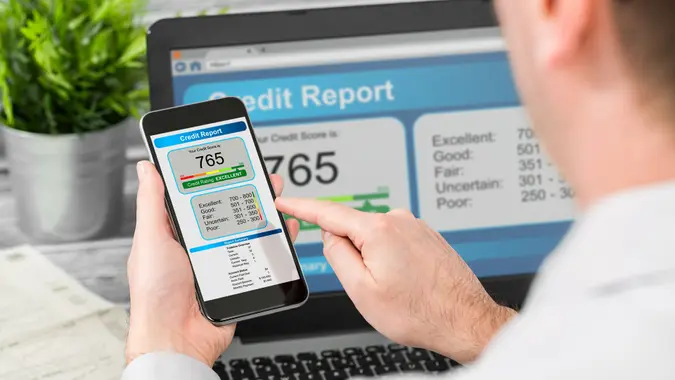 REDPIXEL.PL / Shutterstock.com
In the world of personal finance, few things are as significant as one's credit report, which spotlights their financial background and discloses personal payment history to prove lending and credit eligibility. Documentation of such significance should be infallible; alas, mistakes happen.
"Credit report mistakes can happen in several ways," said Christopher Morgan of Credit Help Info, who listed the common types of errors:
Personal information errors: These can include the wrong spelling of your name and incorrect contact information.
Mistaken accounts: A retail credit card or a loan might be opened under your name that you are not aware of.
Account reporting errors: Includes incorrect information about payments and balances.
"Additional common mistakes include loan or credit card payments applied to the wrong account, signing up for credit using different names such as James Smith versus James B. Smith [and] closing accounts where it looks like the creditor closed the account and not you," said Bruce Garner, founder of Card Curator.
How To Find Out If There's Been A Mistake
The most important step you can take is to regularly request a copy of your credit report.
"You have a right under the federal law to request for a copy of your credit report every 12 months," said Tony Martins, founder at Profitable Venture. "However, if you have exhausted your free copy for the year, you can still have access to one, but this time, you would have to pay for it."
To spot these mistakes before they do serious damage, you have to review your credit reports at least once a year, but you're better off doing this twice a year. When reviewing, look for "negative reporting issues or large changes in your FICO score," Garner said. If you're not proactive with your credit report requests, you'll likely learn about a mistake by getting turned down by lenders.
"Another tip-off that you have errors on your credit reports is getting turned down for credit when you mistakenly believe that you have good credit," said Laura Adams, a personal finance expert with Clearsurance. "The denial could result from errors such as incorrect late payments, account balances or legal data (such as a judgment or bankruptcy). Any of those mistakes could cause your credit scores to plummet without you knowing it."
Why Do These Mistakes Happen?
The next question is, "How do these potentially life-altering mistakes happen in the first place?" It can be as simple as a typo or outdated paperwork. Depressingly, it's completely out of your control.
"Credit reporting agencies individually collect all credit information about consumers and with these records; they come up with a credit score for each consumer," Martins said. "Now, this is how errors occur in your credit report: These credit reporting agencies get all the information they use to generate your credit score from your creditors. For instance, if you own a credit card, your credit card provider would provide information about your commitments to repayments to the credit reporting agency. The same goes for bank loans and every other credit obligation that you may have. Your creditors might make a mistake in the information supplied to the reporting agency and such mistakes would definitely end up in your credit report."
Additionally, sometimes credit bureaus just haven't updated your data, meaning they're using old information, such as your student loan amount, before your most recent payments.
How To Fix The Mistake
After learning of a mistake (which, again, you should investigate sooner than later), the next step is to get it fixed. It wasn't your error, but alas, it's yours to resolve. Here's what the experts recommend to clean up the gaffe.
File an online dispute with a credit bureau
"State the incorrect information and the agency will look into it," said Morgan. "Provide copies of the supportive documents as well." The fastest way to do this will (typically) be to initiate a dispute online.
"When you are filing a dispute, ensure that you include all relevant information such as your name, address, information about the item you are disputing and the account number, reason why you are disputing the entry, supporting documents and an instruction to investigate the item," said Martins. "The company would review your disputes and contact you as soon as it does. You can also hire a professional to help you out if you feel like you cannot handle it yourself."
Contact your lender and write them a letter explaining the situation
"Attach copies of your documents for proof and request a corresponding letter to stay aware of the situation," Morgan said. "It can take around 30-90 days to resolve."
Keep following up
"​​Credit bureaus are required to respond to your disputes, but sometimes, it takes them forever," said Paul Sundin, CPA and tax strategist. "Don't be scared to follow up on your dispute. Even if they resolved your issue, continue keeping an eye on the issue because there's a possibility that it will still arise in your following credit report."