Standard and Poor's Downgrades Phoenix Credit Rating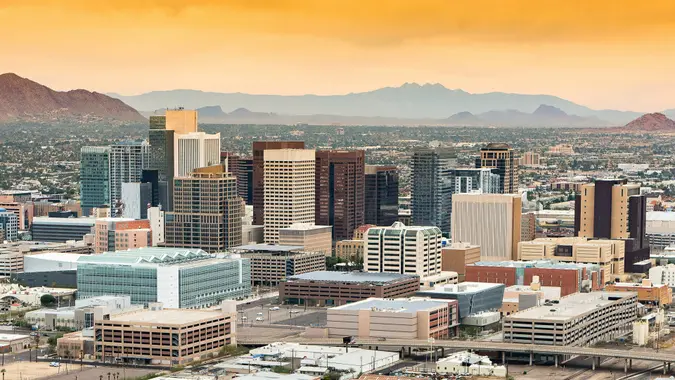 Mark Skalny / Shutterstock.com
Standard and Poor's, one of the world's largest credit-rating agencies, downgraded the city of Phoenix, citing the local economy's performance, debt and other financial liabilities.
With changes in its credit rating criteria, Standard and Poor's announced that its ratings are now largely based on local economic conditions, and in the case of the Phoenix housing market property values suffered immensely during the downturn in 2008. If market values climb, Standard and Poor's says Phoenix's score could improve, according to the Associated Press.
Phoenix Economy May Be Threatened By Lower Credit Rating
Thanks to a lower rating issued by Standard and Poor's, Phoenix may have to pay more in interest to issue bonds in the future, which in turn affects the city's ability to borrow money. Although the city's AA+ rating is still one of the highest among the country's largest cities, acting City Manager Ed Zuercher told Associated Press that it's always disappointing when a bond rating is downgraded for the Phoenix economy.
"S&P's new criteria places great scoring emphasis on the one aspect of our economy that was hit the hardest during the Great Recession — property values," said Zuercher, also noting that such values are not within the city's control.
Analysts from Standard and Poor's compared the outstanding general-obligation debt held by the city for the Phoenix economy, usually paid from sales and property taxes, with the revenue collected over the course of he year. According to the report filed by the credit-rating agency, payments made by the Phoenix city government on its debts made up nearly 10 percent of its total governmental expenses for the last fiscal year, and mentioned the city's unfunded pension liabilities.
Phoenix City Government Looking to Implement 2014 Economic Reforms
Although City Councilman Sal DiCiccio told The Arizona Republic that the downgrade is not huge, it is a wake-up call, a warning bell.
"You have to actually have a real plan in place that prevents Phoenix from being the next Detroit," said DiCiccio. Additionally, DiCiccio explained how Phoenix needs to get serious about pension reform in order to make changes beyond the modest reforms implemented in 2013, and that the city must realize its growing budget impacts Phoenix's ability to pay down long-term debt.
Phoenix Mayor Greg Stanton assured city residents that during his tenure the Phoenix city government will continue to retire its debt and maintain sound fiscal policy.
"We'll continue to work together to improve our economy, create good jobs and lead Phoenix through the lingering impact of the Great Recession," said Stanton, reported by the Associated Press.
Photo credit: /:\ Road Warrior /: