How I Increased My Credit Score by 76 Points With One Phone Call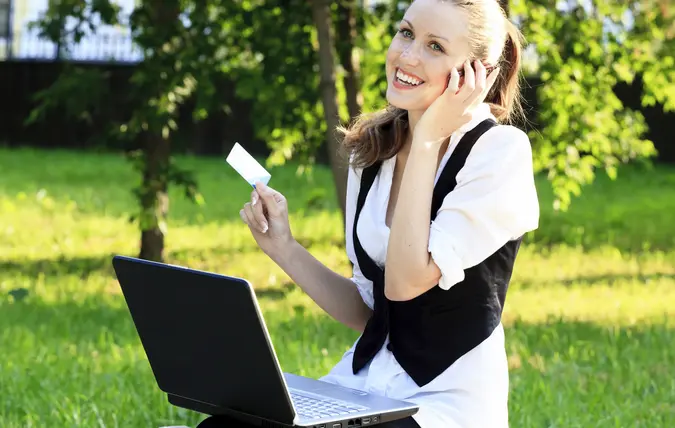 I have a confession to make: I paid a credit card bill late. As a result, my credit score tumbled. It happened pretty quickly.
You're probably thinking that I shouldn't be making these kinds of mistakes given that I'm a personal finance journalist. But I have a really good excuse (sort of).
Read: 20 Easy Ways Millennials Can Boost Their Credit
Why My Credit Score Dropped
In addition to a rewards credit card that I often use, I have another card that I rarely use. Several months ago, I made a purchase with that card. However, I never received a statement by mail because I had forgotten that I'd signed up for electronic statements when I got the card years ago. Consequently, the bill for my purchase went to an email address I had stopped using.
As you might have guessed, I had forgotten about the purchase. It didn't even cross my mind that I hadn't seen a bill from that credit card issuer so I didn't realize that I was late on a payment.
Fortunately, a credit score update alert from Credit Karma tipped me off that something was amiss. Credit Karma is a credit monitoring service that provides you with free access to your credit report and Vantage 3.0 credit score. It will send email alerts when changes to your score are reported. I had signed up for the service after I researched it for an article.
The Credit Karma email update showed that my Vantage credit score was 718 out of a possible 850. I was surprised because the credit card I regularly use provides me with my FICO credit score each month on my statement. It had been 800 out of a possible 850 on my last statement.
There can be variance among consumers' credit scores because the credit reporting agencies look at the same factors when calculating scores but sometimes weigh those factors differently, said Bethy Hardeman, chief consumer advocate at Credit Karma. The difference between my FICO and Vantage scores was big enough to make me look harder at the Credit Karma alert. What I discovered was that I had a delinquent account.
Within days, I got a paper statement from the credit card company informing me that my account was more than 30 days past due. I logged onto my account and paid my bill, then got on the phone with customer service.
Learn More: Are Sites Like Credit Karma Safe?
How I Boosted My Score
I briefly explained my story to the customer service representative and pointed out that I had never missed a payment in the past and had always paid my balance in full. Then I begged her — yes, begged — to please reach out to the three major credit bureaus, Equifax, Experian and TransUnion, to remove the delinquent payment from my report. She said she would try but couldn't promise anything.
That call paid off. I got a letter from my card issuer that it submitted a request to those three major credit reporting bureaus to remove the delinquency. Not long after that, I got an alert from Credit Karma showing that my credit score had jumped 76 points to 794 because my account had improved from delinquent status.
"If you have a long history with your issuer and haven't had missed payments before, they are human beings on the other end of the phone," Hardeman said. "They can choose to empathize with you. They want to keep your business as a customer. Sometimes they will make exceptions in order to do that."
So part of my success was due to the fact that I had been a good customer until my slip up and part of it had to do with my approach. Hardeman said that the customer service representative likely was willing to help because I asked politely rather than making a demand. "Be friendly and have a good attitude," she said. "That will go a long way."
Cardholders in good standing shouldn't hesitate to ask that a late fee, or even an annual fee, be waived. They also should feel free to request a change in their payment due date, to ask for an increase in their credit limit or to seek a lower interest rate, Hardeman said. There's no guarantee the card issuer will comply. But "what do you have to lose by asking?" she said.
Related: 24 Things You Need to Know to Build Credit
Why Late Payments or Errors Should Be Disputed
When I called my credit card issuer's customer service, I was more concerned about getting my delinquent payment removed from my credit report than having the late fee for my missed payment waived. Why? Because your credit score affects the interest rate you pay when you borrow. It affects rates on mortgages, car loans, credit cards, insurance premiums and other services.
Hardeman said that borrowers typically need a credit score of at least 720 to get the most favorable rates. So my 718 score could've prevented me from obtaining the best loan or credit terms. And that would've cost a lot more over time than one late fee.
Your payment history makes up about 30 percent to 35 percent of your credit score, Hardeman said. That's why a late payment can make your score tumble as mine had. And that's why it's important to make credit card and loan payments on time. If you need help keeping track, use free apps such as Mint Bills to get reminders when payments are due.
It's important to keep tabs on your credit score because reporting errors are more common than you might think. As many as one in four consumers have such errors on their report and that could affect their credit score, Hardeman said. If you find an error, dispute it with the credit bureaus, which have 30 days to investigate. More than 80 percent of the time, the disputes are resolved in consumers' favor, she said.
In addition to Credit Karma, services like Credit.com, CreditSesame.com and Quizzle.com also provide customers with a version of their credit score free of charge. You can also get a free copy of your credit report annually from each of the three major credit bureaus at AnnualCreditReport.com.
Read: 7 Habits of People With Great Credit Scores
Removing errors on your credit report and boosting your score can help you get better rates on credit and loans. And that will save you money now and in the future.